We are open Wednesday to Sunday 10am - 4pm.
Visit Us
Transforming the lives of equines together
Introducing Madoc, Cefn and Sarah
Introducing Madoc, Cefn and Sarah

Madoc joined Sarah's family two years ago as a ridden pony, one year later he was joined by companion Cefn. We caught up with Sarah to find out more about these wonderful boys and their lives with Sarah and family.
Sarah says " I can honestly say they are the sweetest boys and it's an absolute pleasure having them as part of our family.  They live at home with us and Madoc particularly would love to live in the house. Cefn is our companion pony and is much more of a delicate flower but he is very happy and settled in his routine and everyone loves him, he particularity loves my husband Steve."
What's your favourite thing that the boys do? They will often stand whilst looking into the back room where we spend most of our time. They always look very cute waiting for someone to go out for a cuddle and give them a piece of celery or carrot. They have certainly settled well and whicker whenever they see us which melts our hearts.
Madoc is the nosiest pony I know, not much gets past him! He follows me around like a dog and loves to practice 'Liberty training' which we started during the lockdown. We also do groundwork which Madoc is really responsive to – it has definitely helped our bond. Our favourite things are going on nice long hacks, watching our children ride him, jumping and spending time together. Cefn is a superb companion to Madoc, they are the best of friends. Madoc is not the boss, we say more of a foreman as he is so laid back.
What has been your most fun moment so far? Cefn likes to nibble at Madoc's face to get him going around the paddock, this can sometimes annoy Madoc who squeals at him, he will often run to me if he can see me. Cefn likes to jump on Madoc's back, Madoc gets annoyed at this so walks off (Cefn has got really good at walking on two legs.) Just to keep Cefn happy, Madoc will do a couple of laps around the paddock! Cefn is also a very happy pony and loves a good lay down in the sun and is very happy for us to sit with him and stroke his face!
What are you planning to do once lockdown is over? Once lockdown is over I hope to get more weight off Madoc, it's a long battle as he lives on fresh air, he has restricted grazing and soaked hay but needs more exercise! We hope to have more jumping lessons, try out le trec days and I would like to go to the beach as he loves the water!
The most amazing thing for us is having two lovely boys who get on so well, we just enjoy being with them, watching their behaviour and relaxing with them.
Thankyou Bransby.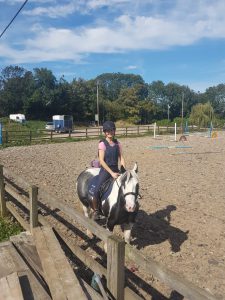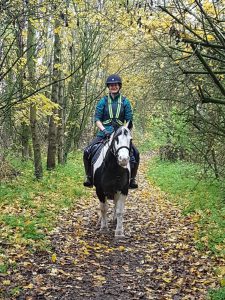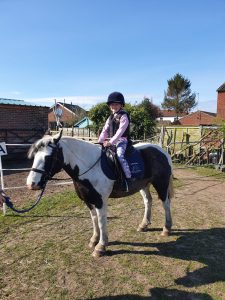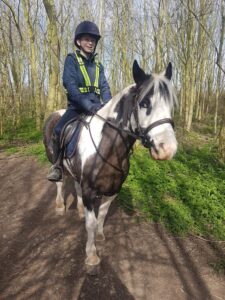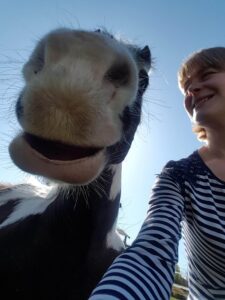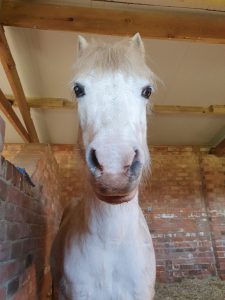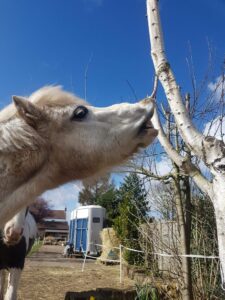 Find out more about becoming a Perfect Partner! 
Back to top