We are open Wednesday to Sunday 10am - 4pm.
Visit Us
Transforming the lives of equines together
Spring Time Fun Stories – Nickle Coin & Maria
Spring Time Fun Stories – Nickle Coin & Maria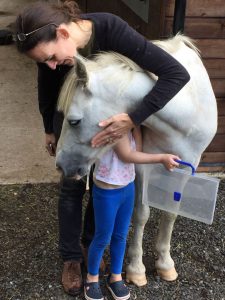 We caught up with Maria to find out how Nickle Coin is getting on. 
Maria says: "Back in 2016 we were looking for a pony as a companion for my horse and as a first pony for my daughter aged 2.5 years young at the time. We looked around and decided we wanted to rehome a rescue pony. We love the Bransby Horses ethos, we were originally interested in two of their rescue ponies. When Bransby Horses heard what sort of pony we were looking for to fit in with our family, they advised that they potentially had a  better match for us than the original two ponies that had caught our eye. So, trusting in their amazing equine knowledge we visited Nickle Coin. To say it was a match made in heaven and love, at first sight, was an understatement! They had matched us perfectly with the most beautiful, little Welsh mountain pony – Nickel Coin. 
Nickle Coin is the most gorgeous, sweet-natured and loving pony. She is wonderful with our daughter and has given her so much confidence from a tiny tot to now being a super pony club pony! Nickle Coin is so full of character and makes us smile every day. She does so many delightful things such as giving the best pony cuddles by literally putting her head and neck around you. (So sweet!) She even trusts me to get her into a really deep sleep, if she is asleep lying upright in the field l rub her withers and she will literally go flat onto her side and go into a deep sleep – dreaming away with her mouth moving, flickering her eyelids and ears.
We nicknamed named her 'Auto pony' because when l appear in the yard or call her to come in, even if she's on the other side of the field she will immediately come over and request to come in. 
Finally, Nickle Coin is 'Master of disguise' as she has been the star attraction at every birthday party my daughter has had. She is amazing with the kids and adults alike loving all the attention, strokes and love. 
We all adore Nickle Coin and are so lucky to have her as a big part of our family. We can never thank Bransby enough for matching her with us and for all the amazing support they have given us over the years.