Rehoming
The Bransby Horses successful Friend for Life rehoming scheme offers some of our equines the chance to enjoy life in a carefully selected loan home, whilst freeing up time and space at the charity for the rescue and rehabilitation of more animals in need of help. As you will no doubt be aware, we are all entering a period of uncertainty. The coronavirus (COVID-19) outbreak is affecting everyone to some degree and we have been closely monitoring the guidelines from The Government, as and when they have been released. We have and will continue to update our guidelines to reflect this.
Changes to Ways of Working (due to coronavirus outbreak in the UK).
We have carried out stringent risk assessments around the rehoming process for both ridden and companion equines. At this moment in time we are in a position to safely start rehoming companion equines and riddens through our offsite External Training Partnerships. We have made some slight changes to the process to keep everyone safe. For more information please visit our FAQ section here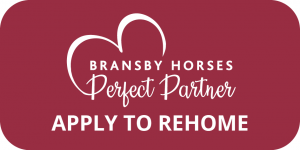 Current Bransby Family Fosterers
We are continually reviewing our contingency plans to help keep people and equines safe; this is our priority. In light of the guidance from The Government, that was released on Monday 16 March, we have suspended current Bransby Family Fosterer rehoming visits for the moment. Our team is still available for telephone support so please feel free to call if you have any concerns and the team will be happy to give advice.
Like you, as equine owners, we need to consider the health of ourselves and our animals. This is a very unpredictable time which can sometimes make it difficult to make firm plans. Have you got contingency strategy in place should you become ill?
Our friends at the British Horse Society have some useful tips which we want to share with you to help you: www.bhs.org.uk/advice-and-information/coronavirus-covid-19