It's key to remember that whilst we supported the Environmental Agency to close our drain valves to reduce flooding in Lincoln, we received absolutely no compensation for this. As the charity has grown over the last decade, never before had we faced the loss of 40% of our land with, at the time, over 450 horses, ponies, donkeys and mules on our site. Click here to make a donation or click here to view our Amazon Wishlist. 

As part of the our EFCC (Emergency Flood Crisis Campaign) we've needed to concentrate on three key areas: Donate, Volunteer & Rehome.

Our hearts and thoughts go to those dealing with difficult flooding conditions this week. Whilst we haven't been hit this week as badly as we were in November, we haven't forgotten what it can feel like. We appreciate all the messages we have received in the last few days asking if we are OK; it shows you care and it means the world to us.

Seeing acres of land under water. Wading through what feels like a lake. Herding frightened horses from danger to safety. Dealing with the aftermath for months afterwards. It takes patience, resilience and time.

For us, it will take at least another 12 months to recover but with the support of the public, we can pull through. Thank you to everyone for their ongoing support.




This Valentine's Day as part of this crisis campaign we're proud to have launched our new rehoming process; The Perfect Partner. This new, more user friendly process will make everyone's rehoming experience; that of the charity, our fosterers and our equines, that bit more efficient.

If you're in a position to rehome a horse or pony – please fill out an application form today to let us help you find your Perfect Partner.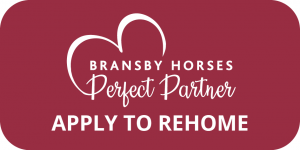 Philly Finds a Home
Philly arrived at the charity in 2011 from horrific circumstances with a foal at foot. Her rehabilitation was especially challenging for the team as she was semi-feral and terrified of...
Read Philly Finds a Home >>
A New Start For Dallas
Dallas came to Bransby Horses in 2016 after the charity was called to assist Lincolnshire Police when two stallions and a mare were loose on the road. Dallas was castrated...
Read A New Start For Dallas >>
see more case studies