We are open Wednesday to Sunday 10am - 4pm.
Visit Us
Transforming the lives of equines together
Winter Warmer: Hayley, River and Flipper
Winter Warmer: Hayley, River and Flipper
Bransby River and Flipper came to live with us in April 2006. What an exciting day that was! River is slightly larger than Flipper and yet is the youngest.  They were estimated to be about 3 and 4 years of age in 2006.
River is first in the queue for any food and will barge Flipper out of the way! Flipper is much more sensitive and though we can do pretty much anything with her in the stable the field is her domain and she is clear about enjoying her space when she is outside. They are both really good girls for the farrier, dentist and vet, although they know there is something afoot when I bring them into the stable ready and are wary until they know it's someone familiar or that I am there for reassurance.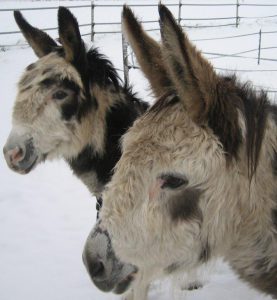 Though River and Flipper do prefer warmer weather and are definitely not keen on damp wet days, they do seem to find snow quite fun. Back in 2008 when the snow was deep, we built a snow donkey in the paddock. They were very curious about the strange thing in their field and thoroughly investigated it.  Finally, River took exception to this snow donkey imposter and decided to knock it's head off with her head! The message was clear. "We like just the two of us in our field thank you!"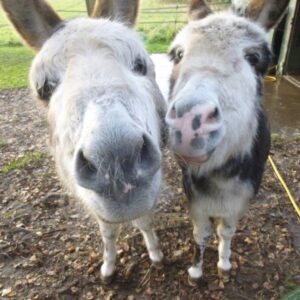 Generally they don't like horses or ponies. However, for a couple of years the girls had a neighbour, a beautiful ex racehorse, and he adored them over the fence. His name was Baz and he would empty his food bucket onto the grass and eat his feed from there and kick his bucket under the fence for them to have the remains of his feed. He loved playing on the other side of the fence to them and liked to know where 'his girls' were the whole time so if they went out of sight he would  gallop up and down the field madly. He truly loved his girls.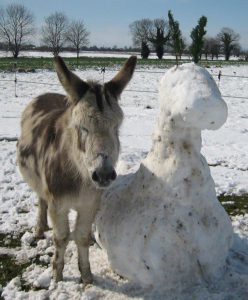 They have had their share of ups and downs with health issues, more since they became middle aged and so are 'high maintenance', requiring steamed hay and dust free bedding and they love cuddles and attention.  River has had a sarcoid a few years ago and she also had a diagnosis of COPD and hyperlipaemia which she was really lucky to recover from. Our vets were excellent at caring for her during their stay at the practice. The girls had to go together because of their very strong pair bond.  Over the last few years Flipper has had multiple dental extractions though still has 25 of her 36 teeth. Our regular dentist is so patient with them and when she had to refer us to a specialist Dental Vet he did a fab job of efficiently removing the teeth that were causing problems. As always, the team at Bransby Horses are super supportive of the girls.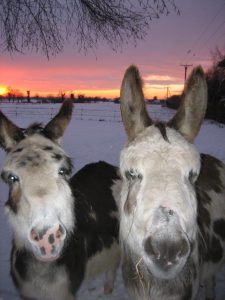 River and Flipper are an absolute delight to have living in our field at the back of our house and there's nothing better than seeing them cantering around eeeawwing as they play chase. They always greet us too which is lovely. They make me smile every day and in these strange times, we all need our four legged friends to give us a lift.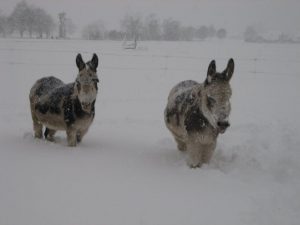 So Best Wishes to All for a Peaceful and Healthy 2021 from River and Flipper and there two legged family 🙂