We are open Wednesday to Sunday 10am - 4pm.
Visit Us
Transforming the lives of equines together
Introducing Georgia and Chewy
Introducing Georgia and Chewy
Our story began with Chewy after our daughter, Georgia sadly lost her first pony. This left a huge hole in our lives and our 3 year old truly heartbroken.
After a few months of searching for another suitable pony we hadn't had much luck, until one afternoon when we received a phone call from Bransby Horses to say they had a pony looking for a home who they thought would potentially be suitable. So, without even a second thought, we played the wild card and straight away said yes… A few weeks later, along came our Chewy.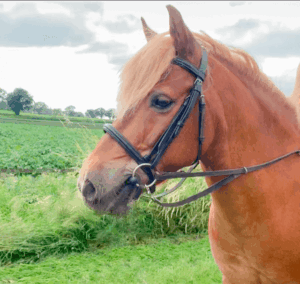 Well, where do I start?
I can certainly tell you that our lives have never been the same since he joined our family. Chewy is just the best and a genuine cheeky character who is hilarious and loved by everyone he meets (horses included) – he's a definite loveable rogue!
Since being with us, Chewy's personality has progressed massively and together, both him and Georgia have become inseparable or in other words, double trouble with their true match of character.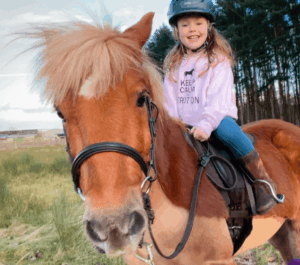 Together they like to spend their days trotting around the farm singing songs, out on adventure picnics in the woods or reading story books in the stable. They have also both been enjoying riding/schooling lessons once a week which are going fab and they have even both ventured out to our local shows to compete in the lead rein and in hand classes. Chewy has looked after Georgia every step of the way and given his all.
Bransby Horses were absolutely fantastic regarding Chewy's rehoming and at the time when he came to us, the country was under COVID-19 lockdown restrictions however, nothing was ever too much trouble. They are a genuine friendly and caring team in every aspect who are always on hand when you need them and I would strongly recommend them to anyone who is looking to give a pony a home.
We honestly cannot thank Bransby Horses enough for all their hard work involving Chewy and for letting us rehome such a wonderful loving little pony for our daughter.
Thank you – Jodie Chapman
Are you interested in finding your Perfect (lead rein) Partner?  Apply Now.