We are open Wednesday to Sunday 10am - 4pm.
Visit Us
Transforming the lives of equines together
Introducing Dazzle, Merlin and Tina
Introducing Dazzle, Merlin and Tina
As part of the Bransby Family Fosterers stories we would like to introduce Tina with her two equines; Dazzle and Merlin. Here is Tina to tell us more!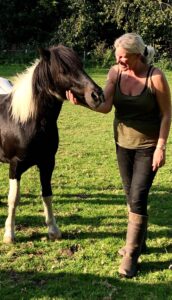 Dazzle and Merlin the Shetland came to me in March. I had initially wanted to rehome a Shetland as I thought my three donkeys would accept a small pony, but at the time Bransby Horses didn't have any. They did however recommend Dazzle, a beautiful easy-going pony. I loved him as soon as I saw him.
After a successful premises check it was all systems go with the next stages of the rehoming process. Within a couple of weeks a Shetland became available for rehoming and I was invited to meet him – well how could I say no? I could see, he was perfect. Following successful foster visits I got to take the lovely Dazzle and Merlin home – with me as their new momma! Of course, the donkeys weren't too impressed at the new arrivals but settled after a few days, they were little stars really. It quickly became obvious that Dazzle was going to be head of the clan though, at first he thought every morsel of food was for him as he pushed everyone else out.
Fast forward a few months and I have to say I couldn't have wished for two better ponies. Donks and ponies are the best of friends! Dazzle has learnt to share his food just a little bit and he and Merlin have developed a deep bond. If they get in different paddocks they call to each other and then one will go running through to join the other. When they are let through from the barn to the field in a morning, Dazzle always gives Merlin a little nip on his back, then as soon as they are in the field Merlin nips Dazzles leg as if to say 'Ha! Got you back!'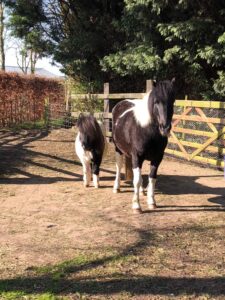 They love to go for a little walk down the road and down the field giving them a change of scenery. Anything I plan to do with them in the future will have to be done together as they don't like to be split up so I will probably stick to a little bit of trust training etc. which they can do together and in the paddock.