If you are concerned about an equine, please report it to us HERE.
Rescue Support Team
Consisting of current employees working across the Farm, ARC and Estates Teams, the Rescue Support Team supports our Field Officers when responding to a variety of equine collections and in working with other animal and equine welfare charities, continuing to build and develop our relationships with other organisations.
The Rescue Support Team are multi-skilled and have specialist knowledge in:
Handling and Behaviour
Passports and writing ID Charts
Scanning and identification
Round pen construction and use
Towing and travelling
Assessing equine health, when to call a vet
People skills, dealing with conflict
Warrants and what they mean
Dynamic risk assessments
Equine legislation including the Animal Welfare Act, Control of Horse Act
First Aid
Communication
Biosecurity
Stallions and colts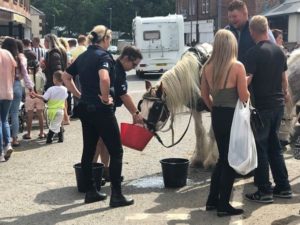 The team assist at annual horse fairs, BHS Healthcare and Education Clinics, with equine transport, RSPCA group case collections and Bransby Horses sign overs.
A vital part of the Equine Welfare Team at Bransby Horses, Rescue Support Team members are essential in helping us achieve our mission and objective