We are open Wednesday to Sunday 10am - 4pm.
Visit Us
Transforming the lives of equines together
Mina's Rescue Story
Bransby Horses responded to a welfare concern from a member of the public who reported an equine that appeared unable to move her jaw.
Our initial assessment of the equine clearly showed that she needed intensive treatment that she wasn't receiving. The other horses at the location appeared to be in much better health and after a discussion with the owner, the equine was signed into the Charities care to enable us to provide veterinary intervention.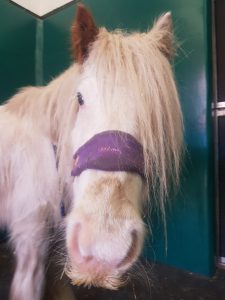 This little mare was named 'Mina' which means 'love' in German. The name felt special as she arrived at the Charity on the 15th of February 2019.
When the yard team first saw her, they knew her health was seriously compromised. Her mouth looked ok on closer inspection from our Resident Vet, however, it was clear something was very wrong. The team flushed her system with IV fluids, gave her pain relief and took bloods for testing. The results were extremely concerning as they showed evidence of serious liver damage. The signs of this damage were presenting themselves in other parts of her body which meant the condition was life-threatening. Mina was in a lot of pain and was suffering. A treatment plan was put in place, with Mina being closely monitored by our team at the Animal Reception Centre. She quickly became a favourite due to her strong personality.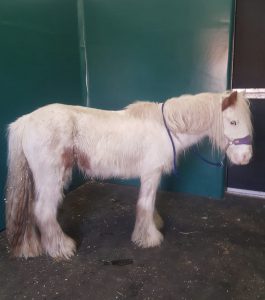 It is believed that Mina ate the ragwort in her field as there was little else for her to eat. Mina had no choice.
Despite the best efforts of our veterinary and yard teams Mina continued to deteriorate. We were unable to save her and had to make the sad decision to euthanise so that Mina was free from pain and suffering. Our only consolation was that our little friend Mina felt loved in her last days.
More than 1,000 horses die from ragwort poisoning each year and these are just the recorded cases. The tall dark green-stemmed plant with a crown of mustard yellow flowers can found across the UK, most frequently in fields and on verges. It is already well known by horse owners that this plant can cause death in horses if ingested in large quantities. However, horses who are short of food may eat this wildflower to stay alive when they have no other options.
Ragwort poisoning is the most common cause of liver disease. When consumed by equines in large quantities it causes loss of appetite, weight loss, depression, diarrhoea, fever, jaundice and photosensitivity. Once consumed the plant is toxic and prevents liver cells functioning. The effects cannot be reversed.
Bransby Horses is encouraging all equine owners to check for and remove any ragwort on, and surrounding, their land every day. This is a task which can easily be carried out alongside their poo-picking. Even if there is a slim chance their animals will eat it, it's never worth taking the risk.