Twiggy
Twiggy is a black Shetland who has been with us since 2002. She is truly a star pony in her herd and often shows how it is done. She also has a mischievous side, often becoming very cheeky with the staff here. She is a sponsor star with attitude!
Did you know? A Shetland has a lifespan of more than 30 years – although they can be prone to heart problems due to their small size. A 30 year old Shetland is 85 and a half in human years.
Updates
Unfortunately Twiggy's teeth have worsened. The Vets are cleaning her mouth every other week to try and make a difference. She is luckily at a great weight and her pain is under control. Cheeky Twiggy has also been making the team run round after her this month, she escaped from her head-collar and tried to make it to freedom! It took three staff members to catch her, what a little monkey.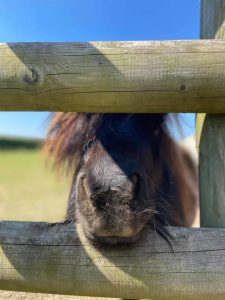 ---
Twiggy is now to having regular assessments of her teeth due to how bad they are. Fortunately at the moment, they seem to have improved again, allowing the vets to treat her. She still enjoys chasing the tractor around and even though the team have tried her with multiple herds, Twiggy is still being anti-social. She just loves being by herself!
---
Twiggy seems to be enjoying the quiet life although missing the fuss of regular two-legged friends. She has regularly been coming over for a fuss, which is very unusual for her. She was also very cheeky last week and decided to lead a break out mission! In which she and two others from her herd galloped up alfreds amble. She still as fast as ever.
---
Twiggy is taking social distancing very seriously. She has been having an episode of being quiet and flat however, she cheers up when she is in her own field. She was spotted at lunchtime bucking around the field in excitement. She is on some pain medication for her teeth however that never stops Twiggy form being her usual self.
---
Twiggy has had some dental issues recently due to her age. She has large gaps between serval of her teeth. Due to this Twiggy needs to see the dentist or the vet every month to have her mouth cleaned. Twiggy's Cushings medication is going to be in review to see how our team will proceed. She is not a big fan of having her blood taken, so hopefully she will be in a good mood on that day.
---
Twiggy is still in our 'special care' herd so our team can monitor her a little bit more closely. Twiggy used to be a quiet Shetland and often enjoyed her own company. However, we have recently seen a new side to her! Twiggy now enjoys being in charge and bossing all the others around.
2019
December 2019
Twiggy was previously in a herd full of female Shetland's however, she was recently moved to the 'special care' herd which is the best thing for her. Twiggy now enjoys so much more food! She receives breakfast and dinner as well as much more hay. This helps keep her healthy and happy with all her new Male Shetland friends.
October and November 2019
Twiggy has been a very well behaved Shetland over the past few months. She had a saliva test to check for tape worm and was proving to be a great example for her friend, showing her how its done. Twiggy also had a small bout of colic so had to have her belly shaved. However this wouldn't stop Twiggy from being her usual cheeky self and has been rocking her new hair cut.
August and September 2019
Being her regular cheeky and cheerful self, Twiggy has been enjoyed the summer and has moved around the fields quite a bit (we moved her to be clear, she wasn't migrating herself – although we wouldn't put it past her!). Twiggy can get a bit bored if in the same field for ages so she likes the move. She has made friends with biscuit who joined the herd in July and has taken it upon herself to show her the ropes. Taking any vaccinations in her stride and letting us take bloods from her shows she is truly a star pupil so whilst she has a mischievous side, she comes through when she needs to. What a star!
July 2019
Twiggy has been playing tricks once again on the visitors as she has moved fields! Twiggy enjoys moving around as it means she has new scenery to enjoy, but finds it even funnier when people can't find her. She has also had another friend, Biscuit, join the herd and she is being her wonderful and welcoming self by inducting them into the group.
June 2019
Twiggy has moved fields again, just to confuse visitors when they are visiting her! She is now closer to the Visitor Centre yard and is consequently becoming very popular with new visitors to the charity. Twiggy has been welcoming a new member of the group, Perky, who has joined to herd and Twiggy is doing a fantastic job of settling him in.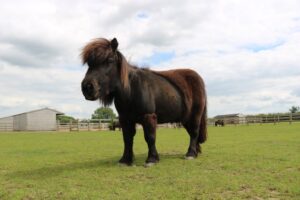 May 2019
As many of her supporters will know, Twiggy has a LOT of hair which can make her quite warm when the sun shines. Staff decided it was time for her to have her summer haircut and she must have enjoyed it as she was very well behaved for it. The 'new do' has made her a lot more comfortable and happier in herself which is great to see. Twiggy has also had a new field mate arrive named Charm, who Twiggy has been showing the ropes to and they have found a very nice friendship in one another.
April 2019
Twiggy has had a visit from the dentist this month and was very, very well behaved and gained some brownie-points from the staff for doing so. She also had a test to ensure she was on the correct dose of medication for her Cushings, which she was and no changes had to be made. Again, she was very well behaved which was good for staff, especially when she is known for misbehaving when needles and vets are involved!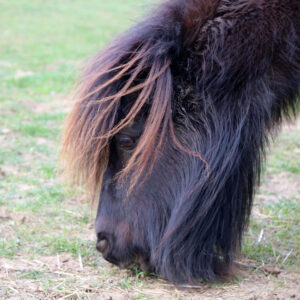 March 2019
Twiggy and her friend Mopsy have now moved back to be with their other Shetland friends as Mopsy is feeling much better. We think they must have all missed each other because they were seen running around and catching up with each other all afternoon when they returned to the field. Twiggy has enjoyed her time down on the Visitor Centre yard where she could keep an eye on everything, but is extremely happy she is back with the rest of her friends again.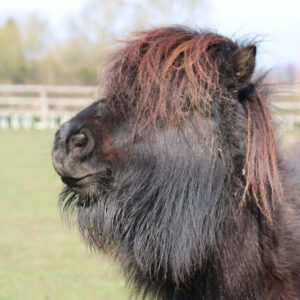 February 2019
Twiggy has temporarily moved closer to the Visitor Centre Yard this month to keep her friend, Mopsy, company as she has recently had a few lameness issues. It has been great for Twiggy as she has had a lot of attention from visitors throughout the half term holidays and possibly even won over a few more adoptions!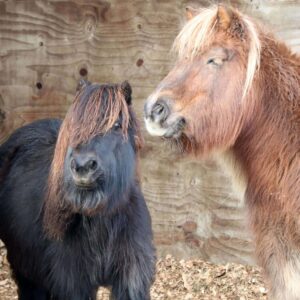 January 2019
Twiggy does love her friend Poppy and is so happy now that Poppy has come back to the field after her time on the yard. Twiggy loves her hay too!  She enjoys staying at the feeder to eat the hay and is always first in line when the feeder gets topped up. Although she is struggling to understand taking it in turns – but her adoption friends are showing her how.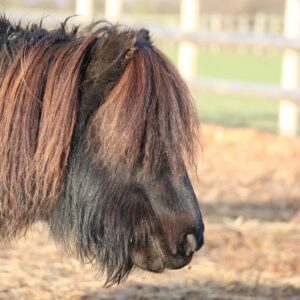 December 2018
Twiggy is keeping staff on their toes and being picky about what she would like her medication in each morning. Like some of her other adoption friends, Twiggy has now been microchipped. Staff were worried she would be difficult for the vet as she can be a little needle shy, however she was very brave and well behaved so got lots of praise and a little treat from everyone.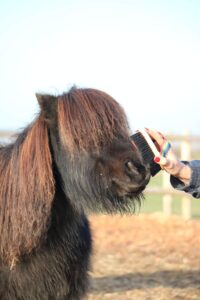 November 2018
Twiggy is always well known for her wild hair, and why would Christmas be any different?! She is very well prepared this year for the winter as she, like many Shetlands do at this time of year, has grown a second coat! She is looking very fluffy but is nice and warm under all that fur! She has had a quiet month this November in preparation for the run up to Christmas activities where we are sure she will be visited by many of her adoring adopters. She and her friends have had extra hay at night, which has been a real treat for her as she had been put on a small diet as she had put a little weight on.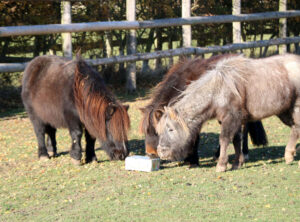 October 2018
Twiggy has moved into the other Shetland girls' field as the summer has been a little too kind and she had put on a little extra winter padding, which will be better managed with the new group of field mates. She has also had her medication increased from half a tablet of prescend to a full tablet, although she is very disappointed that this doesn't involve a treat increase to supplement the extra medication.
Unfortunately, Twiggy had a visit from the vet as well this month as she had a touch of colic. The vet injected medication which she is usually very naughty for, but thankfully she knew the vet was going to make her feel more comfortable and behaved impeccably.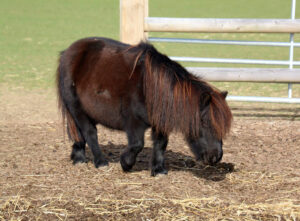 September 2018
Twiggy's training sessions with staff seem to have been a great success, she was so well behaved for her recent blood test, to check up on her cushings. Her results showed a slight increase which means she is having extra medication but will be tested again in 6 weeks' time to make sure it is being effective. Twiggy has also had her saliva test this week to test for tape worm, staff reported she was very well behaved and had a few treats as a well done.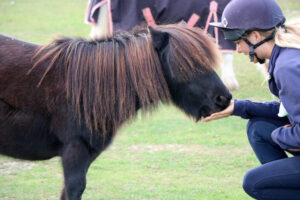 August 2018
Twiggy has had two of her old field mates return back to the group, although this has gone unnoticed by Twiggy herself, who is only really concerned about when her breakfast is arriving in the morning! Twiggy is due a check-up next month for her Cushings medication which involves a blood test. Although Twiggy appears to be very care free with most goings on, a blood test is very different story, so staff and Twiggy are having little training sessions to prepare for it.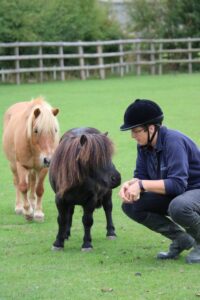 July 2018
Thankfully Twiggy's conjunctivitis has cleared up but she is still sporting a lovely plaited mane to help keep her cool and her eyes clear. Twiggy has had a visit from one of her regular supporters this month too, where she was more than happy to come over to the gate for a cuddle and fuss. The summer holidays are in full swing at the Visitor Centre yard and Twiggy has had many new faces to greet as well.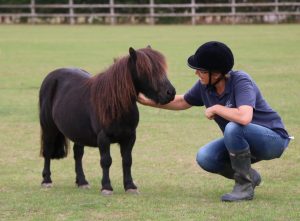 June 2018
Twiggy has had another clip to help her keep cool in the hot weather, which she was very grateful for. She has also had a little trouble with conjunctivitis as well, so is wearing her thick forelock in a fashionable plait to help keep her eyes clear. Thankfully this has helped and her conjunctivitis is clearing up nicely.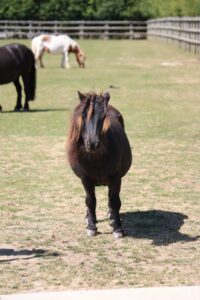 May 2018
Twiggy is now sporting her new summer hairdo which will help keep her cool and comfortable though the summer and has found a new spring in her step thanks to her makeover. However, with a new look comes a new attitude and Twiggy has again decided she will now only eat her medication in a handful of tempting feed.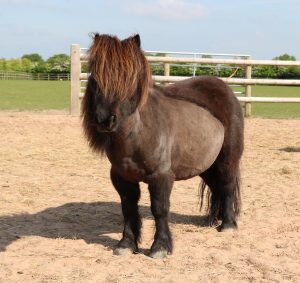 April 2018
Twiggy has been enjoying the winter with her older lady friends and has maintained her weight well. As the summer is on its way, Twiggy is going to have a clip to ensure she doesn't over heat when it is warm weather as she has a very thick coat due to her Cushing's disease. Once she has had her clip she will be ready for the summer!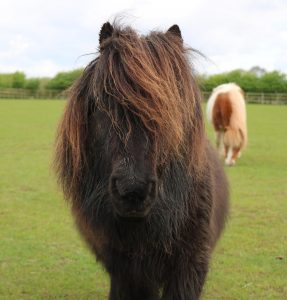 March 2018
Twiggy is now enjoying her medication in a carrot which helps with her Cushing's disease; although staff aren't convinced she knows the tablet is in there! She has been having a few disagreements with the Shetland girls so has moved to the Special Care Shetland herd where she is enjoying the company of her new friends and a quieter life across the walkway.
Gallery