Matilda
Matilda is the mother of her herd, often taking care of the other donkeys. She has been here since 2015, enjoying summers out in the field. She can even be seen running around. Matilda loves her food, waiting in line for her breakfast every morning. She loves attention from people!
Did you know? Donkeys have an incredible memory – they can recognise areas and other donkeys they were with up to 25 years ago.
Updates
Matilda and the donkey girls have swapped fields with the boys this month. The girls have been leaving patches of grass so the team thought the boys might finish it. This was a very exciting time for the girls. They used this as an excuse to run around for ten minutes making as much noise as possible. Matilda's friendship with Annabelle has been growing more and more following the loss of Jemima last year. We are all so happy that Matilda is back to her usual self.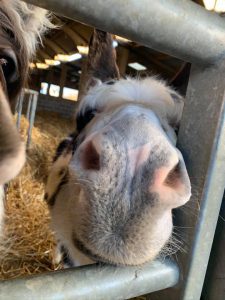 ---
Matilda could be a little embarrassed by the fact, that her younger brother, Nipper. Is now wearing a fly rug that matches hers, and mum Gnashers. She was very excited to move to the new pad next to the boys.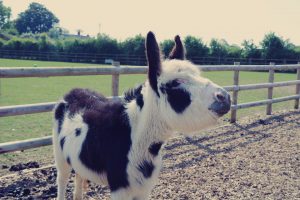 ---
Matilda is now only having her feet sprayed with iodine once a week for 'seedy toe' (a condition that can result in lameness). She is loving the summer months as her herd; Janice and Holly, are back from Holly's laminitis. The pair were were box rested away from the others for a few months.
---
Matilda is doing really well since losing her best friend Jemima. She is still living in the cosy barn on our Main Yard with all her other friends. Our team is just trying a new adjustment to the lay-out of the barn. This is to try and help keep the donkeys feet dry so there isn't issues with seedy toe.
---
Matilda sadly lost her friend Jemima at the beginning of December. Unfortunately due to this Matilda has been comfort eating, our team is closely monitoring her to make sure she is coping with the loss. All of our Donkey girls have a very strong bond so they are spending a lot of time together.
2019
December 2019
Matilda and her best friend have joined the rest of the Donkey girls this month. For the cold Winter period she has been moved out of the view of the public and back into a lovely warm straw barn. She loves being with all her friends eating her hay and being next to her Shetland neighbours.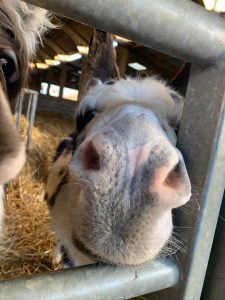 October and November 2019
Matilda has been an amazing best friend to Jemima over the past 2 months. Unfortunately Jemima had to have some teeth removed after them becoming too sore, so it has meant that Matilda has been helping her recover through support. These two girls are the best of friends and spend all their time together! She has also had a faeces sample taken for worm control however this was a just routine check for her.
August and September 2019
Matilda has been enjoying the summer with her friends Janice and Holly. One of her other friends, Jemima, has had sore teeth so Matilda has been doing a great job being a friend and spending lots of time with her. One of Matilda's favourite games at the moment is trying to be the loudest of the group. At breakfast time, all the donkeys bray loudly for their breakfast and Matilda's theory is that if she makes the loudest noise, she will get hers first. This sometimes happens so she thinks she needs to bray louder and is working on this.
July 2019:
Matilda is back with her friends in the field and they are enjoying being reunited. Janice and Holly were particularly pleased to see her return to the group and have spent their time playing. Matilda loved being closer to the yard to meet visitors now it is the holidays – she is hoping everyone will still make a special visit to her now she is back in the field.
June 2019:
Matilda is being No.1 best friend to Jemima as she is feeling under the weather. The pair have moved closer to the Visitor Centre Yard so they can monitor Jemima, however Matilda is positive that it is just so she can have extra attention and be the first in line for breakfast. Matilda loves being so close to the Feedroom Cafe and where all the action is going on in the courtyard because it gives her the perfect opportunity to make a noise and get herself noticed.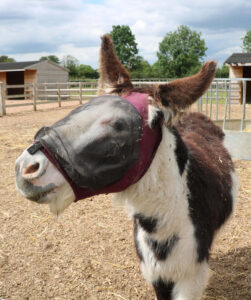 May 2019:
Matilda and her friends are now allowed four hours out in the field together and they make the most of every second of it. Matilda has been meeting the new visitors when she comes back onto the pad, especially during May half term where lots of families came to visit and she was very good at posing for photos! She has also been weighed to make sure she is a healthy weight and had a wormer, so she is feeling fantastic.
April 2019:
Matilda is enjoying some extra time in the field by having a run around every now and then. She and her friend are now allowed two hours out each day in the field before returning to the pad and she likes to make the most of it. She has loved having a groom and is now feeling much more comfortable as her thick winter coat is being shed and her lovely summer coat is shining through.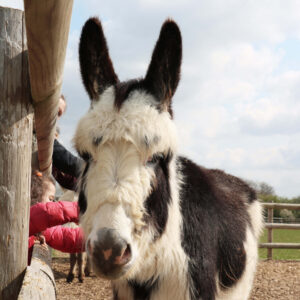 March 2019: 
Matilda's friend Jemima has recovered from her illness and they are both now back out with their friends on the pad. Janice and Holly were especially pleased to see their friends arrive back onto the pad and they were very excited when they all saw each other.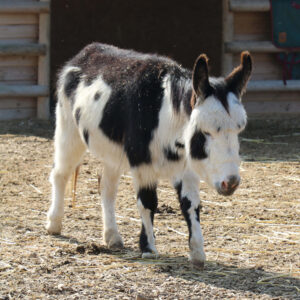 February 2019: 
Matilda has been lapping up the attention at the Visitor Centre over half term as she and her friend Jemima have spent some time in the stable down there. Jemima hasn't been feeling herself and has had tests to try and determine the cause which has meant she has had to have her tummy clipped. She wasn't too impressed with her new haircut, but Matilda is being a great friend and is trying to help her feel better soon.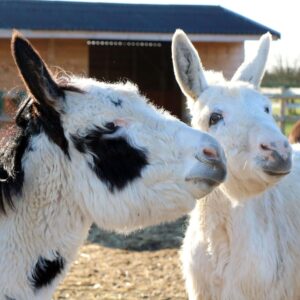 January 2019: 
Matilda loves all of the attention from our visitors and can't wait to see everyone for our donkey friend talk on the 15th February.  She is looking forward to showing off to everyone and introducing people to her donkey friends – especially her best friend Jemima, who she is never far away from.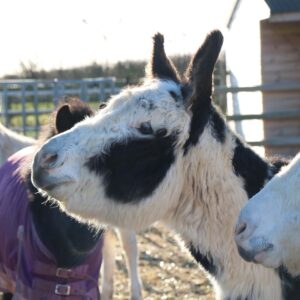 December 2018
Matilda thoroughly enjoyed her Christmas with lots of visitors coming to see her over the festive period. She received a lot of fuss and even bagged herself a few adoptions at the same time! Matilda is never far away from her good friend Jemima and they are both really enjoying the extra straw and pulling it out the feeders, it's like a little game!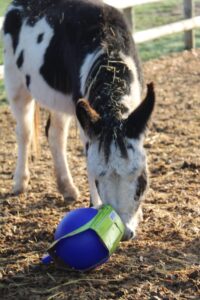 November 2018
Matilda is on the award board this week after her farrier visit. The donkeys have their feet checked every three weeks to ensure there isn't any problems and the farrier was so impressed with her behaviour she received the 'Most Improved Donkey' Award. Staff think they may have given her a little too much praise for being so well behaved as she marched back to the field and proceeded to show off her new-found fame to her friends like a true diva.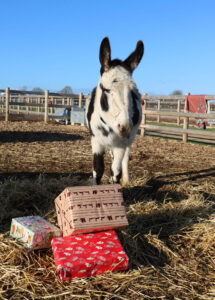 October 2018
Matilda has been thrilled with the number of visitors that have been to visit her throughout the half term holidays, especially as the Halloween Spook Trail went right by her field which prompted people to stop and give her a bottom scratch as they went by. Although staff were not convinced this wasn't initiated by Matilda as they noticed she looked very sweet to tempt people towards the fence line, then would turn right round for a scratch, the cheeky donkey!
It's not just visitors that have fallen for her trick, she has often been following staff around the field as they poo pick until they take notice of her and she whips round for a scratch!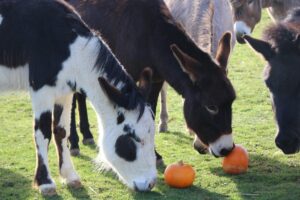 September 2018
Matilda has soon cheered up with some extra attention from visitors at the annual Autumn Fayre. Instead of spending time on her own she is now rarely seen away from the fence line waiting to grab the attention of any passers-by. Matilda has been very accommodating for her regular poo sample, which was very much appreciated by staff. This will determine what worming programme Matilda will need, if any.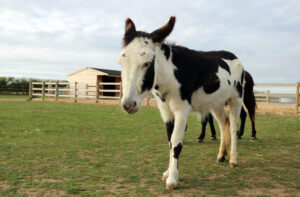 August 2018
Matilda is glad the hottest weather is now behind us, and she can now enjoy the cooler sunshine all day long. Staff have noticed Matilda getting a little grumpier lately, so have been spending time with her giving her some extra attention to see if this cheers her up.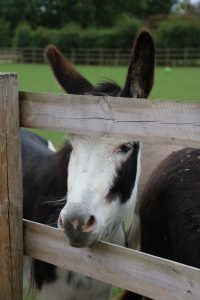 July 2018
Matilda has continued to enjoy her baths and has had a relaxing pamper from staff to help remove her thick coat in the hot weather. By removing some of her coat she was immediately more comfortable. She is also still wearing her fly mask to protect her face in the blazing sunshine we have had in Lincolnshire.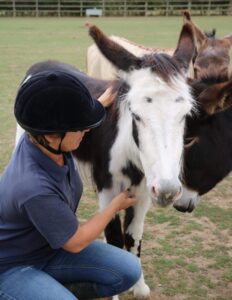 June 2018
It's has been Matilda's weight day this month, where she was very reluctant to get on the scales! With a little encouragement and fuss from staff she eventually got on and is thankfully is a healthy weight with no concerns. Just like some of her friends, she too has enjoyed a cold bath in the middle of the day to help keep her cool in the sunshine, and she loved the opportunity to get a bum scratch too!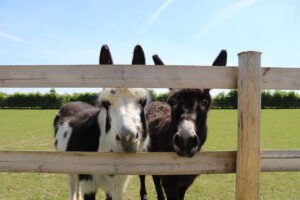 May 2018
Matilda has moved back to the Visitor Centre to be with the rest of her friends and is very happy to be back on the grass! She and her good friends Jemima, Holly and Janice have been enjoying the sunshine over the May half term. If you have been to visit Matilda lately you may have noticed she is wearing a mask as she has pink skin under her eyes, just like her mum Gnasher, so the mask protects her from burning in the sun.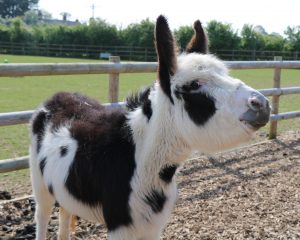 April 2018
Matilda has been very happy in the warmer weather and is looking forward to her springtime groom to remove her thick winter coat. Her and her friends have been able to have access to the outside of their barn while the sun shined and she has been making the most of it with a couple of hours of sunbathing.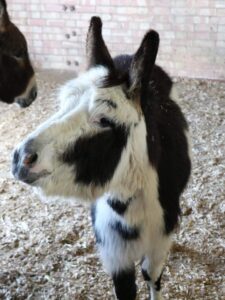 March 2018
Matilda has made the move to Walklands Farm to dry conditions as she is one of the donkeys suffering with seedy toe. She now no longer needs to have her feet poulticed and instead is having her feet sprayed with iodine spray to help the condition. Despite this she is still in high spirits and enjoying her temporary winter home with some of the other donkeys.
Gallery