Nipper
Nipper was born at the charity in 2015. He is a cheeky, loveable character who is always asking for snacks from the team. He loves being the centre of attention, enjoying a cuddle or two from our staff. One of Nipper's favourite things to do is run around in circles in the field.
Did you know? Nipper loves to visit his friends across the site. During the 2020 Lockdown thousands of people found comfort following his daily adventures on our Facebook page:
https://www.facebook.com/BransbyHorses/
Updates
Nipper has had a busy time. The team found a suspicious growth between his nostrils last week. Our Vet, Jeremy, decided to lazer it off there and then as he didn't want to it grow further. His after treatment is cream four times a day which he is being good for. He is also now sporting his darker summer coat.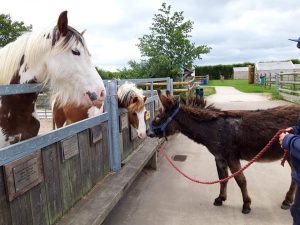 ---
He, unlike Domino, was a very good boy for his bath. The team are hoping this will help with his hair loss which began when his herd friend Ronnie became ill. He is more than happy to come to the yard with the team and have washes or skin treatments. This month Nipper had his first dental check!
---
Nipper as always is being a little monkey! He has been seen removing the wooden bars that keep Bluey and Apache in the shelter. This is currently being used for Bluey's laminitis, however, Nipper is having none of it. The team came one morning to find Bluey and Apache had broken out, probably with Nippers help. He's been enjoying spending some time at the fence with Janice, Ronnie's sister.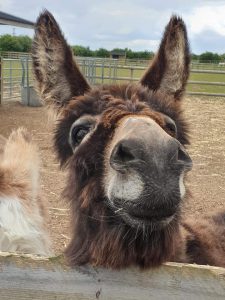 ---
Nipper has been out and about at our Bransby site recently! He was able to meet lots of new faces and is cheering our staff up around the yards. He even joined the Visitor Centre team in the courtyard for lunch, enabling him to stretch his legs and help them keep social distancing. He seems to be a big fan of handbags and spent most of the time trying to get hold of Victoria's (one of our Welfare Assistants).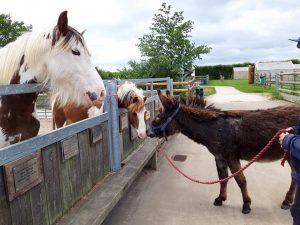 ---
Nipper has been having a tough time recently after the passing of his best friend Ronnie. Sadly, Ronnie had to be put to sleep due to Ataxia, this means he was losing control of his legs making him struggle to walk. It was a huge struggle for Nipper to lose Ronnie as he had a very close bond with him. In order to help, the team decided to put him in a new herd with Domino and Nero. This has been a huge support for Nipper as they are all living happily as a trio which is making our team very happy.
2019
December 2019
Nipper is with his friends Nero, Domino (also adoption stars) and his best friend Ronnie. They are currently in the barn to stay warm and dry during the Winter months. He has some new friends that walk past the barn, he is often a noisy boy and enjoys letting people know he is there to get all the attention.
October and November 2019
Now that the weather is getting wetter and colder Nipper has been staying on the 'pad' which is an area in the field where the ground is made up of rubber pads to make sure their feet stay dry and not bogged in the ground. Extra straw has been given to him which makes him very happy. He has also been a very good friend to Ronnie who has recently been having issues with lameness. So Nipper is keeping him company and making him feel better.
August and September 2019
Nipper enjoyed spending the summer hosting 'Storytime with Nipper' where he told stories about his adventures with his friends. Thank you to everyone who came along to see Nipper with their families this summer, he has loved the attention. Nipper has been an amazing support to Chocolate after Chocolate lost his best friend a few weeks ago, the grieving process is very hard for donkeys but they all pull together to help each other through it. As some of the donkeys have been on the yard a lot recently, Nipper has had more of the field to run in and has made the most of this extra space. Running around in circles is a fun thing to do in a field and maybe occasionally throwing some zig-zags in there too for the sake of variety!
July 2019:
Nipper is very excited that the summer holidays have started especially as he has featured in an activity called 'Storytime with Nipper' which is all about he and his friends adventures.
June 2019:
Nipper was the centre of attention at the Summer Fayre and eagerly waited at the gate for people to come and visit him, he was obviously poised and ready for any photo opportunity that came his way. He had a special pamper and groom before the big day, to make sure he was ready for all the attention and of course looking his best. He and Ronnie have been their typical cheeky selves and decided to have a run about and show off when a group came on a tour to meet the donkeys, surprising staff at just how fast they could go!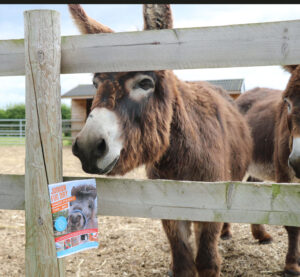 May 2019:
Nipper has been helping with training once again this month, but this time it was for Bransby Horses staff. The training was on the topic of body condition score and staff were delighted that his body condition score was perfect. He also had a dentist appointment where he behaved very well, so staff treated him to a bath in the sunshine to get him squeaky clean and a little bit cooler.
April 2019:
Nipper has had a lot of adventures this month. As part of his education and to give him new experiences, he has been out and about exploring the farm. He has found a new love for walking over poles and across the bridge. His confidence is growing every day, and he is now showing his best friend Ronnie the ropes and proudly leading the way teaching him that things aren't as scary as they seem.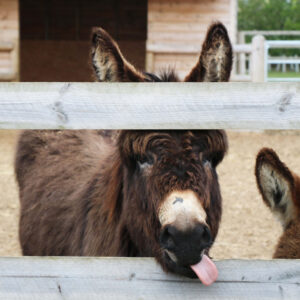 March 2019: 
Nipper and the rest of the boy donkey herd have moved to the sand pad as there has been some wet weather. This move was a precaution to prevent seedy toe, as being on the pad where it is drier is better for them. Nipper was also pleased to realise that this meant he was allowed some extra food at tea time in order to help maintain his weight while they were not eating the grass in the field!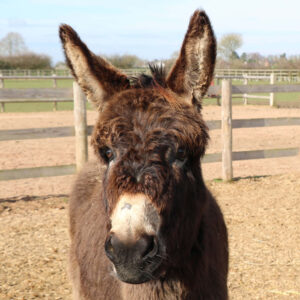 February 2019: 
Nipper has been typically himself this month basking in all the attention from half term visitors and getting up to mischief. He is extremely happy that he is now allowed back in the field full time with his friends, Chocolate and Sooty. Although the pair were enjoying the peace and quiet, we think they are secretly pleased for Nipper's return to the field and his usual antics resuming.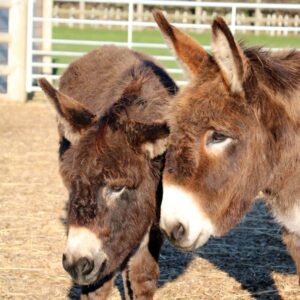 January 2019: 
What a superstar little Nipper has been!  The farrier has been keeping a regular eye on his feet, and this has worked wonders for Nipper who has had top marks! So, he is delighted that he has been allowed in the field for a couple of hours with his best friend Ronnie to celebrate.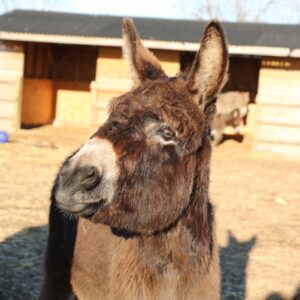 December 2018
Nipper like his other adoption animal friends has loved meeting all of the visitors throughout December, especially when they give such good cuddles and bottom scratches. In order to monitor his foot condition, he is being seen by the farrier every 3 weeks throughout the wet and cold weather. Last year a couple of his donkey group suffered with 'seedy toe' and by monitoring their feet regularly, it will hopefully prevent it from happening again.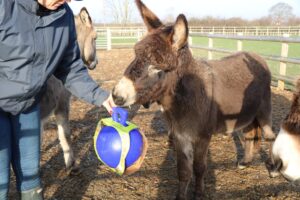 November 2018
Nipper and his good friend (and partner in crime), Ronnie have been caught stealing all the limelight when a potential fosterer came to visit other donkeys looking for a new home. In true Nipper style, he would not let any other donkey have a look in with these new visitors and he was potentially trying to bag himself and Ronnie a new home. Thankfully, their plan was soon put to stop and the rest of the donkeys were introduced. In his last update, Nipper was growing up fast and was looking more adult every day, however Ronnie seems to have had a growth spurt and has taken over the as the winner of the tallest donkey between them!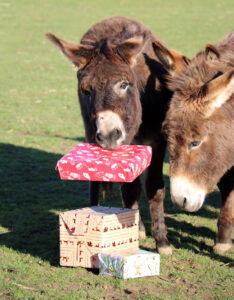 October 2018
Nipper's supporters would never think he had surgery a couple of months ago, not only is he full of himself but the scar has nearly disappeared completely! Nippers coat is growing thicker for winter and he is looking very grown up as well. Nipper must be feeling very grown up too, as staff have noticed he is getting a little bossier with the other donkeys and trying to take charge, although he is still the trouble maker of the group!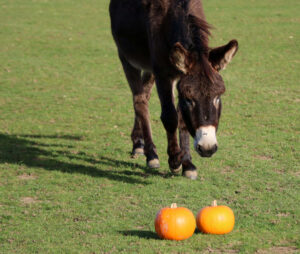 September 2018
Nipper's new big-boy coat is growing thick ready to keep him warm for the winter. Although he was sad that the summer holidays were over, the Autumn Fayre soon came around where he could yet again meet his adoring fans, which thankfully cheered him up. He has also had a visit from the vet this month who said his nose had completely healed from his sarcoid surgery and he got the all clear- well done Nipper!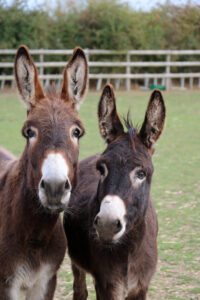 August 2018
Nipper celebrated his 3rd birthday this month, which involved a little party with his donkey friends and cake, although he only received one cake from his supporters this year. He has now lost all his fluffy baby coat and is looking like a handsome grown-up donkey. He no longer needs to wear his fly mask as the wound on his nose has heeled very well, this is a relief to staff who had to find the mask every morning when he had successfully removed it over night!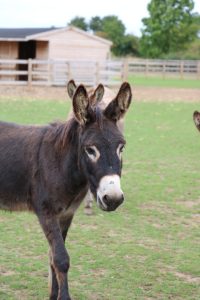 July 2018
Nipper has once again been the centre of the all the mischievous goings on in the donkey herd! Not only is he pulling off his fly mask, he is letting Ronnie pull it off too and getting him into trouble. Nipper's nose is healing very well and he isn't shy at showing everyone he sees the healing wound. He has found a new friend in Chocolate the donkey who Nipper is trying to get involved in the trouble making, but thankfully Chocolate is having none of it.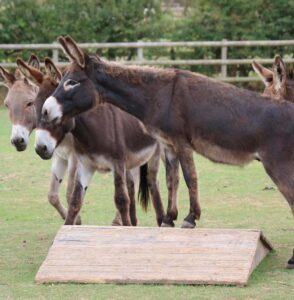 June 2018
Nipper has had lots of attention this month, but unfortunately it was from the vet. The decision was made to remove his sarcoid from the end of his nose and he had his surgery a couple of weeks ago. His sarcoid was lasered off successfully and he then had cream and pain relief administered to help with the healing process. He has loved the extra attention and cuddles from staff as they monitored his wound. He has also been enjoying the heatwave but needed a bath on a couple of occasions to help cool him down at the hottest part of the day.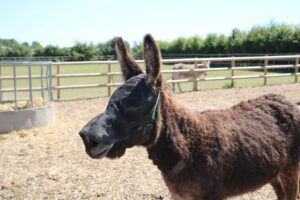 May 2018
Unfortunately, Nipper's wart has had a slight change and became very sore for him so he had a visit from the vet. It was decided it was a sarcoid and he is booked in to have it lasered off in the near future. He is very much enjoying the extra attention from staff and vets coming to see him and of course his best friend Ronnie is still at his side giving him moral support.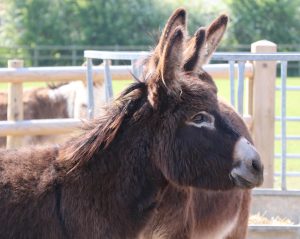 April 2018
Nipper has had a visit from the vet to examine a wart on the end of his nose. He has had the area clipped and staff are now monitoring it for any changes. Ronnie is never far away from his best friend and has been watching on and looking after Nipper when the vet visits. Nipper is looking forward to returning from to the Visitor Centre to meet his supporters over the summer.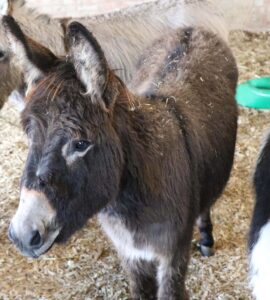 March 2018
Nipper has a new friend called Rico. Unfortunately, Rico had an impaction colic episode so Nipper is keeping a close eye on his new buddy to make sure he is OK. Nipper has also moved with some of the other donkeys to Walklands Farm for the winter in order to help staff manage their seedy toe. He is also enjoying playing with the fibre blocks that were kindly donated by a generous supporter, they are keeping him busy and out of mischief!
Gallery