We welcomed over 50 special guests for our annual VIP Days last month.
These special days for our Friends of Bransby Horses members take place once a year and are always a popular benefit of membership. Members each pay an annual fee of £60 or £5 a month – their support is invaluable to us in raising much needed funds.
Our way of saying 'thank you' for your support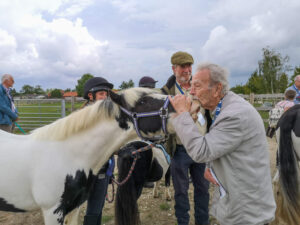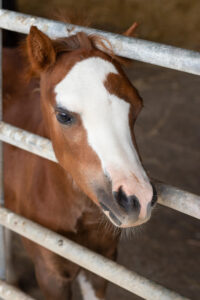 Our VIP Days are a way for us to say thank you and also offer members a glimpse behind the scenes at the work we do.
With limited availability, demand for tickets are high and places are allocated on a first come first served basis – one member even made a special journey from France to attend.
Of course the real stars of the day were the horses, whom all of the guests enjoyed meeting and learning more about.
One guest said, "It was lovely seeing all the areas we're not usually able to access – such as the yards, the foals and listening to the girls giving a potted history of the horses involved in the day."
Another said, "We particularly enjoyed the session about equine behaviour, learning about how horse's think and interact with each other, as well as herd structure. I am very interested in how they communicate with each other – and us."
Greeted by our CEO, Jo Snell and Executive Director of Equine Welfare, Emma Carter to start the day, guests enjoyed a charity update as well as exclusive information about a recent rescue case concluding before enjoying a full day of activities.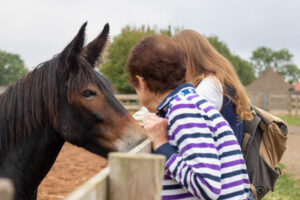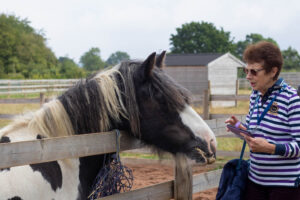 On the rehabilitation yard, they were introduced to some of the horses including Toby and Tinker, who are the best of friends, as well as Rev and Harris.
Rev, who was introduced as part of his training, was quite nervous but bravely stepped to the front of his stable to greet some of his new fans.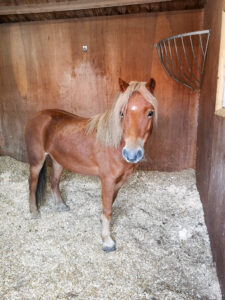 At the end of the day, our visitors enjoyed a delicious afternoon tea in our onsite Café.
VIP Day organiser Hannah Ghest said, "We really enjoyed welcoming our valued supporters back onsite for another successful VIP Day and would love to see them all again next year."
Becoming a Friend of Bransby Horses is a great way to commit your support to helping us continue our work.
Membership includes:
First-look access to our Bransby Life magazine
A pin badge and fridge magnet
Exclusive product offers
A dedicated online area updated with exclusive content
VIP invitations to special events
To become our Friend, please call our friendly team on 01427 788 464 or start online here.
2023 VIP Days available to book now
Next year's VIP Days are already available for Friends of Bransby Horses to book on to and will be held on Thursday 7th and Friday 8th September 2023.
Friends of Bransby Horses members can email mail@bransbyhorses.co.uk or call 01427 788 464 to book a place.