We are open Wednesday to Sunday 10am - 4pm.
Visit Us
Transforming the lives of equines together
Largo
It is with a very heavy heart that we have to announce that our much-loved retired Sponsorship Star, Largo, has passed away.
 Arriving at Bransby Horses in June 2006, this cheeky chappy wasted no time in being promoted to Sponsorship Star, making friends with Marble and Alvin and enjoying retirement at age 27.
Recently, Largo had been diagnosed with Cushings, had ongoing digestive issues and suspected arthritis in his back legs. After regular check-ups and enjoying a lovely last summer, our veterinary team made the difficult decision to put him quietly to sleep before the winter set in after concerns he wouldn't be able to cope with the cold and mud amid his existing conditions. It was time to say goodbye to our special pony.
Largo was a credit to our teams and was loved dearly by both members of the public and those who have cared for him and sponsored him over his years at Bransby Horses.
 All the teams at Bransby Horses are truly devastated by this loss and we know this will be felt greatly by his supporters, too.
We will never forget you, Largo.
—
Largo is just living off grass at the moment. Him and Hannibal are slowly becoming the size of houses! Largo doesn't have an off switch to tell him when he has had enough to eat. He will often run over when the team walk past expecting food. They are both enjoying the sun together.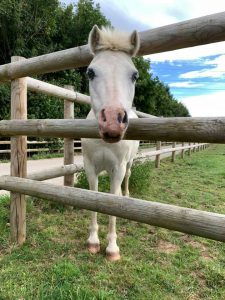 ---
Largo has put on some weight this month thanks to the Spring grass. All the team are very happy about it! His skin has greatly improved and he is no longer on steroids or creams.
---
Largo has had a full body clip this month! He is also having; steroids, steroid cream and malaseb bathing. This is due to having some hitch-hiking lice onboard that have caused him some red raw patches. The team are getting it under control for him.
---
Largo has had his Winter checks, this includes a visit from the dentist and the vet. With Largo's older age and when the weather not being good, Largo's diet is being kept a close eye on. He has been having regular feeds through the day to keep an eye on his weight.
---
In the New Year, Largo was being very secretive! He has made a new best friend, Alvin, they love to groom each other when none of the yard staff are watching, we've caught them a few times but they are very secretive about it. Largo has a few sores across his back, but the team are treating them.
December 2019
Largo has had two new friends join his herd this month! They are called Simba and Alvin, he is being a great friend to them, making sure they are behaving. It is often a little bit stressful for Ponies when they enter a new herd and staff don't always know if they are going to be good friends to each other. However, Largo has been a good boy and is enjoying his new herd.
October and November 2019
Largo has been such a such a good boy over the past few months taking on 'best friend' duties for Hannibal. This past month Hannibal has needed some eye drops and his teeth brushing, so it has been Largo's job to show him how it's done. Hannibal and Largo are inseparable little boys! He also had his salvia test for tape worm which he stood nicely for.
August and September 2019
Largo the lawnmower, as we now should call him, has been great as getting fields ready for horses on diets, munching on the grass to get it down. It's a tough job but someone's got to do it eh? If we had an 'Employee of the Month' award, Largo would get it and his framed photo would be on our wall, oh, actually it is in our Gift Shop on the Adoption Club board. What a handsome fellow! He and Hannibal have a fun new game which we have named 'Gate Dash'. How does it work? We go to the gate to give them their breakfast and these two race to the gate to see who can get their first!
July 2019:
Largo is going for employee of the month with his land management and has successfully eaten the top of another field with his friends. This field is now ready for another group of horses that don't need so much grass in their diet. He has also been making new friends this month – he and Hannibal have found a new friendship. The pair race to the gate each morning for their breakfast.
May 2019:
Largo has continued to enjoy his role helping with the land management and has moved onto another field where he is enjoying eating the top of the grass. A kind supporter donated some bananas to the charity and he loved them as treat, although he wasn't as impressed that they weren't all for him! Largo also had a faecal egg test this month, but Largo thought it would be funny to not co-operate with staff and be the last to provide a sample for testing.
April 2019:
Largo is always waiting at the gate for his breakfast and dinner and doesn't like it if the staff are even a little late bringing it to him. Although he is very clear that once he has his food, he likes to be left in peace to enjoy it on his own. Largo is also helping with the land management here at Bransby Horses, as he and his friends can only digest the longer grass, it is their job to eat the top of the grass, so other herds can then go into the field after them. We think Largo is thoroughly enjoying his new role at the charity.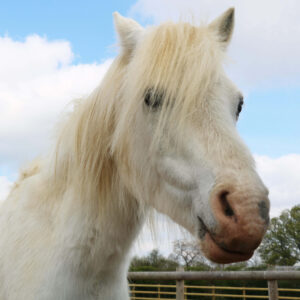 March 2019: 
Largo and his friend Marble have returned from Walklands Farm and Largos weight has improved. Largo was pleased to be at Walklands Farm as he could enjoy the grass; however, he is very excited to be back at the Visitor Centre in time for the Easter Holidays so he can see the visitors he has missed over the last month.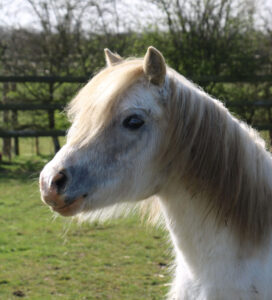 February 2019: 
Largo has temporarily moved to Walklands Farm with his friends as they can't eat forage. By moving up to Walklands Farm it allows them to have access to more grass which is better for their diet. Once the grass begins to grow again, Largo and his friends will return back to the Visitor Centre to be with the rest of the adoption stars.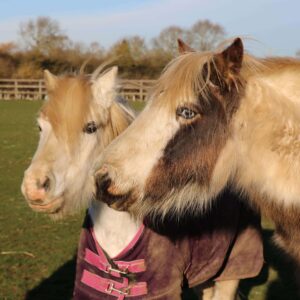 January 2019:
Largo and his friends have moved to a field where the grass is a bit longer, so they are enjoying that very much.  However, Largo's friends are also being fed now, which means that Largo has to wait his turn at the gate for his food – he is not quite so pleased about that but is getting used to it.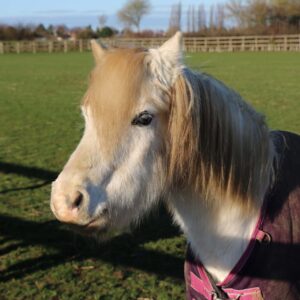 December 2018
Winter is Largo's favourite time of year because the grass is shorter which means he needs additional feed at breakfast, lunch and tea time! He is always very keen to see his meal arrive and will often run across the field in excitement when staff get there with it, throwing in a cheeky buck in excitement too on some days! At night, staff often see Largo retreating to the shelter to keep warm and dry throughout the night!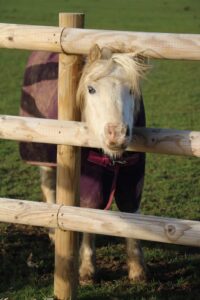 November 2018
Largo is also now part of the Microchip gang following a visit from the vet this week. The new law in place means every equine requires a microchip for identification purposes. Welfare staff are happy to report Largo's weight is good and he is now receiving 3 meals a day in order to keep it that way. He has moved to a large winter paddock with his friends with a large shelter to keep them warm at night.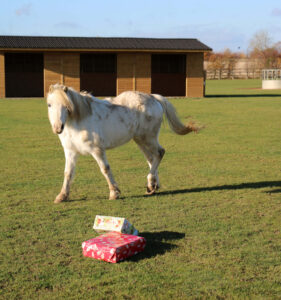 October 2018
Largo is making all the horses jealous as he is now having a meal at breakfast, lunch and tea time. He is so pleased with that he runs across the field when staff bring it so he doesn't have to share with anyone! He has a fibre feed which he can digest better and will help keep him fuller for longer. He too has joined the rug club, and is sporting a vibrant purple number which he is very impressed with.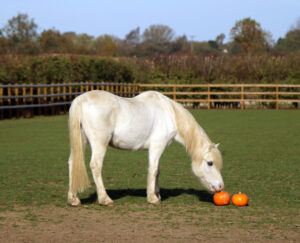 September 2018
Largo was so well behaved for his saliva test this month, testing for tape worm. He got some extra cuddles and treats for being so good and setting an example to some of those who are not so keen to cooperate. He, like many of his adoption pals, has been having a rain sheet on at night to help keep him warm now the nights are cooler. Largo is looking forward to going to his new winter field with his friends where there is long grass waiting for them to enjoy.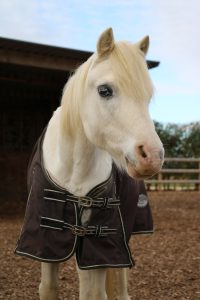 August 2018
Largo is enjoying life with his fellow 'non-fibre diet' friends, they are all getting along really well and enjoying the attention from the summer holiday visitors. He has started to have a feed once a day now in order to maintain his good condition going into winter. As it has been so hot, the grass hasn't grown as much this summer so he has lost a little weight. Now the cooler evenings are starting, he is also wrapped up at night with a lightweight rug to make sure he is warm enough.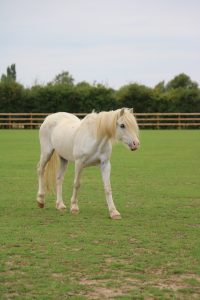 July 2018
Largo is now living with other Shetlands and his friend Marble who all have similar dietary needs as his own, so he isn't feeling so 'odd one out' anymore. His summer coat is looking great and because of the hot weather limiting the amount of mud, is still very white! His condition is also still good and staff are working hard on keeping it that way.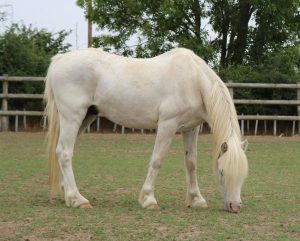 June 2018
Largo's field mate, Master Imp, left last week to go to his new home and he was greatly missed by Largo at the beginning. Largo has since settled and is now happily playing with the rest of the herd. Largo also had a visit from someone from the well-known feed company, TopSpec, while they were here doing training with staff. They were very impressed with his condition considering his dietary requirements which staff and Largo were very proud of.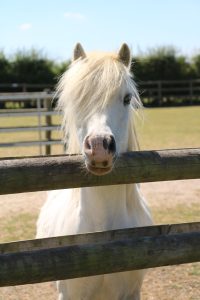 May 2018
Largo's mud fever is now all clear and doesn't need any further treatment. Largo has a few new friends in his field that also can't digest hay, at first, he was a little unsure of his new friends but he has soon grown to love them and they are all getting on very well. He has also got used to sharing with them!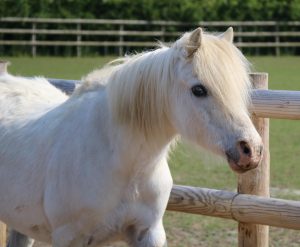 April 2018
Largo has now returned to the Visitor Centre from Walklands Farm where he has been living for the winter. He is now living with the 'no forage' ponies and is happy to be seeing visitors again! Due to the wet weather he had been suffering with a bit of mud fever. Staff have been treating it and it has cleared up nicely.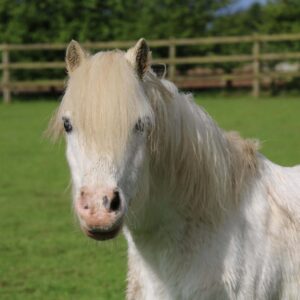 March 2018
Largo is still living at Walklands Farm with his best friend Marble. His weight is being managed well on his adapted diet and he has maintained his weight throughout the winter which the staff are pleased to see. Largo loved playing in the snow when it arrived and soon realised rolling in the mud was just as fun when the snow disappeared!
Gallery