We are open Wednesday to Sunday 10am - 4pm.
Visit Us
Transforming the lives of equines together
Nero
It is with great sadness that we update this page to let you know of Nero's passing in August 2022. After enjoying a number of years in retirement, Nero's ongoing health issues deteriorated when he fell ill with colic (a painful stomach ache which can be fatal if not treated) which was not responsive to treatment.
Please read our full tribute to him and his half-brother Domino here.
Please enjoy his updates below from his time with us.
---
2020
After many years part of the Adoption Club, Nero is now enjoying a well-deserved retirement.
If you have already adopted Nero, you will still have access to updates about him for the rest of your adoption period. Thank you so much for your support of these amazing horses and ponies, it has meant we have been able to continue to give each and everyone the chance of a happy and healthy life.
Nero has recently had an abscess on his neck, we trimmed and cleaned the area and he's had a course of antibiotics and is now, very much on the mend.
Nero has moved to the Winter barn with the rest of the Donkey boys. He had a little episode of being off his food, this is potentially because of the challenges he has with his liver. However, he is doing well and is back to his usual greedy self.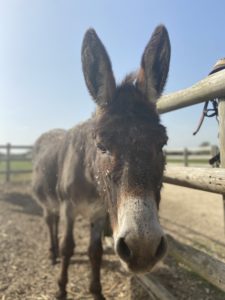 ---
Tragically, due to Nero's significant health challenges, it appears that he is unlikely to be with us long term. We are giving him lots of love and attention, ensuring he has the best last few months he can.
---
Nero's recent bloods came back showing slight improvement in his liver function. This was good news for our teams. He has more hair than he has had in four years. Unfortunately, he has had to have some clipped. This is all down to Nipper. Nipper has been playing and wrestling a bit rough with him, leaving him with some scabs and sores. Naughty Nipper! Nero is very good to treat though and will have a week of Isaderm cream a few times a day to help.
---
Unfortunately, Nero's latest blood tests have shown no improvement on Trental. He has now stopped that medication but is continuing with all his others. Nero is doing well in himself apart from some scabby skin on his neck so he has Malaseb baths to help with this. He loves sticking close to the donkey girls and is often found flirting at the fence.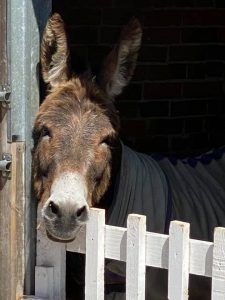 ---
Despite Nero's bucket load of medication and poor health he often doesn't show it. He turned 22 in May and recently lead the way in a Donkey boy escape. He was making his way to the hay barn when the team found him.
---
Nero is loving being next to the donkey girls. He thinks of himself as a bit of Romeo. He also has his hands full supervising Nipper, trying to keep him out of mischief.
---
Unfortunately, Nero's recent bloods have shown a worsening of his liver. However, for the most part he has been playing with Nipper and Domino like normal. He has started new medication alongside his suitcase of existing medications. We all love Nero and keeping him healthy is the most important thing to our Charity.
---
Nero is enjoying life with Nipper and it has made him have a new lease of life. The pair can be seen playing a lot throughout the day as making connections is important for Donkeys. He has been a great support to Nipper who has been going through a tough time.
---
Nero liked to help grooming Domino's coat as he is started to shed. Mutual grooming is very common and encourages connection between our Donkeys. Nero has also had a Liver blood test to make sure the team has everything under control. He has also made a new friend in the herd, William the Donkey.
2019
December 2019
Nero is in a barn for the Winter period which is out of the public eye. This keeps him warm and all of the Donkeys feet dry which is important so they don't get seedy toe. Nero is also on a Vitamin E supplement to keep him healthy. He was previously on Liver Tonic however the team have changed this to Milk thistle as it tastes better for him. He is now a happy boy!
October and November 2019
Nero lives out full time in his field so now that the weather is getting colder he has had his new thicker rug put on which is making him snug and warm. He has been having a lovely time with his friends who are also keeping warm. Nero also had a faeces sample taken to be sent off in order to check and see if he had any eggs in the sample for worm control.
August and September 2019
Like Domino, Nero has been hiding from rain and thunderstorms in the shelter but heading out when the sun is back out in the sky to make the most of the heat. The pair of them are definitely thunderstorm buddies, giving each other some friendly support when it is very wet outside. Nero has been hating the flies and we have been applying lots of cream and spray to help him. Now it is autumn, he is hoping the flies will just buzz off and leave him to enjoy his days!
July 2019:
Nero has enjoyed being in the stable at night and keeping Domino company while there have been thunderstorms. Nero has been right by his best friends' side as he recovered from Laminitis, and they are now back out in the field with their other friends enjoying the grass. Nero is now also wearing his fly rug to protect him in the warmer weather as well as enjoying a sweet itch treatment once a week – he sees this as an opportunity to have extra fuss and attention!
June 2019:
Nero has kept his friend Domino company as he has had laminitis. Nero, being a reliable and long-term friend of his, was once again at his side to keep him company. The good news is that he is now on the woodchip area at the Visitor Centre, meaning it is easier than ever to meet him! He has been enjoying greeting visitors as they walk through the Visitor Centre, especially as he can show off his new hair style as he hardly has any bald patches.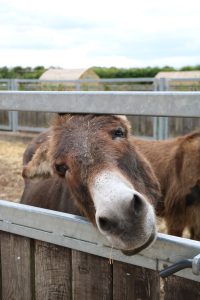 May 2019:
Nero was the brave friend this week when he had to show Domino how to behave properly for a bath, Nero very much enjoyed his scrub and getting shampoo everywhere! He has also had a wormer this week, where again he behaved like an angel so has been winning all the brownie points and treats from staff this week.
April 2019:
Nero is responding very well to his new medication for his Cushings. His hair is slowly growing back and he has been allowed to enjoy some time in the sunshine without his rug. Nero has also been helping with The Donkey Sanctuary training programme, teaching attendees to lead, pick out feet and general donkey care. Nero was very well behaved and was a huge hit with everyone on the course.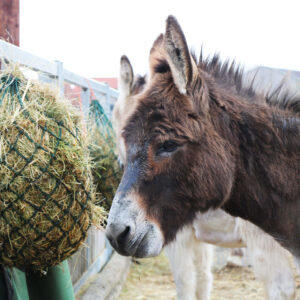 March 2019: 
Nero has had a lot of attention this month from both the farrier and the vet, but he has been a trooper throughout it all. The farrier has now put heart bar shoes on to help support his thin-soled hooves. This has made him a lot more comfortable and happier, although it still doesn't make him want to join in on the running around like the other donkeys do. He has also had a blood test to review his Cushing's medication which showed that he needed a higher dose of medication to help him.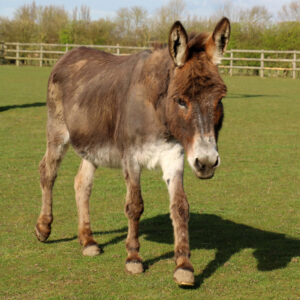 February 2019: 
Nero's waistline is being monitored and as a result he has been issued with a no sugar diet to help him maintain a healthy weight. He hasn't seemed too bothered about his recent diet change and is still the first in the queue for his breakfast every morning. Nero has also shown signs of being a little sore when he was walking over hard stones so had some x-rays taken of his hooves to investigate. It showed that he has very thin soles, so may need some special shoes to make him more comfortable.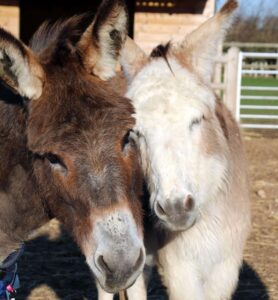 January 2019:
Nero is getting used to his glue 'rim' shoes that the farrier put on for him last month, they are making him much more comfortable, so we are really pleased for him.  He has stayed in a little bit this month too keeping warm and cosy with Domino whilst the pair of them recovered from colic. He's back outside now in the daytime with his turnout rug on – to make sure he stays nice and warm.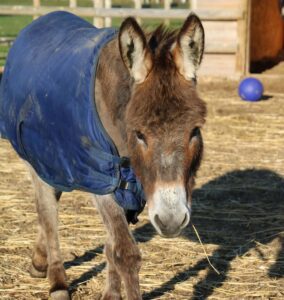 December 2018
Nero has enjoyed a cosy Christmas in the stable where is most comfortable. As he had a few issues with his skin, his coat isn't as thick as the rest of the donkeys so has a stable rug and a turnout rug on to make sure he is warm enough. For Christmas, Nero received some glue 'rim' shoes from the farrier to help support his feet, and so far he appears to be very pleased with them!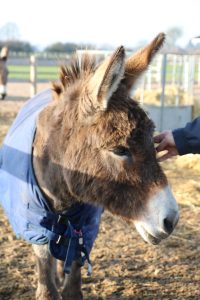 November 2018
Nero has had a visit from the vet this month, however it wasn't for anything health related, thankfully. Nero has been microchipped in order to comply with new regulations. He was so brilliantly behaved he had some well-deserved treats from staff afterwards. He too has been feeling the colder weather this month so he and his friend Domino are now coming into a stable at night to stay nice and warm.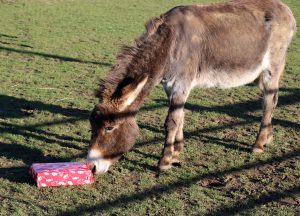 October 2018
Nero is feeling snuggly and warm now as he has got his thicker rugs on and some of his friends are a little jealous of this. As Nero lost a little of his hair this year due to a skin infection, staff are carefully monitoring the temperature and making sure he is warm enough now the weather is colder.
When his friend Domino was donated some of their favourite treats, Nero was one of the select few that was allowed to share them with him, again the other donkeys were a little jealous about this too! Although Nero and Domino didn't seem to mind…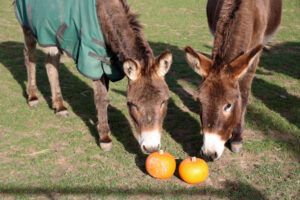 September 2018
Nero's hair is growing back to help keep him warm now the cooler weather has arrived, he is also wearing a rug as a little more protection. He has been making some new friends this month when an organised visit came a did some donkey grooming. Nero especially loved the attention from new visitors and took full advantage to enjoy a good groom!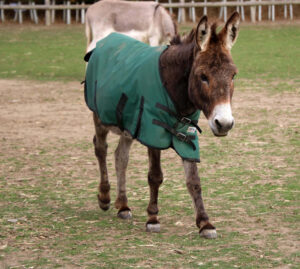 August 2018
Nero has had his medication changed to help with his liver function. Although he now enjoys it, it has taken a little bribing to help encourage him to try something new. He too is enjoying the cooler weather and he is wearing a rug for when it gets cooler at night. He is also having an extra feed added to help his condition and ensure he is eating his full medication.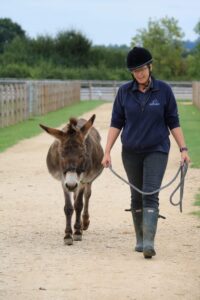 July 2018
Nero continues to enjoy a bath most days through the heat wave to keep his skin supple and cool. He is often seen in the shade with Domino during the hottest part of the day keeping cool. He was very happy to see Apache and Bluey arrive back from their trip to the vets and they all enjoyed a celebratory lap of honour when they were reunited in the field. Unfortunately the swelling on his withers hasn't gone down so he is having a topical treatment put on twice a day and will be reviewed in a couple of weeks.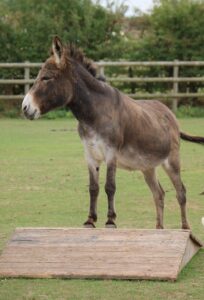 June 2018
Nero has struggled during the hot weather and was very uncomfortable in the heat, so he now spends the day in the barn when it is warm and goes back to the field at night. Unfortunately, Nero has developed a swelling along his withers so is on the vet list and awaiting their arrival. He still seems very happy and remains his cheeky self when visitors come and see him.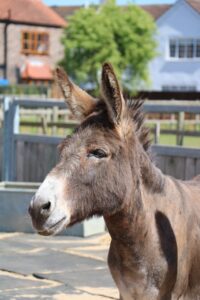 May 2018
Nero celebrated his birthday this month and took part in a Facebook live while staff sang happy birthday and gave him a cake, which he very much enjoyed. He is still enjoying his regular baby shampoo bath in order to keep his skin soft. His hair is slowly growing but is having weekly treatment to keep on top of his sweet itch, which is why you may see him in a rug when you are visiting.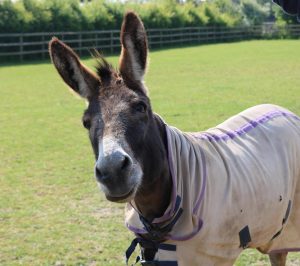 April 2018
Nero has had a clip due to developing a fungal infection, however he is enjoying the extra baths he is having to keep his skin soft, as well as the cuddles from welfare staff. He has also been very brave and had a blood test which will make sure he is receiving the right amount of medication and to monitor his liver function.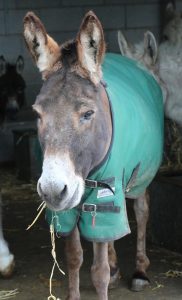 March 2018
Nero is doing what he does best by keeping Domino's spirits up while he is being treated for Laminitis. He is enjoying his new housing at Walklands Farm in the barn, especially when the snow came and he was able to stay warm and dry and admire the snow from inside the barn.
Gallery