It is with a very heavy heart that we have to announce that our much-loved retired Sponsorship Star, Largo, has passed away.
Arriving at Bransby Horses in June 2006, Largo was immediately treated for laminitis yet managed to escape through electric fencing within his first five days with us to reach an enticing patch of grass.
Due to his cheeky nature, Largo soon became a popular Sponsorship Star and spent his days being cared for by the team at our Visitor Centre Yard. It's here Largo met Alvin and the two of them became the best of friends, often grooming each other but only when the team weren't watching (a game they often played with staff who liked to see the two boys enjoying each other's company).
Larger-than-life Largo also became the face of Bransby Horses' 'Free Rein Roast' coffee, with packaging featuring an illustration of his handsome face – a lovely way for us all to remember him.
At the age of 27 in early 2020, Largo retired and spent the rest of his days with Suzie and Soleil within a small herd at Walklands Yard sanctuary, enjoying the peace and quiet after his successful modelling career.
More recently, Largo had been diagnosed with Cushings, had ongoing digestive issues and suspected arthritis in his back legs. After regular check-ups and enjoying a lovely last summer, our veterinary team made the difficult decision to put him quietly to sleep before the winter set in after concerns he wouldn't be able to cope with the cold and mud amid his existing conditions. It was time to say goodbye to our special pony.
Largo was a credit to our teams and was loved dearly by both members of the public and those who have cared for and sponsored him over his years at Bransby Horses.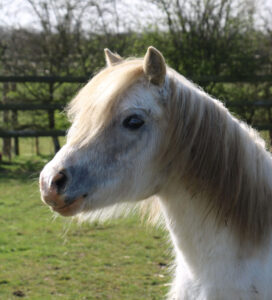 All the teams at Bransby Horses are truly devastated and we know this loss will be felt greatly by his supporters, too.
We will never forget you, Largo.
If you sponsored Largo, you should have received a letter explaining what happens to your Sponsorship. If you're yet to receive this, please let us know by phone 01427 788 464 or email mail@bransbyhorses.co.uk. In truth, we simply couldn't continue to support and care for horses, ponies, donkeys and mules like Largo without your generosity. Thank you.