As river levels return to normal following October's storms, around 40 per cent of our grazing land remains waterlogged.
During Storm Babet, the Environment Agency opened the Till Washlands floodgates to prevent further flooding to homes in Lincolnshire – this water was held on our grass paddocks where more than 70 horses were living.
A few weeks on and early assessment suggests the land, field shelters, fencing and woodchip pads will not be usable now until next summer and expensive repairs will be ongoing.
Senior press officer Maria Thompson said: "The horses which were affected are still on their temporary grazing, which is also getting wet in places, so we will have to keep our eye on this and manage it as best we can.
"Some of the woodchip areas, which are purpose built for our equines, now resemble what can only be described as 'chocolate mousse' and are no longer usable. These pads are an essential part of how we manage our herds and will need to be replaced in the long term.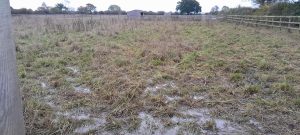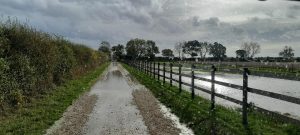 "We are so grateful for all the support we have received from people who have donated, visited or offered assistance, as it really does help."
We're assessing any new rescues on a case-by-case basis but, we were able to take in 11 Welsh ponies last week, who would have perished if they'd been left where they were.
Although we support the Environment Agency's decision to flood our land, we do not receive any compensation for this.
A donation page has been set up here for anyone who would like to support us through this challenging period.