Domino
Domino came here in 2009 with fellow Sponsor star Nero. He hates the rain and thunderstorms, making his favourite place in the field shelter. When the sun is out, he is out with the rest of the herd, loving the sun and enjoying the grass. He celebrated his 20th birthday in may 2019!
Did you know? Donkeys form extremely close bonds with other donkeys. They connect with one or two of their own kind and can become extremely distressed if they lose their close friend or they are moved away.
Updates
Domino is doing really well! He is not a fan of the high temperatures though. He and Nero sometimes need to come in during the day to help them cool off. Domino is back to his hungry self, often stealing everyone's breakfasts.
---
Domino is now out all day on grass with the other Donkeys. This is great following his laminitis earlier in the year. He hated having his bath last week and decided to pull one of our team members across the yard, naughty Domino!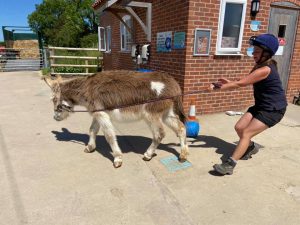 ---
Domino has been feeling a bit unwell recently. So to see him trot all the way out to his new pad with brother Nero was fantastic. For Domino to be going more than a slow walk is a miracle. Even Apache can overtake him sometimes. It was also his birthday this month, he is now a great age of 21! The team celebrated by making him a 'donkey friendly' cake.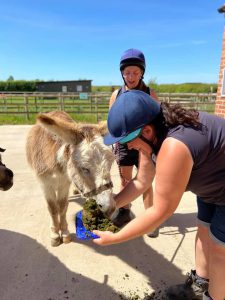 ---
Domino is now off pain medication for his laminitis. He is gradually having his turn out on a pad increased with brother Nero and young Nipper. Hopefully he and his friends can join Bluey, William and Apache soon.
---
Domino is having a bit of a rough time at the moment. He has had a bout of colic which he is recovering from and is being monitored closely to make sure everything is okay. Domino has also been suffering from laminitis, he has had x-rays but may potenientally may need some 'special shoes'. These will be aluminium shoes that cover the whole bottom of the hoof, this will give Domino some more foot support. He is responding well to treatment and has had his pain relief reduced. Nero and Nipper are close by, keeping him company.
---
Domino has been a little under the weather recently so the team decided to do a blood test to see if anything is wrong. He has also made a new friend, William the Donkey. We are hoping they will bond nicely for the Winter months, every Donkey needs a snuggle from time to time.
2019
December 2019
Unfortunately Domino has had some seedy toe early in the month, so the farrier came out to look at him. Both of his feet were first cleaned with Iodine solution which is a skin disinfectant and then wrapped in cotton wool to help support. He is currently out of public view for the Winter period whilst he stays warm in the barn with all his friends.
October and November 2019
Domino has fully recovered from his bout of Laminitis which makes him very happy as he can be back to his usual self instead of being uncomfortable. His recovery has meant he can now be out in the fields full time with all his friends. He needed a quick faeces sample taken to be tested for worms which obviously didn't faze Domino in the slightest.
August and September 2019
The summer has been a blessing for Domino, who hates rain and thunderstorms! The shelter is very much his favourite place to be when the rain is falling but when the sun is out, he is out with the rest of the herd, soaking up the rays and enjoying the grass. After recovering from a bout of Laminitis in the first part of the summer and is getting through another episode at the moment but he is getting all the best treatment. Whilst human children were getting new school shoes, Domino was getting shoes too. The shoes Domino got were not black and shiny, they were more horseshoe-shaped and made of metal – obviously. Domino would not be able to tie his shoelaces so we avoid the human shoes if we can. Domino has spent a lot of time in the Courtyard near the Visitor Centre, to help his feet get better.
July 2019:
Domino has recovered well from his small episode of Laminitis and is feeling much more comfortable. He is enjoying being back out in the field and eating grass again, especially with his best friends. He and Nero are still coming into the stable at night, which he is rather thankful for when the thunderstorms have been happening. As his adopters will know, Domino doesn't like the rain!
June 2019:
Unfortunately, Domino has had a bout of laminitis this month but seems to recovering well to his treatment. He is having pain relief to keep him comfortable and he is now allowed on the woodchip area in the day for a leg stretch before returning to his stable at night. He will hopefully be allowed back on the grass when he is more comfortable.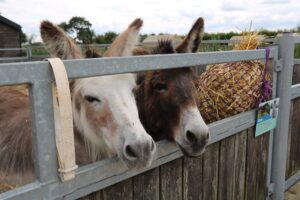 May 2019:
Social media fans will have seen that Domino celebrated his 20th birthday this month! He enjoyed a good bath so he was ready for his 'Happy Birthday' video. Domino is very clear that he doesn't enjoy a bath with a hose and insists that it must be done with a sponge, as it was his birthday the staff were happy to oblige. Although when he had the dentist this month and gave him and staff the run around, they weren't impressed.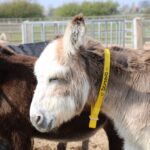 April 2019:
Domino and his friend have now been allowed time in the field and Domino is very pleased about it, he is waiting every morning ready to go out and isn't afraid to shout if he is even a moment late being turned out. They are both enjoying a couple of hours out each day and although he may be an older gentleman, his youthful spirit kicks in and is giving the staff a good run around when it is time to go back on the pad.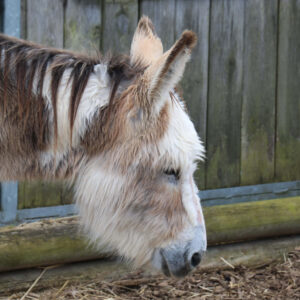 March 2019: 
Domino is feeling very well at the minute and has a new friend in fellow donkey, Rico. Domino is a lot older than Rico but that isn't stopping him running around and playing with him during the day when they are out in the field together. Domino is very caring and conscious to not leave his best friend Nero out of the antics; however, Nero is more than happy to sit back and watch the fun instead of getting involved.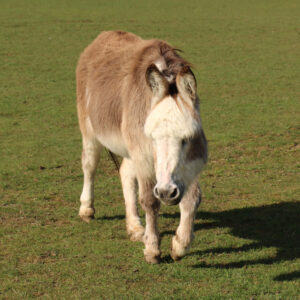 February 2019: 
Domino and Nero have been great friends to Rico as he has needed a little support this month. Although the warmer weather is on its way, Nero is still a little cool at night so he and Domino come into the stable to stay warm. Domino doesn't see this as an issue and is always waiting to come in on an evening.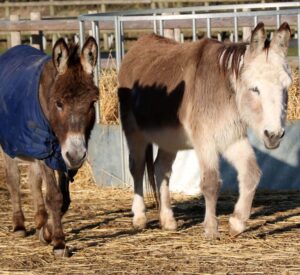 January 2019:
Domino has continued with his spell of good behaviour, when he had his check up by our farrier this month and showed the other donkey's how to do it. He will of course continue to be assessed to make sure his seedy toe doesn't get any worse. 
He has had to send a little bit of time indoors, this month with his friend Nero while they recovered from a bout of colic. Although he is happy to be outside again during the daytime.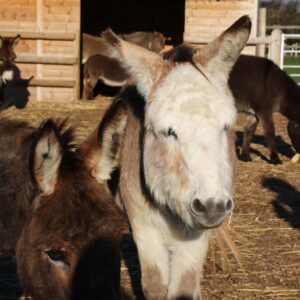 December 2018
Domino has received a microchip this month due to a change in legislation that means all equines should be microchipped. He was a very good boy and was very well behaved for the vet. He has also realised he is one very special donkey with very dedicated visitors who came along despite bad weather to wish him and his friends a Happy Christmas! Although he wasn't as enthusiastic to come over to the fence to say hello. He is enjoying coming into the stable at night and is always waiting at the gate when it is time to come in.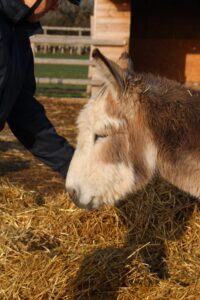 November 2018
Domino has noticed the change in the weather this month and it's certainly getting colder and wetter! He and some of his friends have moved to the woodchip pad to protect their feet from the mud and hopefully from seedy toe. He has been very well behaved for his feet checks from staff and has also lost a little bit of weight. This is not a bad thing with Christmas just around the corner!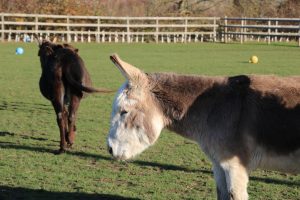 October 2018
Domino is known as 'The Local Weatherman' as he is always the first one to head for the shelter if there is so much as a chance of rainy weather or the temperature becoming a little cooler. This is a handy piece of information to have if you are visiting and see Domino, as you know when to make a run for the Feedroom Café to warm up and stay dry!
Domino has not been short of attention this month with the half term spook walk going right by his field. He has met a lot of new friendly faces and although he can be quite reluctant to come to the fence for a cuddle, he appreciates the attention all the same. He also received three bags of treats which he has shared with his friends.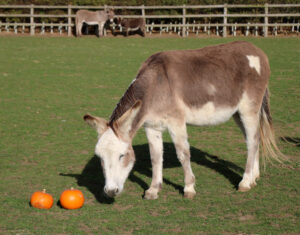 September 2018
Domino was the star of the show when a group visited this month. The group were on an organised trip and were able to groom Domino. He was impeccably behaved and a credit to the charity. Domino has had a poo sample taken this month to ensure he will receive the correct worming programme.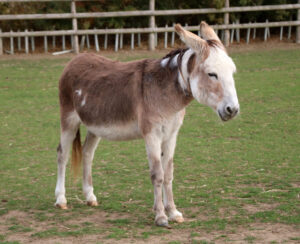 August 2018
Domino has proved his sixth sense this month when it comes to the weather by retreating to the shelter just minutes before the rain arrives, every time he has it right! He has also enjoyed a lovely groom from staff which has made him feel extra special and he has liked showing off his beautiful coat to visitors throughout the summer holidays. He and the rest of the boy donkeys are back in the field opposite the girls, which makes for a very noisy morning when they are awaiting their breakfast.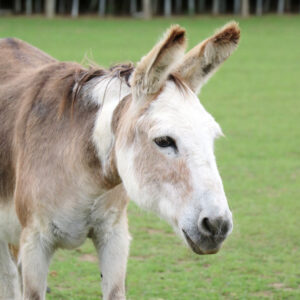 July 2018
It is still very warm for poor Domino and his friends as the heatwave continues this month! He is often now seen in the shade of the shelters keeping cool with good friend Nero who also isn't that keen on sunbathing. Domino was very pleased to see his field mates, Apache and Bluey, arrive home from the vets. So much so they brayed across the Visitor Centre as soon as they saw them coming! Domino can now take a well-deserved rest from being 'parent' of the group and hand the reins back over to Bluey now he is feeling better.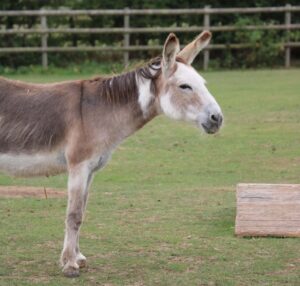 June 2018
As Nero's best friend, Domino has been accompanying him to the barn during the day to stay cool in the hot weather, Domino has also not enjoyed the high temperatures but did enjoy his daily baths to keep him cool. Their herd has also been missing two of the group, as Bluey and Apache had a couple of nights at the vets so Domino has taken on the parent role and has looked after the rest of the donkeys while they are away.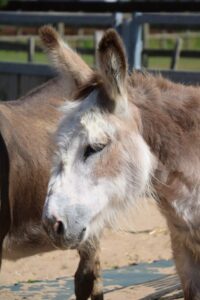 May 2018
Domino has been having a good pamper this month by having a few baths that will keep him cool in the sunshine. The baths have also helped to get rid of his winter coat too. Domino has had his yearly dental visit where the dentist was very pleased with his teeth and he behaved like an angel!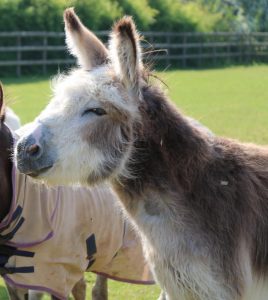 April 2018
Domino is the winner of the 'Noisiest Donkey on the Yard' Award and likes to make sure everyone can hear him, especially at feeding time! Now the weather has improved, he is enjoying his spring time bath and groom along with the other donkeys to keep him cool over the summer.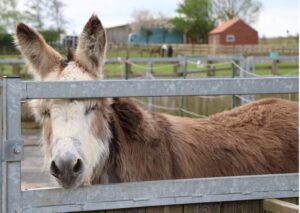 March 2018
Domino hasn't been feeling himself lately and has been struggling with Laminitis. He is responding well to his treatment and improving each day. He is also enjoying having extra cuddles and attention from the staff who are looking after him and of course having Nero by his side.
Gallery