People
No organisation exists without people and nothing can be achieved without their efforts, here at Bransby Horses we are incredibly lucky to have a dedicated team of staff and volunteers helping us to achieve our objectives.
Our Trustees
Our trustees are volunteers who give up their time and use their skills and experience to support the charity and help us to achieve our objectives.
Trustees are the people who lead the charity forwards and ensure every decision made is in the best interests of the animals. They have overall control of Bransby Horses and are responsible for making sure the charity is achieving what it was set up to do.
Carole Fisher – Chairman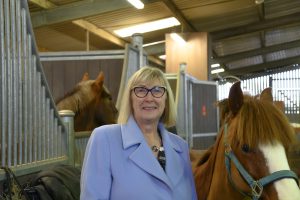 Carole became a Trustee in 2010 and became Chairman in 2013. She runs an equestrian business and farms in partnership with her husband and son. In 2006 the partnership won the Crown Estates first 'Rural Business Award'. With a grounding in agriculture as well as equestrianism she takes an active part in the family farming and contracting business. She is married with two sons and is interested in community and charity work. 18 years ago she created a non-profit making Toll Ride to give local riders safe off- road riding. This is still running successfully giving up to 60 riders' trouble free riding. She raises funds for the Lincs. and Notts. Air Ambulance, which she sees as a vital service to the rural community. She is committed to helping Bransby Horses to deliver its' Strategic Plan' to progress and handle the challenges ahead.
In her leisure time she enjoys riding her horse, dressage writing and fence judging at B. E. events including Burghley. She and her husband also enjoy skiing and travel.
Heather Elston – Trustee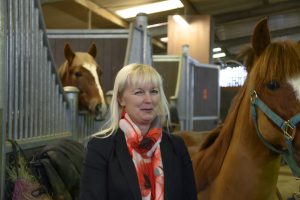 Heather was appointed as a Trustee in March 2016 and was Head of Department of Animal and Equine Sciences at Brackenhurst, Nottingham Trent University, where she was responsible for the courses and facilities. She has research interests in equine nutrition and feeding, equine housing and grazing systems and also measuring activity patterns in horses. She graduated from Nottingham University and is a qualified BHSII(SM).
Heather spends most of her free time with her horses and competes at grassroots level British Eventing BE90/100 and British Dressage up to medium level and represented the local Riding Club, East Midlands Dressage Group, at eventing and dressage. She currently competes her own coloured mare, Smartie Pants, and has had many local BE wins including Shelford Manor, Buckminster House, Frickley Park and Eland Lodge. Their highlight was going clear cross country at the Badminton Grassroots Championship 2015.
Any spare time Heather and her husband have is spent touring the countryside in their classic car, an MGB or cruising on the waterways.
Susan Dolan – Trustee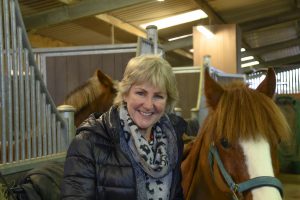 "I have a lifelong love of animals in general but horses in particular and am excited to be involved with such a caring and worthwhile organisation as Bransby Horses.
"I was brought up in Scotland, where I studied medicine at Glasgow University and have been working as a GP in N Nottingham for the last nine years. Prior to that I held various hospital posts and, as well as my clinical work, I have been Medical Advisor to a Charity involved in supporting families who have a child with a rare degenerative genetic condition. I have also sat on an Ethics Committee for consideration of IVF cases. In the practice, my roles include Safeguarding and managing Staff issues.
"I have two grown up daughters and enjoy riding in my spare time. I am particularly interested in the Health and Welfare side at Bransby Horses and hope that my experience in this area will be of value to the Charity in my role as a Trustee."
Kathryn McFee – Trustee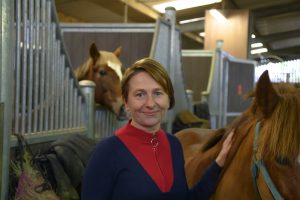 "I have worked for Lincolnshire Co-operative for 14 years in HR and training roles. The business prides itself on bringing together ideas, energy and resources to make life better in our communities.
As a child I loved to visit Bransby Horses to see the horses and spend my pocket money in the gift shop buying rosettes! In my role as a Trustee to the charity I will aim to support the charity in helping make sound strategic decisions to ensure its continued success.
In my spare time I enjoy going for hacks on my pony, Gorgeous George and doing the various tasks that come hand in hand with horse ownership."
Michael Pickles – Trustee
Michael was appointed as a Trustee in August 2019. He is a recently retired Clydesdale Yorkshire Bank Manager, having worked in banking for 37 years. He has a wealth of knowledge in the finance sector and from looking after a number of commercial businesses in the Lincolnshire area. He became aware of Bransby through his time with Clydesdale Yorkshire Bank where he was the charity's manager for 6 years.
He relocated his family to the area 19 years ago, originally coming from West Yorkshire. He is a keen sportsman playing golf at nearby Lincoln Golf Club. His interest in horse welfare stems from his daughter who has her own horse.
Liz Kay-Stott – Trustee
Appointed a Trustee in September 2020, Liz has spent her career in strategic marketing roles; through which in 2018 she was introduced to the charity.
"The passion and enthusiasm of everyone involved at Bransby is infectious. When you couple that with the incredible rescue, welfare and rehabilitation work carried out here, I knew that it was something I wanted to support and be a part of."
Living in Lincolnshire Liz often visits Bransby with her family enjoying the rural walks, meeting the animals in our care and of course popping into the award-winning onsite Café! In her spare time, Liz can often be found getting muddy on her mountain bike with her husband and son.