We are open Wednesday to Sunday 10am - 4pm.
Visit Us
Transforming the lives of equines together
Our Values and Commitments
Our 10 Year Strategy
Download our strategy document below to review our plans for the next 10 years.
Bransby Horses Strategic Plan 2022-2031
The Bransby Horses Way
Bransby Horses is one of the UK's largest equine welfare charities and we are dedicated to improving the lives of horses, ponies, donkeys and mules. For over 50 years we have been rescuing and caring for equines in need, and as the demand for our rescue and welfare work continues to rise, we successfully collaborate with others when needed to achieve the best possible outcome.
We feel incredibly humbled that what started as one man's dream to alleviate equine suffering in 1968, still remains pivotal to the charity's ethos some five decades later.
We are proud of everything that we do and of staying true to our heritage. This makes us truly unique; our care of and dedication to these beautiful animals is simply 'the Bransby Horses way.'
We will ensure that:
We always make decisions in the best interest of an equine.
We are completely invested in the care we provide.
We offer non-judgemental support to equine carers and owners.
We promote responsible equine ownership.
Every equine is treated with dignity and respect. 
Our Values are:
Progressive:

We move with the times, planning and adapting ahead of trends.
We are open-minded and constantly learning.
We are respected for being experts in our field and making correct decisions, extending the scope of our reach through collaborative working.

Inspirational:

We inspire people to constantly challenge their perception of equine welfare.
We are dedicated to continuing to positively impact the lives of more equines.

Caring:

We pride ourselves on being non-judgemental and show compassion to horses and their owners.
We care about our environment, our people, supporters and our community.

Knowledgeable:

We keep abreast of developments in animal welfare and work collaboratively with others to benefit from their knowledge.
We empower our people to identify and implement best practice to achieve positive outcomes.

Our Equine Welfare Commitments
Welfare Impact and Sustainability
We continue delivering great work whilst remaining focused on our Vision, Mission and Ethos, to be able to impact more equines in need. We will increase our understanding of equine behaviour and their mental state, continually developing our skills and expertise. This is driven through:

Rescue – We continue to provide an effective and efficient equine rescue service.
Care, Rehabilitation and Training – We provide sustainable care, rehabilitation and training to equines.
Rehoming – Our successful rehoming scheme continues to reflect our dedication to both equines and fosterers.

Influencing Welfare Culture
Through knowledge, learning and non-judgemental advice, we work collaboratively and focus on preventing cruelty and neglect. We influence and change attitudes to responsible equine ownership, from birth to end of life care, tackling myths and sharing what we do with our supporters.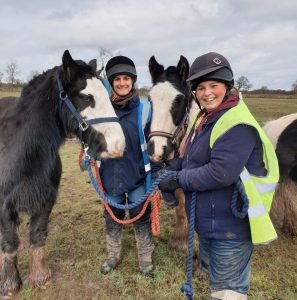 Our Supporting Commitments
People and Culture
We prioritise the development and recognition of our people, where high standards of performance are expected and encouraged. We continue to strengthen our healthy, positive and caring organisational culture.
Resource and Environmental Development
We have the appropriate facilities and infrastructure, including internal systems and processes. We will insure that our operations are fit for purpose and future proof, whilst being mindful of the impact and role we play in protecting the environment.
Financial Sustainability
We have strong governance and financial stewardship, with well-established income generating activities and a level of reserves that allows us to react to the changing environment and take advantage of opportunities as they arise.