The safe arrival of a foal has brought a ray of sunshine to Bransby Horses and the lives of five Welsh ponies taken in by us in February. A male foal (colt), Cobalt, was born overnight on March 28 to mum, Periwinkle. Mare and foal are doing well.
The five ponies came to us as part of a large-scale rescue operation involving a number of leading equine charities. There were 40 ponies rescued in total with some going to World Horse Welfare – who led the rescue effort – the Blue Cross and HAPPA, following the sudden death of their owner.
Another two of the mares within the five strong herd here at Bransby Horses, are also pregnant and expected to give birth imminently.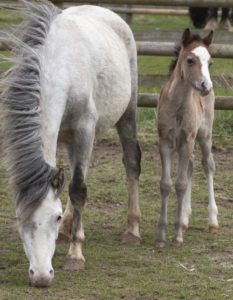 The rescues are currently residing in our Animal Reception Centre (ARC); ARC Team Leader, Lauren said: "Periwinkle is being an amazing mother – she strikes the perfect balance between being protective but, also being very happy to let us handle her baby.
"She wasn't producing a lot of milk in the beginning but fingers crossed feeding is now going well for them both.
"Cobalt's bloods showed he has a good level of antibodies which means he got plenty of colostrum."
Foals are born with no infection-fighting antibodies in their blood, which colostrum (first milk) provides. The mare produces these antibodies and transfers them through colostrum to protect the foal from bacteria and viruses.
Lauren added: "Cobalt's confidence is growing day by day and he loves scratches and playing with our sweeping brush when we are tidying up."
The four other ponies, including our pregnant mares, are also thriving.
Bongo, the only male pony in the herd, has shown a strong fear of men since he has been with us and is learning to overcome this with regular socialisation sessions with resident farrier, Scott. Bongo was a stallion when he arrived and has now been castrated so he can live safely with other ponies.
Ivory, or 'Aunty Ivory' as she is now called, is a mare currently living with Periwinkle and new-born, Cobalt. She is also settling in well with her new family.
Lauren said: "Ivory is quite put-out with the new arrival getting lots of attention but we are making sure she doesn't feel forgotten about completely. She was caught snoozing in the straw with the foal this weekend, so she must like him a little bit, despite her ignoring his attempts to play."
Another of the mares is Auburn, who had severe skin problems when she arrived; is starting to show some improvement and her handling is progressing well. We believe Auburn to be heavily in foal too. Lauren added: "Auburn will do just about anything for food so she has been easy to win over."
The last pony of the group is Tawny, who is also believed to be pregnant. Tawny is the eldest of the mares and has been the biggest handling challenge of the group.
Equine Welfare Assistant Mia, who has been Tawny's main handler here, said:  "From not being able to get anywhere near her and having to herd her into a stable, we can now catch her safely, lead her around the yard to be weighed and groomed, plus this means she can also begin her foot work.
"It's been a really long process to gain her trust but we are heading in the right direction."
Currently none of these ponies, including Cobalt the foal, are on view to the public but we hope in time this will change. Keep an eye on our website for further updates.
Without regular donations from you, our amazing supporters, none of our work would be possible – thank you from all our rescue residents.
Read about Periwinkle, Bongo, Tawny, Ivory and Auburn's rescue here: https://bransbyhorses.co.uk/more-than-just-one-horse-in-need/