A large herd of forty ponies has been taken in by rescue charities after the sudden death of their owner. World Horse Welfare was contacted about the ponies late in 2021 and it quickly became clear that the owner's distraught family was unable to take on their day-to-day care. Despite this, however, the family was concerned for the ponies' welfare and extremely keen to do the right thing for them and consequently signed them over into the charity's care.
More than just one horse in need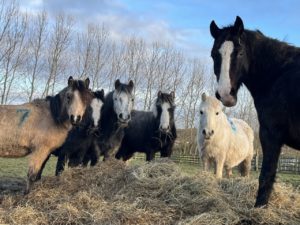 Finding space to take in 40 ponies at once is a huge challenge and so through NEWC (National Equine Welfare Council), World Horse Welfare began immediately to liaise with other animal welfare charities to arrange suitable accommodation. In December, World Horse Welfare and HAPPA worked together to round up the Welsh Mountain Ponies from the farm in North Wales and, after a vet had checked that they were fit to travel, their journeys began.
World Horse Welfare was able to take in 14, which were moved to the charity's Penny Farm Rescue and Rehoming Centre near Blackpool. HAPPA took in six ponies, and two other charities stepped in to house the remaining ponies, with five going to Bransby Horses and the remainder to Blue Cross. One pony was rehomed directly to a friend of the family.
Multi-agency involvement was needed
Rae Andrews, Field Officer from World Horse Welfare said: "Cases involving large numbers of horses or ponies are unfortunately frequent, and always pose a logistical problem to find spaces to take them all in at one time. The fact that we were able to find places for them is testament to the way all the different organisations involved through NEWC work together. This case also highlights the importance of considering that difficult thing: what will happen when we are no longer there? – and making plans for the provision of your animals once you are gone."
Tracy Heaton, Equine Inspector from HAPPA said: "It is always a pleasure working alongside my World Horse Welfare colleagues supporting them offering our resources and enabling such great teamwork. Especially in today's difficult equine welfare climate, working in collaboration is key to getting the job done. The task involved in the round up of large groups can be extremely challenging and is reliant on a knowledgeable, proficient team working in harmony with each other; likewise, HAPPA equally works with World Horse Welfare calling on their resources to assist us on equine operations where necessary. The ponies have really settled into HAPPA's Rescue Centre, Shores Hey Farm, where they will continue on a Rehabilitation Journey, learning to interact and socialise under the guidance of our Equine Team".
Bransby Horses' Equine Welfare Manager, Rachel Jenkinson, said: "As members of NEWC, we understand the importance of joining forces as a collective to respond to large welfare cases such as this. We are forever grateful to our loyal supporters for the regular donations that make it possible for us to able to provide these animals with the care and love they deserve."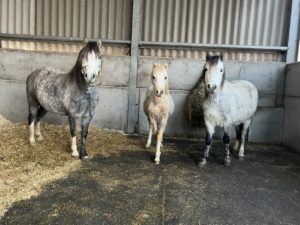 Maria Kavanagh, Manager at Blue Cross animal rehoming centre in Rolleston, Staffordshire said: "We are happy to join other charities whenever we can when large groups of vulnerable horses need rehoming. This family did absolutely the right thing in getting help for this group and no owner should find themselves abandoning horses when they can no longer cope as charities will always offer support whenever possible. Eleven geldings went to our Burford Centre and a mare and foal are with the Rolleston team and will soon be looking for loving new homes."
All the ponies have been given thorough health checks and the 14 at World Horse Welfare's Penny Farm are now well on their journey towards rehabilitation. They are becoming used to being handled and can be seen by visitors to the centre. It is also believed that some of the mares are pregnant, so the team at Penny Farm is expecting some more pint-sized ponies to be born in the coming months.
Rehoming an equine can be immensely rewarding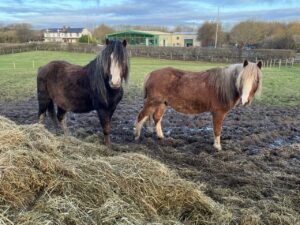 The aim is for some of the ponies that were rescued to be rehomed when they are fit and ready. Rehoming a horse is an immensely rewarding experience and offers the equine a vital second chance, as well as making space at each charity for more horses that desperately need help to be taken in.
For more information on our Perfect Partner rehoming programme, click here.  If you would like to find out more about how you can help us to rescue more equines in need, please visit our How To Help pages.