We are open Wednesday to Sunday 10am - 4pm.
Bransby Horses Virtual Show 2020

Welcome!
Time to raise spirits, funds and share success at this uncertain time.
Well it's finally here – our Virtual Show Competition Winner Reveal Week! 
Every day this week we will post on this page the finalist videos for two classes, watch to the end to see the overall winner.
Monday 25th May
It's time to reveal the finalists and winner of our 1st and 2nd classes in our Virtual Show: Pretty Mare and Gorgeous Gelding. As you'll see the competition was strong!
Class 1 – Pretty Mare:
Class 2 – Gorgeous Gelding:
Tuesday 26th May
It's time to reveal the finalists and winner of our 3rd and 4th classes in our Virtual Show: Golden Oldie and Young Star.
Class 3 – Golden Oldie:
Class 4 – Young Star:
Wednesday 27th May
It's time to reveal the finalists and winner of our 5th and 6th classes in our Virtual Show: Beautifully Turned Out Horse and Owner and The Perfect Moment.
Class 5 – Beautifully Turned Out Horse and Owner:
Class 6 – The Perfect Moment:
Thursday 28th May
It's time to reveal the finalists and winner of our 7th and 8th classes in our Virtual Show: Marvellous Mane and Tail and Delightful Donkeys.
Class 7 – Marvellous Mane and Tail:
Class 8 – Delightful Donkeys:
Friday 29th May
It's time to reveal the finalists and winner of our 9th and 10th classes in our Virtual Show: Super Shetland and Furry Friend.
Class 9 – Super Shetland:
Class 10 – Furry Friend:
Announcing our Supreme Champion!
Our Supreme Champion prize has been kindly donated by GeeGees Emporium.
Sarah, who is also a fosterer for Bransby horses has supplied an amazing hamper of products for our winner!
Sarah herself started riding at the age of 7. Many years on and Sarah now owns 4 horses, which includes gorgeous Bransby Joey, who was rescued by Bransby off the side of the road, only a few days old.
Sarah says: "Gee Gees was born out of my passion for horses. We sell online; offering a personal service. We also attend shows with our mobile shop. You may see us out and about around the county. If there's something you need just get in touch and we'll help you find it. We wanted to be able to give a little back to Bransby to say Thank you."
And thank you Sarah!
Saturday 30th May – Supreme Champion!:
Sunday 31st May – Montage:
If you and your four-legged friend are a finalist or indeed, the overall class winner, Congratulations! We will email you early w/c 1st June to get your postal address so we can send your winning rosette to you.
Thank you to everyone who has entered and donated – your enthusiasm, love and funding have a genuine impact on all of us, two and four legged, at Bransby Horses.
Information on the Virtual Show:
Bransby Horses discourage any unnecessary travel and activity during the lockdown period, in line with Government policy, so we've brought the show-world to you … #BHVirtualShow20
To inspire you, here's our Bransby friends representing each of our 10 classes.
Closing date for entries was 17 May 2020.
---
The show opened for entries on Monday 4 May 2020 and the closing date for entries was 17 May 2020.
Entrants were required to:
Fill in the form below to enter and then,
submit their £2 entry fee, per equine, per class at our JustGiving page: https://www.justgiving.com/campaign/KoKocampaign
On JustGiving you will be required to show your donation amount on public view, with your name that matches your form entry, so that the judging panel can confirm your payment for entry.
In your Just Giving Entry message – state the Class and your Equine's Name
If you're under 18, please only write your first name in the JustGiving post, and ensure you include the equine's name so we can identify you.
---
Entrants must have had permission from the equine's owner before entering.
We could not accept watermarked images, nor images showing a mounted rider not wearing a suitable safety helmet. One entry per equine per class. All classes will be shortlisted to 10 finalists, with one winner per class and an overall Show Champion.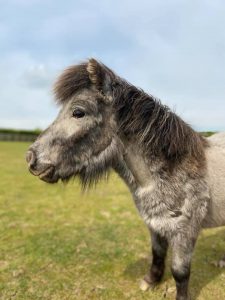 Entrants under the age of 18 must have their parent or guardian's permission. By entering, you are agreeing that Bransby Horses can use your image on our social media channels and website.
---
Submitted photographs could be a head shot or full body image and your equine could be ridden, in-hand or in a field, whichever you feel represents them at their best!
Only one photo per animal entry. Entrants could enter as many animals in as many classes as they'd like by filling out the form, and submitting payment, for each one. 
Classes:
Pretty Mare
Gorgeous Gelding
Golden Oldie (equine over 18 years old)
Young Star (equine under 4 years old)
Beautifully turned out Horse and Owner
The Perfect Moment (photograph of a special moment with your equine, such as a beach ride, show, hacking in the countryside or just having a cuddle)
Marvellous Mane and Tail (showcasing natural or plaited)
Delightful Donkeys (photograph of one or more donkeys)
Super Shetland
Furry Friend (any non-human member of your family – feathered friends allowed too!)
Winners are announced as per below:
25 May 2020
Class 1: Pretty Mare
Class 2: Gorgeous Gelding
26 May 2020
Class 3: Golden Oldie
Class 4: Young Star 
27 May 2020
Class 5: Beautifully turned out Horse and Owner
Class 6: The Perfect Moment
28 May 2020
Class 7: Marvellous Mane and Tail 
Class 8: Delightful Donkeys 
29 May 2020
Class 9: Super Shetland
Class 10: Furry Friend
30 May 2020
Supreme Champion – Overall winner of the 10 class winners.
---
Prizes:
• Each of the 10 class finalists will receive a Bransby Horses rosette
• Winner of each class will receive a best in class Bransby Horses rosette and an exclusive Bransby Horses Hoof Pick!
• Supreme Champion 2020 receives a Champion Bransby Horses Rosette, exclusive Hoof Pick and a surprise gift!
---
**ENTRIES ARE NOW CLOSED**
Thank you and good luck to everyone who has taken part!
---
You will only be contacted by email if you have been placed in the top 10 of your class. You will be contacted as we will require your postal address to send your prize.
Unless you have opted in for our Newsletter mailing, your entry data will be deleted by 14.06.2020. For more information visit our Privacy Notice