Can you offer a loving home for Your Perfect Partner?
Rescue – Rehabilitate – Rehome
At Bransby Horses we make a promise to every equine that we will give them a second chance at life. For some of our horses, ponies mules and donkeys this is in the form of permanent sanctuary care, but for many this can also be the opportunity to seek a loving home on our Friend for Life Rehoming Scheme.
All equines that are eligible to join the rehoming scheme as either a companion or a ridden horse, pony or donkey work their way through our bespoke training plan which is carried out by our skilled Foster Liaison Team to ensure that they are able to enjoy life in a one to one home.
All our equines and fosterers have the full support of the Bransby Rehoming Team throughout the rehoming process and also in the foster home for the duration of the placement. We carry out regular Support Visits so that we can learn about your adventures as well as offer guidance and up to date information in order to keep your fostered friend happy and healthy.
Along with you Support Visits we can always be reached by telephone or email to answer any questions or concerns and we are often free for a catch up if you pop in to see us at our Bransby site.
Our priority is to ensure that we find the perfect match for both the equine and the foster carer.
As always, the welfare of our horses, ponies, donkeys and mules remains the most important consideration and therefore we have a series of straightforward assessments for each successful applicant to complete as part of the rehoming process in order to ensure we find the right match.
Please be aware that we receive a huge amount of applications for many of our equines and therefore you may not be successful straight away. This should not deter you though, as we have lots of equines looking for homes so there's a good chance we can find a match that works for all of us .
Bransby Horses always retains legal ownership of every animal and this means that if needs be, an equine can always be brought back into the Charity so its future is secure. Bransby Horses also offers support to all Friend for Life fosterers and helps them make the most of looking after their rescued horse, pony, donkey or mule.
Every successful Friend for Life applicant needs to accept Bransby Horses' Rehoming Terms and Conditions and sign a formal rehoming agreement.
We have more than 500 horses, ponies, donkeys and mules
currently thriving in their special Friend for Life homes.
We are very grateful to all our foster carers as they have not only taken on the long term care of a rescued equine, but have enabled the Charity to continue rescuing even more equines in desperate need of help.
Support, Knowledge, Transparency, Education
Find your Perfect Partner
There are many different types of beauty, and with our rehoming process we want to match you with your ideal version of beautiful; your Perfect Partner. This Perfect Partner will be found through our expertise and guidance. We believe that this process, you're about to go through, will help to ensure our deserving, perfect ponies (and horses!) will find their perfect home as quickly and easily as possible.
Once you've filled out a Perfect Partner Application, the next stage is for us to work out which of these profiles will be the right fit and then we start the process of defining which of our residents could be your perfect match.
You may have seen a horse or pony on social media recently and that's why you're here. That's great! There's a chance this wonderful creature could be your Perfect Partner, but one thing our many years of equine rehoming experience has taught us, is that what you think might be the right horse or pony for you, might not be. So you're in a position to apply, click the button …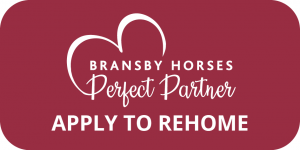 Here are some of our horses and ponies available for rehoming …