A six month fundraising event, which aims to boost the nation's mental health and highlight how horses can help with our well-being, has reached its half-way point with donations still pouring in.
The Great Horses for Health UK Relay which started at Wentworth, Yorkshire on 2nd May proudly has as its Patron fellow equestrian HRH, The Duchess of Cornwall. The event, which was named as Equestrian Charity of the Year 2021 at The Royal Windsor Horse Show in June has gathered an impressive line-up of sporting celebrity supporters, including Rio Ferdinand, Glen Hoddle, Carl Hester, Laura Tomlinson and Dickie Waygood.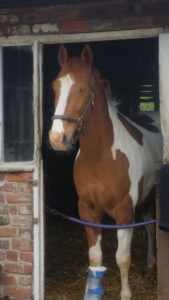 Horses for Health
There are many life stories emerging from this fundraising event, but none more poignant than that of Kathryn Jayne Watson and her horse Stanley (left). Jayne rescued Stanley in 2006 as a 5 year old neglected gelding at a time when Jayne herself had suffered a marriage breakdown and was going through a difficult time in her life. The pair built an inseparable bond that was tested to the limit when, in 2017 Jayne and Stanley suffered a horrific road traffic accident. Through Jayne's devotion and determination that nothing would part her from her beloved horse, both Stanley and Jayne were brought back to health and were able to carry a baton for the Horses for Health Relay in 2021 during the North West region stage.
Founder Sophie Gifford said "We have so many heart breaking but inspirational personal stories emerging from the Horses for Health Relay. For many people horses have helped them through extremely difficult periods of their life including the pandemic lockdown and hugely improved their mental health and well-being.
"We started to fundraise in May of this year, and as of the beginning of July, we've passed the halfway mark in our journey across the UK and raised over £10,000 for our 7 UK equine charities: The Riding for Disabled, Redwings, Bransby Horses, North Wales Horse Watch, HorseWorld, Hope Pastures and Horseback UK."
The Horses for Health relay is open to everyone and participants can register to take part at www.horses4health.co.uk and also make a donation of their choosing via the DONATE button on the site.