It is with profound sadness that we deliver the news to you that our recently retired police horse, Captain, has been put to sleep.
Captain came to us from Greater Manchester Police in late July after being retired due to arthritis, a painful condition of the joints, which advanced in several of his limbs. Shortly after arriving, Captain was reunited with his former colleague, Steele, and plans were made for the two to spend their retirement together.
It became apparent to the team that Captain was not able to cope with the level of pain he was in. The veterinary and farriery team worked closely together to try and make him comfortable with pain relief, specialist farriery and joint medication treatments. This can be difficult in horses of his large size as there's such a lot of weight and force on each of the joints.
After continual veterinary assessment, the prognosis for Captain's quality of life was not good and the kindest decision was to relieve this sweet, gentle Irish Draught of pain.
We will remember Captain for his long public service with the police serving in Greater Manchester and Humberside, and saw him attend a number of high profile events, often serving alongside fellow retiree, Steele. He was a firm favourite with police grooms and officers and will sorely missed by all. Our thoughts are with his former police colleagues and the teams at Bransby Horses who made his chance for retirement possible and took care of him during his time with us.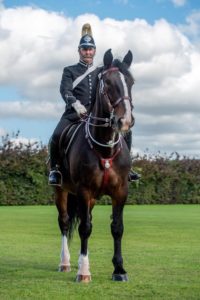 As a result, to put his best interests first, Steele has now joined our cob herd at our Walklands sanctuary to begin his retirement. We know many of you will be disappointed that his planned move to our Visitor Centre Yard has changed, but hope you understand that due to the change in circumstances, the needs of the equines in our care will always come first. We are hopeful you will be able to visit Steele in 2022.
Without generous supporters like you, we wouldn't have been able to provide the level of care Captain received and give him the opportunity to enjoy his retirement – for that, we thank you.