We are offering a novel way to support us this Christmas.
Buying one of our Gift Cards With a Difference means supporters can donate towards our rescue and welfare work on behalf of someone else.
Bransby Horses' Maria Thompson said: "We know things are tough right now and just want to let our supporters know they can buy a gift of warmth, food or medical treatment for any of our residents as a gift card to give at Christmas.
"It means they can donate to us on behalf of someone they know would appreciate the gesture."
Buying a Bransby Horses Gift Card with a Difference is a great way to help horses like Gerald.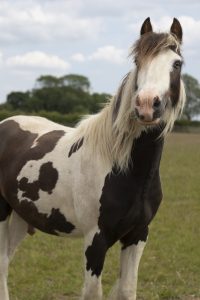 He was found by worried members of the public collapsed in a ditch with maggots and lice all over his legs.
Rescued by a near-by RSPCA centre he was then signed him over to Bransby Horses for the long term specialist care he needed.
At only two-years-old it was touch and go.
As well as advanced liver disease and severe dental problems he also needed a blood transfusion.
Welfare Manager Rachel Jenkinson said: "Despite his issues Gerald showed a real determination to get better. His conditions were difficult to treat as he had multiple issues but despite being close to death – he pulled through on more than one occasion.
"He's a lovely pony and the team who work with him are very fond of him."
Gerald's case highlights the long-term investment required to fully care for horses and ponies in need.
Rescuing animals like Gerald is just the start of the story and the lifetime of treatment and care they need is made possible thanks entirely to donations from members of the public.
Gift Cards With a Difference enable our teams to continue to care for Gerald and hundreds like him.
We have over 1000 equines in their care, making us one of the UK's largest equine welfare charities.
Every gift card purchased provides essential care to these equines.
Call 01427 788 464 or visit BransbyHorses.co.uk/gcwad for more information.