Fresh from the printers, Pudding's Ac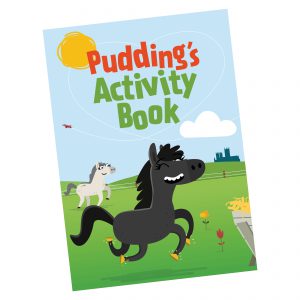 tivity Book is now available online.
Designed for children ages 5 and over, there are 32 pages of fun activities to keep the kids entertained for hours, including word searches, Sudoku, colouring and cut-outs to name a few!
Children will follow Pudding throughout the book, meeting her friends and solving fun puzzles along the way to becoming a Junior Rescuer.
Following on from the success of the Bransby Horses storybook, 'Pudding's Christmas Miracle' released for Christmas 2020, the charity hopes the new activity book will continue to raise funds for their continued rescue, rehabilitation and welfare work since they are unable to do so as normal as the Bransby site remains closed until April.
Pudding's Activity Book is available at £3.95 in the Bransby Horses web shop or can be ordered by telephone: 01427 788 464.
To find out more about Pudding and the answers to each activity in the book, visit her pages here.