Wish, a 22-year-old chestnut mare who has been with Bransby Horses for over eight years, has found her forever home – just in time for Christmas.
Every single team member who worked with Wish during her many years with the charity is over the moon to know she has settled in well with her new fosterer.
Wish was very nervous on arrival in 2013 after being rescued from a situation where her needs were not being met. Our teams worked hard to help Wish learn to trust again and built her confidence up enough so that she could be considered suitable for our Perfect Partner rehoming scheme.
After eight long years of searching for the right home for Wish, a process Bransby Horses takes great care with, it was love at first sight for her Perfect Partner Cat, who needed a companion pony for her mare, Pearl.
Cat said: "We contacted Bransby Horses as we had just lost a companion for my old mare Pearl, not really expecting them to find anything for us. The very second we saw Wish's cheeky face we all fell in love instantly."
"We were so pleased to see that despite some initial face pulling, within a few days of her arrival she became best friends with Pearl and although nervous at the start, she could be persuaded to do anything for a treat.
"Wish has been with us now for just a little over a month and has turned into a cheeky little monkey. She canters around the field with Pearl and pulls out electric fencing to have her own personal mud bath – we know it's her from the trail of tiny little footprints and her muddy bottom.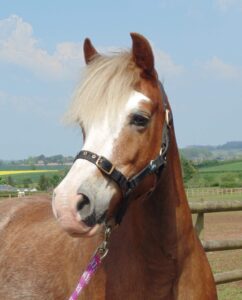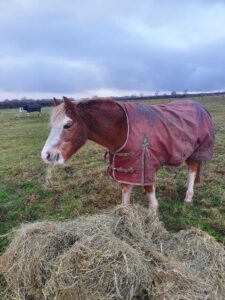 "She has come on leaps and bounds since we have been handling her every day. She is the sweetest, cheekiest pony we could have ever wished for and I so hope she will be with us for many years to come."
Shell Craven, Visitor Centre Team Leader at Bransby Horses said: "Wish was a very sweet pony who was lovely to care for. She would get nervous in some unknown situations but always trusted us to support her. It felt like forever waiting for her to find a home but we are so happy she's found the perfect home and it was worth the wait."
If you think you could offer an equine the second chance they deserve, look at our equines looking for a new home here: BransbyHorses.co.uk/Perfect-Partner