On 6 August 2020, The Sturton and District Shed Club signed a license to occupy part of a site at our charity's Bransby site in Lincolnshire.
The Shed club is a friendly group that get together to socialise on a regular basis, to carry out all sorts of projects and share experience in areas such as woodworking, wood turning, metalwork, gardening, household / car maintenance, IT, photography and anything else that takes their members' fancies!
Alwyne Thompson of Sturton and District Shed Club says:
"The site generously provided by Bransby Horses will enable the Shed Club to realise a long held ambition. The intention is to build a facility using secure site units which will provide a multi-skill workshop and a safe meeting space, thus developing not only individual skills but increasing social inclusion across the district.
"The Shed Club is extremely grateful to have received financial support from the Sturton by Stow Parish Council, the National Lottery Awards for All, and the Lincolnshire Cooperative Community (Community Champions) scheme."
Steve Deville, Bransby Horses, Executive Director of Finance and Resources says:
"At Bransby Horses we are proud to support this community venture as we continue to support initiatives in our local community. We welcome the club and its members to our site and look forward to further developing our relationship so it can benefit and enable us all to enjoy being together. There are so many opportunities ahead to take advantage of which we have yet to uncover."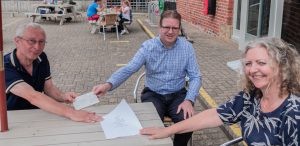 The Shed Club are still at an early stage, but rapidly progressing. If anyone is interested in joining the Shed Club go to www.sturtonanddistrictshedclub.co.uk or they can be contacted through their Facebook group page – Sturton and District Shed Club