Nipper
June 2018
Nipper has had lots of attention this month, but unfortunately it was from the vet. The decision was made to remove his sarcoid from the end of his nose and he had his surgery a couple of weeks ago. His sarcoid was lasered off successfully and he then had cream and pain relief administered to help with the healing process. He has loved the extra attention and cuddles from staff as they monitored his wound. He has also been enjoying the heatwave but needed a bath on a couple of occasions to help cool him down at the hottest part of the day.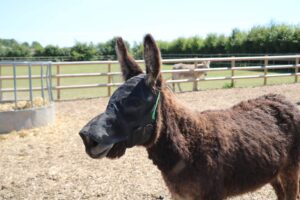 May 2018
Unfortunately, Nipper's wart has had a slight change and became very sore for him so he had a visit from the vet. It was decided it was a sarcoid and he is booked in to have it lasered off in the near future. He is very much enjoying the extra attention from staff and vets coming to see him and of course his best friend Ronnie is still at his side giving him moral support.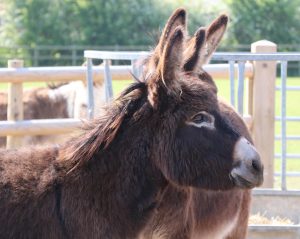 April 2018
Nipper has had a visit from the vet to examine a wart on the end of his nose. He has had the area clipped and staff are now monitoring it for any changes. Ronnie is never far away from his best friend and has been watching on and looking after Nipper when the vet visits. Nipper is looking forward to returning from to the Visitor Centre to meet his supporters over the summer.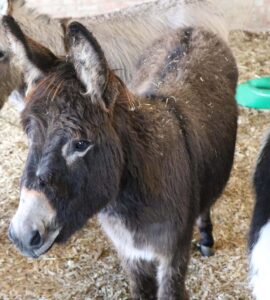 March 2018
Nipper has a new friend called Rico. Unfortunately, Rico had an impaction colic episode so Nipper is keeping a close eye on his new buddy to make sure he is OK. Nipper has also moved with some of the other donkeys to Walklands Farm for the winter in order to help staff manage their seedy toe. He is also enjoying playing with the fibre blocks that were kindly donated by a generous supporter, they are keeping him busy and out of mischief!
Gallery