Matilda
June 2018
It's has been Matilda's weight day this month, where she was very reluctant to get on the scales! With a little encouragement and fuss from staff she eventually got on and is thankfully is a healthy weight with no concerns. Just like some of her friends, she too has enjoyed a cold bath in the middle of the day to help keep her cool in the sunshine, and she loved the opportunity to get a bum scratch too!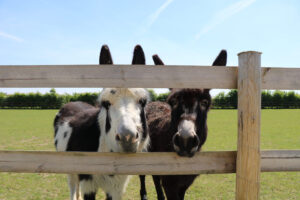 May 2018
Matilda has moved back to the Visitor Centre to be with the rest of her friends and is very happy to be back on the grass! She and her good friends Jemima, Holly and Janice have been enjoying the sunshine over the May half term. If you have been to visit Matilda lately you may have noticed she is wearing a mask as she has pink skin under her eyes, just like her mum Gnasher, so the mask protects her from burning in the sun.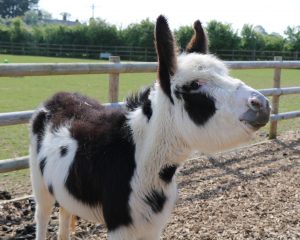 April 2018
Matilda has been very happy in the warmer weather and is looking forward to her springtime groom to remove her thick winter coat. Her and her friends have been able to have access to the outside of their barn while the sun shined and she has been making the most of it with a couple of hours of sunbathing.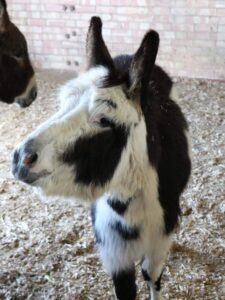 March 2018
Matilda has made the move to Walklands Farm to dry conditions as she is one of the donkeys suffering with seedy toe. She now no longer needs to have her feet poulticed and instead is having her feet sprayed with iodine spray to help the condition. Despite this she is still in high spirits and enjoying her temporary winter home with some of the other donkeys.
Gallery