The Bransby Horses Estates Team were the proud recipients of the Special Recognition for Animal Welfare Award at the international Ceva Animal Welfare Awards on Friday night, for their "outstanding work during the flooding of Lincoln" in November 2019.
Following nominations in late 2019, the panel of esteemed judges deliberated over hundreds of nominations and selected their finalists for 2020.
The nomination for the Estates Team was received for the emergency work they carried out in the wake of substantial rainfall in November 2019, which devastated 140 acres of their site in the village of Bransby, Lincoln. The floods left large amounts of their land underwater and teams worked tirelessly day and night to keep their rescue equines out of contaminated waters and muddy fields; this even included herding horses out of flood waters to safety with a tractor.
The award was presented to Mark Fillingham, Bransby Horses Estates Manager, by former BBC correspondent and presenter, Nik Wood, after the nomination received for the Estates Team "unanimously stood out from the crowd."
Mark said: "It was an honour be recognised by Ceva and to receive the Special Recognition for Animal Welfare Award on behalf of the Estates Team at Bransby Horses.
"It really was a team effort as everyone pulled together in order to move all of the horses out of danger and away from the flooded land back in 2019.  We were literally working against the clock as the flood water was rising, so to be recognised for doing our job in these exceptional circumstances was a lovely surprise and a real honour."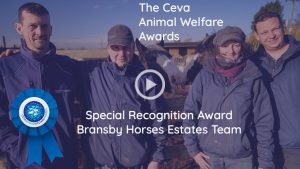 Originally due to take place in Birmingham in April 2020, the ceremony was postponed and announced it would be moving online in early 2021. Ceva UK organised an online ceremony from a specially adapted studio in London, which allowed more people to attend than originally planned and made for a really inclusive and exciting evening.
More information on the winners can be found here, and readers interested in more information on the flooding can access the original announcement here: https://bransbyhorses.co.uk/flood-gates-are-opened-for-bransby-horses/.