This year, more than any other, we need your support.
Without you we can't continue the ongoing welfare work we do countrywide to support horses, ponies, donkeys and mules.
Our beautiful Bransby Christmas Story invites you to experience the journey that so many of our equines embark on when they arrive here – of course with a magical Christmas twist. Whether you decide to purchase the Pudding's Christmas Miracle book, sponsor an equine, or make a donation, you make a difference, and for that we can't thank you enough.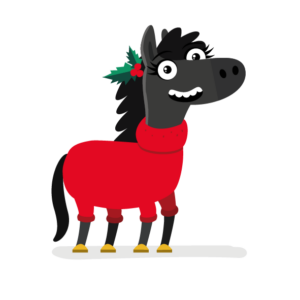 From Thursday 3 December 2020 until Christmas Eve we will be hosting our Pudding's Christmas Journey, designed for children aged 3 – 16 years old. Friends and families are invited to join us to enjoy our Pudding's Christmas Miracle tale being read to them, whilst they sip on warming hot chocolate and nibble on a delicious treat.
After this 15 minute experience, the whole family can then go on a journey to learn more about our charity; the work we do, the promises we make to the equines we rescue and care for, and meeting the star of this year's tale; Pudding!
As part of Pudding's Christmas Journey, booking visitors will be given an exclusive £2 off a purchase of Pudding's Christmas Miracle (RRP £6.95), which can be purchased at our gift shop that day. Simply show your booking confirmation.