Twiggy
June 2018
Twiggy has had another clip to help her keep cool in the hot weather, which she was very grateful for. She has also had a little trouble with conjunctivitis as well, so is wearing her thick forelock in a fashionable plait to help keep her eyes clear. Thankfully this has helped and her conjunctivitis is clearing up nicely.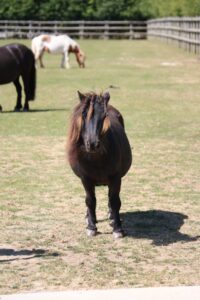 May 2018
Twiggy is now sporting her new summer hairdo which will help keep her cool and comfortable though the summer and has found a new spring in her step thanks to her makeover. However, with a new look comes a new attitude and Twiggy has again decided she will now only eat her medication in a handful of tempting feed.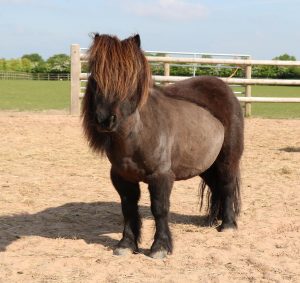 April 2018
Twiggy has been enjoying the winter with her older lady friends and has maintained her weight well. As the summer is on its way, Twiggy is going to have a clip to ensure she doesn't over heat when it is warm weather as she has a very thick coat due to her Cushing's disease. Once she has had her clip she will be ready for the summer!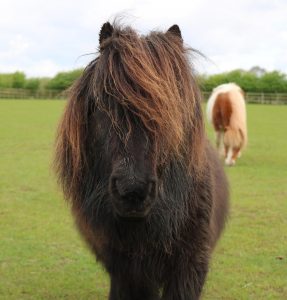 March 2018
Twiggy is now enjoying her medication in a carrot which helps with her Cushing's disease; although staff aren't convinced she knows the tablet is in there! She has been having a few disagreements with the Shetland girls so has moved to the Special Care Shetland herd where she is enjoying the company of her new friends and a quieter life across the walkway.
Gallery