Justice
June 2018
Justice has had many visitors during the nice weather but he doesn't like sharing them with any of his friends. His latest trick for stealing attention is following visitors down his new walkway to make sure no one else gets the extra attention. Due to his pink nose, Justice has been wearing his fly mask with a nose net so he doesn't get sunburnt and he has been showing it off to his field mates who are also in need of a larger one but don't yet have one.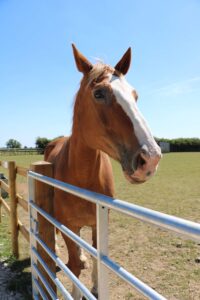 May 2018
Sadly, two of Justice's fellow ex police horse friends have moved to Walklands Farm as they needed better grass and the field was starting to get over crowded. Although Justice is missing their company he is now always seen with his lifelong friend, Beau, at his side. Justice still remains the boss of the group and has kept them all in order and on best behaviour over the May half term and Summer Fayre excitement.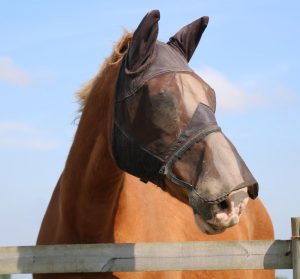 April 2018
Justice enjoyed all the attention from visitors at the 'Meet the Police Horses' tour during the Easter Holidays, where he posed for cameras like a true professional. He has also taken Pip under his wing and is teaching him the ropes of being an Adoption Star! Justice is enjoying the spring grass that has started to grow, so much so, he is having his hard feed reduced to watch his waistline.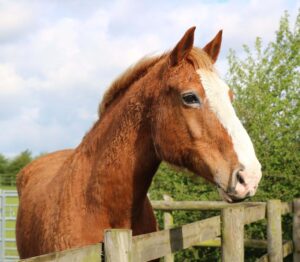 March 2018
Justice has been making the most of the snow by running around and playing with his friends. He remains top dog in the group and has maintained his weight very well over the winter. Despite being in charge, he still finds time to have a play with Beau and fellow ex-Police horses, Gainsborough and Saratoga. He and his friends now have access to a straw pad throughout winter, but that doesn't stop him coming to see his adoring visitors at the gate.
Gallery