Fundraising Coordinator
Application Closing Date:4th July 2022
Interview Date:To be agreed
Apply Now
We are pleased to be recruiting for a Fundraising Coordinator – Trusts, Grants and Corporate Giving.
As a charity, we rely on donations predominantly that come from long lasting relationships with our supporters. Working closely with our marketing, engagement and welfare teams, our fundraising department is crucial in forming new relationship by engaging with the local community and businesses to raise the profile of the charity and maximise on opportunities to enable the charity to fulfil its objectives.
About the Role
The Fundraising Coordinator for Bransby Horses will work as part of a smaller team, focusing predominantly on trusts, grants and corporate giving. This exciting new role will require a passionate fundraising professional who not only has the ability to support in compiling the facts required for creative, compelling and impactful bids, but also a strong ability to develop and manage a funding pipeline. Positively contributing to the development of longer term fundraising plans within these income streams is also required. You'll be a self-starter with excellent networking skills and be confident working with funders and partners on a day-to-day basis. Other responsibilities will include providing support in the development of online giving and implementation of a digital lottery scheme.
This role is permanent and the hours of work are 37.5 hours per week, Monday – Friday, with the possibility of some evenings and weekend work, as required.
The Ideal Candidate
To succeed in this role, you will need at least two years' experience in gaining donations from the relevant income streams with evidence of past successes and knowledge of fundraising compliance. Previous experience of using CRM systems is essential, as is a clear understanding of stewardship programme development. You should be professional, have excellent communication skills and the ability to work flexibly, using your initiative and maintaining a high level of accuracy.
Pay and Reward
Working in the third sector is incredibly rewarding and on top of that we offer a competitive salary of £20,915 – £23,207 per annum; the starting salary is dependent upon the skills and experience demonstrated at interview. You will also receive:
• Free Car parking
• Discounted Food
• Health and Wellbeing Package
• A minimum of 30 days holiday, increasing with service
• Birthday Leave
• Buying Leave
• Pension Scheme
Ready to apply?
Please complete our online application form which can be accessed via the 'Apply Now' button. Please note that this advert may close at short notice if a suitable selection of candidates has been received.
More About Us
Bransby Horses was founded in 1968 by Peter Hunt, whose lifelong passion for horse welfare continues through our people and their shared vision of, a world where every equine has a life worth living. Over 50 years later, we are one of the largest equine welfare charities in the UK and our mission, now more than ever, is to positively impact the lives of horses, ponies, donkeys and mules in the UK.
As an employer, we pride ourselves in offering our employees a caring and inclusive community, supportive leadership, plenty of development opportunities, excellent on site facilities and flexibility for work, life enrichment. We are also a disability confident and an equal opportunities employer, whom proactively seeks to ensure that candidates and employees are treated equitably regardless of their protected characteristics.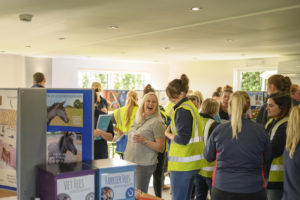 Apply Now