Jigily
June 2018
Jigily thoroughly enjoyed his adoption day where he received a lot of attention, especially from a married couple who came along specially to meet him.  He has been enjoying a few more snoozes in the sunshine and his Wobblers Syndrome continues to be managed well by the welfare staff and will be regularly checked to monitor any changes.  Jigily ideally needs a nose net to prevent sunburn on his nose, however there isn't one big enough so he is having suncream on every day as prevention, which he doesn't seem to mind as he stands very patiently while it is applied and of course for the cuddles afterwards!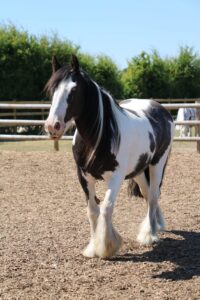 May 2018
Jigily's wobblers syndrome is being managed well and is much better thanks to the warmer weather making the ground a little harder for him. Staff have been busy pulling up the ragwort from his field as it is poisonous, and he has been on hand to lend a hoof! Jigily is always wanting to know what staff are up to and this was no exception as he followed them round everywhere they went inspecting they did a good job!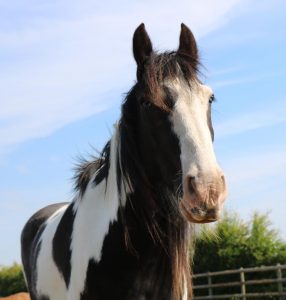 April 2018
Jigily has been enjoying the sunshine while it lasted! Staff grew a little concerned one morning when he was quite stiff, it was decided he was to have some pain relief and after being reassessed he was much better. The warmer weather may have helped and he is looking forward to meeting new visitors over the summer.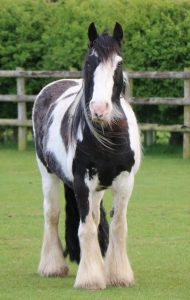 March 2018
Jigily is enjoying a more peaceful life with fellow adoption horses Sparky and Digit. He has needed a little more support with the farrier as he is becoming wobblier, but staff are on hand to help balance him as he lifts his legs up for the farrier. However, he has been seen laying down and getting up himself with ease which is a great achievement which staff are thrilled to see.
Gallery