Domino
June 2018
As Nero's best friend, Domino has been accompanying him to the barn during the day to stay cool in the hot weather, Domino has also not enjoyed the high temperatures but did enjoy his daily baths to keep him cool. Their herd has also been missing two of the group, as Bluey and Apache had a couple of nights at the vets so Domino has taken on the parent role and has looked after the rest of the donkeys while they are away.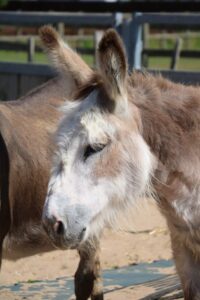 May 2018
Domino has been having a good pamper this month by having a few baths that will keep him cool in the sunshine. The baths have also helped to get rid of his winter coat too. Domino has had his yearly dental visit where the dentist was very pleased with his teeth and he behaved like an angel!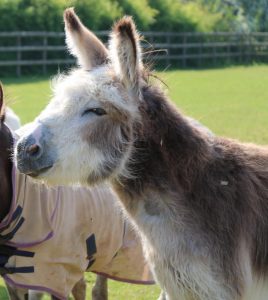 April 2018
Domino is the winner of the 'Noisiest Donkey on the Yard' Award and likes to make sure everyone can hear him, especially at feeding time! Now the weather has improved, he is enjoying his spring time bath and groom along with the other donkeys to keep him cool over the summer.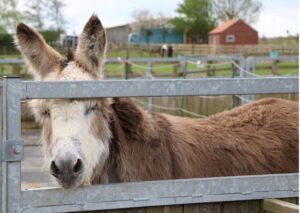 March 2018
Domino hasn't been feeling himself lately and has been struggling with Laminitis. He is responding well to his treatment and improving each day. He is also enjoying having extra cuddles and attention from the staff who are looking after him and of course having Nero by his side.
Gallery