Digit
June 2018
Digit has his mask put back on when the sunshine came back out to protect his nose from sunburn. He has also had a very busy month as he was part of adoption day and even helped with some school visits. All the school children loved to learn more about him and of course he enjoyed the extra cuddles from everyone. He has also made a good friend in Sammy recently; the pair are regularly seen relaxing and playing together in the field.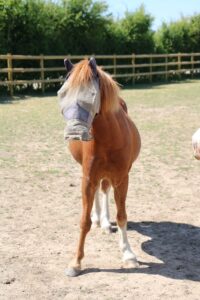 May 2018
Digit has had a visit from the vet for his annual vaccinations, he enjoyed the extra attention and fuss from everyone and the vet was very happy with him. He has been playing in the sunshine with his fellow adoption friends Sparky and Sammy, and because of his sensitive pink nose, he has been having sun cream to prevent sunburn which he has been very accommodating for each morning.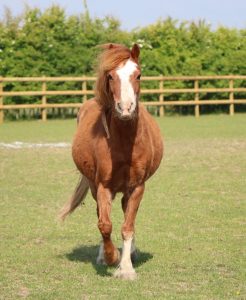 April 2018
Digit has been enjoying the quiet life and kept himself to himself for the last couple of months. He is also on the waiting list for a good groom to remove his thick winter coat ready for the summer. Digit is also looking forward to his Adoption day on 24th June where he can show off, meet his fans and receive lots of cuddles.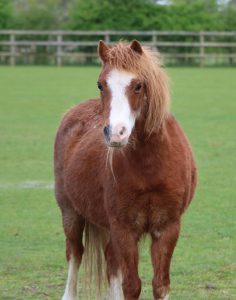 March 2018
Digit is still having his medication to help with his Cushing's disease and we are happy to report he is doing well and it is being managed effectively. He has been keeping warm with help from the extra hay he has been receiving during the cold weather.
Gallery