Marlene, Pip and Sammy
To celebrate our 50th Anniversary year, we would like to introduce you to three new adoption animals: Marlene, Pip and Sammy.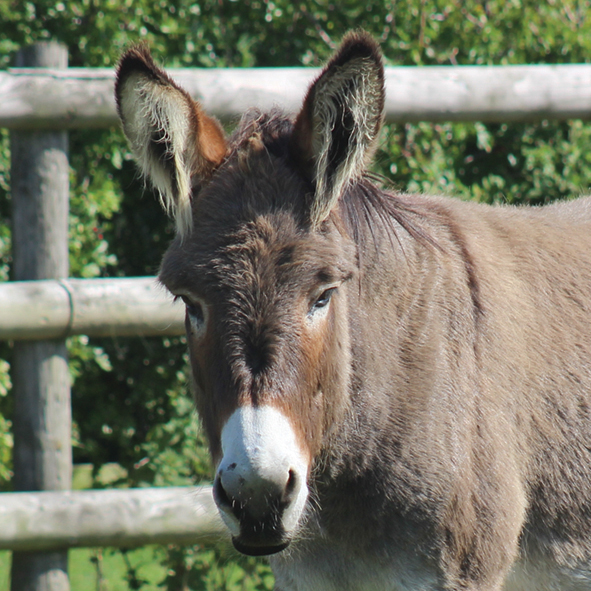 Marlene
Born: 2010
Size: 10.3 hh
Breed: Donkey
Marlene was abandoned with her foal Janice in 2014.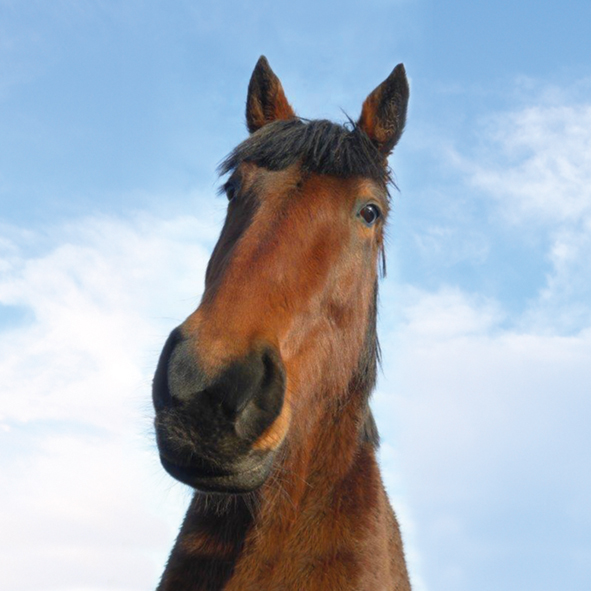 Pip
Born: 2010
Size: 15.2 hh
Breed: Thoroughbred
Pip was abandoned in Lincolnshire with his friend in 2012.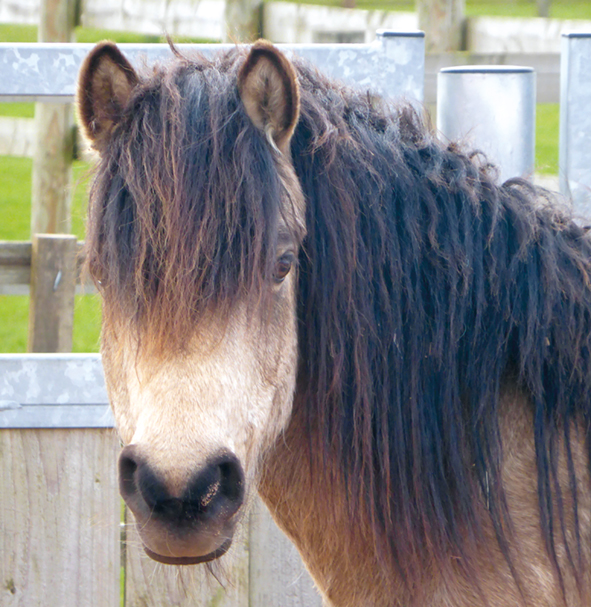 Sammy
Born: 2008
Size: 12 hh
Breed: Welsh
Sammy was rescued from unsuitable conditions in 2011.
Updates
August and September 2019
Marlene
Marlene is enjoying the onset of the cooler season, after spending a lot of the summer seeking shade. Despite some very hot days, she enjoyed planning with branches with her friends – she has been very cheeky recently. Her friend Gnasher had slightly enflamed feet during the summer so with treatment applied and feet worked on, Marlene has been offering lots of moral support to keep Gnasher on top form. Whilst the weather has become cooler, it certainly hasn't been cold but we can see Marlene is already getting her winter coat and is getting very soft and fluffy. If you come and visit her soon, if you give her a friendly stroke, she will feel like a cuddly teddy bear!
Pip
Pip had a good summer with his friend Alex, galloping and playing in the fields. Pip is always a cheeky fellow who liked to play tricks on our team, grabbing their coat zips in his teeth and tugging them as if to say "hey, give me some attention". At the start of September, we noticed he had a swollen hock so we did some medical investigation. During September, it got bigger and actually showed the bones in his feet were rubbing, which will have caused him pain. Pip had had issues with one of his hocks from his past experience but this is the first time we saw serious problems. Despite being a really stoic chap and trying to live with the pain, the pain relief just wasn't working. Poor Pip, we have had to make some very difficult decisions recently and will be in contact with Pip's supporters via post very soon with a September update.
Sammy
Jigily and Eril have made great friends for Sammy recently and with good friends, his confidence grows. After a good summer, Sammy is starting to get a little overweight now so we are monitoring this closely. It is a very careful balancing act, watching someone's weight, as it changes weekly and from season to season. Sammy is such a polite and sensible soul, going through life, enjoying the little things. Even a visit from the dentist didn't phase Sammy at all last month, which is usually something Sammy gets worried about. It seems confidence and bravery go hand in hand. Sammy's eye needs some extra protection from flies, so we are getting him one very soon. It's odd to think of fly protection in autumn but they are still very much around!
July  2019:
Marlene
Marlene has been very proud of her daughter Janice as she had a trip to the vets with her friend and was very supportive. Marlene loved to hear about the adventures they had been on. She has also been very sensible in the hot weather and was often found keeping cool in the shade. She and her friends also had a treat of some branches to play with that kept them entertained for hours!
Pip 
Pip is making use of the extra space in the field by having a good gallop and play. He is always making sure his best friend Alex is involved – just so they both get in trouble and not just him! He is missing the attention from visitors though as his field is a little further away than he was. Now that the summer holidays are here, he is hoping his adoring fans will still make the walk to see him.
Sammy
Sammy's confidence is still growing day by day and he is making friends with everyone! His friend Troy moved to another yard so he was a little sad to say goodbye but he soon cheered up after playing with Master Imp for a while. He has also teamed up with Jigily to help settle in Eril so he feels welcome to the field.
June  2019:
Marlene
Marlene's confidence has come on leaps and bounds. At the Summer Fayre she allowed a visitor to stroke her while they learnt all about her and her friends which is a huge improvement. She has also had a big groom to make her feel and look beautiful ready for the summer.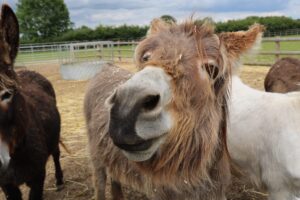 Pip 
Pip received his test results for his poo sample and saliva test and he didn't need a worming programme which is great news. He and his friends have moved to another field with more grass for the summer, Pip was pleased with this new adventure with his friends but still wants visitors to go and see him in his new field.
Sammy 
Sammy has a new field mate called Troy, and he has been welcoming him into the group. His new friend has done wonders for his confidence and staff are delighted to see the change in Sammy's behaviour and growth in trust with human interaction.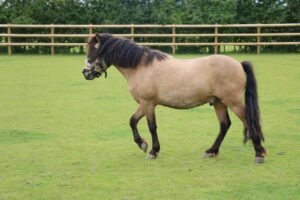 May 2019:
Marlene
Marlene and her friends have been weighed this month, along with having a wormer too. Marlene has been enjoying time out in the field, especially now that they are all allowed to stay out a little bit longer, however she takes a little more encouragement in the evening when it is time to come back in at night to the pad.
Pip 
Pip has enjoyed a pamper session this month with a good groom and mane tidy, so he is looking very smart for the Summer Fayre and any photo opportunities that may come his way. He has had a saliva test to check for tapeworm, however he is still getting used to how to do it and prefers to try and eat the test rather than give a sample. After a few attempts he worked it out and his is awaiting his results like most of his friends.
Sammy: 
Sammy's confidence continues to surprise and please staff and this month they were able to groom him fully, tidy his mane and give him a fuss. He also has two old friends return from foster homes back to the field and he has spent some time catching up with them and having a play in the field, just like old times!
April 2019:
Marlene
Marlene and her friend have re-joined the donkey group as Annabelle was given the all clear from the vet. Marlene found herself getting a little jealous when her best friend Gnasha made friends with a dog named Truffles who looked very similar to her. Marlene soon realised Gnasha was still her best friend and all was forgiven. She is looking forward to the May half term activities and of course the Summer Fayre on 2nd June!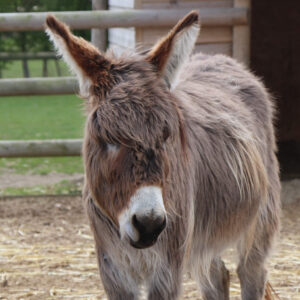 Pip 
Pip has had his weigh-in this month and he is thankfully looking well so doesn't need to join the weight watching club! He has also been trying to steal Justice's limelight by taking part and helping in the Fire Training with the Lincolnshire Fire and Rescue Service, he was very well behaved and was a great asset to the training.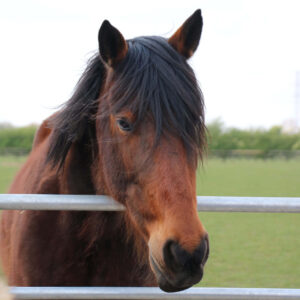 Sammy
Sammy's confidence is coming on leaps and bound since having his eye removed. He is enjoying having a groom from staff and he is even letting them brush his mane completely, which is something that he never used to enjoy. He is obviously much more comfortable and it's great to watch his progress improve each day. Now the warmer weather has arrived he is needing to wear his fly rug to help with his sweet itch. 
March 2019: 
Marlene: 
Marlene's friend Annabelle is recovering well from Laminitis and the pair are now gradually returning to their friends in the field for a couple of hours a day while Annabelle adjusts. Marlene has enjoyed being on the Visitor Centre Yard and still adores the attention from passing visitors, but she is especially happy to be going back out in the field with everyone else.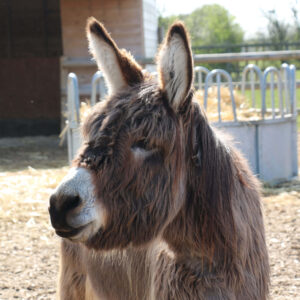 Pip:
Pip welcomed back good friend Alex to the field this week and he was over the moon to see him return, even if it meant he had to share his friend with his other field mates. Pip has also made a new friend from the girl herd next door, Maleficent the mule. They both enjoy grooming one another over the fence and are becoming very good friends.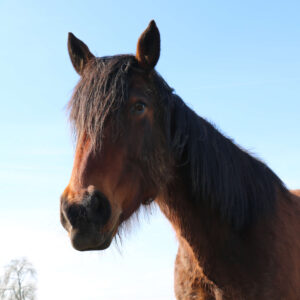 Sammy: 
Sammy has had a great month and is now medication free. The wound from his eye removal is healing well and the stitches have been removed. Despite having his eye removed, Sammy's confidence with human contact is still growing which staff are really pleased to see, as they would expect him to be quite nervous and anxious after his surgery. When the farrier visited Sammy last week, he was very well behaved and it was a noticeable improvement to previous visits. Staff will continue to monitor his eye to ensure he is comfortable and that is heals correctly.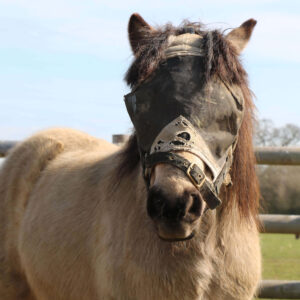 February 2019: 
Marlene:
Marlene, Gnasher and Annabelle are in the thick of the action at the moment with being in the Visitor Centre courtyard where they seem to have taken on the role of the welcoming committee for visitors arriving. Annabelle has laminitis (inflammation and pain in the feet), so is resting up in the stable but this hasn't stopped her from making new friends and winning over new visitors on their day out. Marlene has been equally as happy with the attention she is receiving and is often quite vocal when it is getting quieter.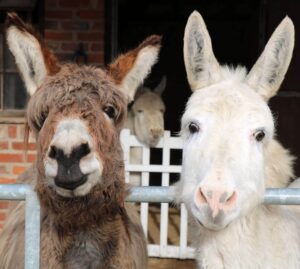 Pip:
Pip has not had his friend Alex with him while he was keeping another horse company who was being slowly introduced back to grass so Pip has been a little lonely. Although, the half term visitors seemed to help take his mind off his friend not being there, much to Justice's disgust that visitors may come to see horses other than him!  Pip seems to be getting on well with Justice (despite stealing his attention) and Beau while Alex is away but he is looking forward to welcoming him back when he can.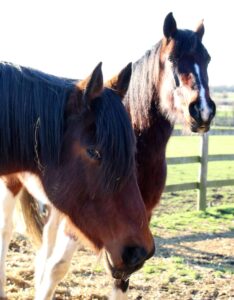 Sammy:
Sammy has had quite a month. He started to show signs of pain earlier in the month from his eye, the pain then caused him to have a colic episode. The pain didn't seem to subside so the decision was made to remove his eye completely. He is now recovering on the Visitor Centre Yard where staff will monitor him closely for the next couple of weeks.  Sammy has been very well behaved throughout the whole procedure and the staff are very proud of his courage as he is not known to be a confident pony.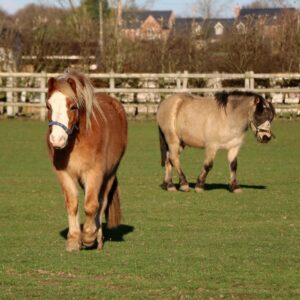 January 2019: 
Marlene:
Cheeky Marlene has been enjoying having some logs on the pad to munch on – instead of the fencing!  This means she isn't getting told off anymore and instead she is getting rewarded with her favourite back-scathes from the staff!  She and her friends are also enjoying playing a game of tug of war at the moment with the scented jolly balls, she doesn't like losing so puts everything in to it.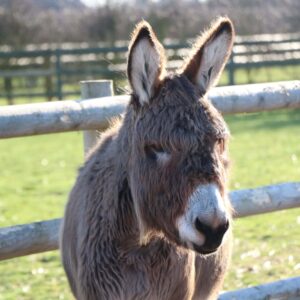 Pip:
Pip loves nothing more than running around the field, so is very glad to be back there again this month now that the weather is a little drier.  You can also say that he likes his hay too!  Pip is always one of the first ready to greet the staff each morning and evening when they deliver it.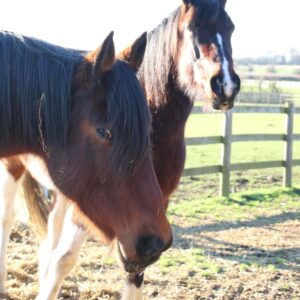 Sammy:
This month the vet came to see Sammy to check on his eye, with the prognosis being that he is now blind in his nearside eye. The good news though is that it isn't causing him any pain and it doesn't seem to be making him uncomfortable. Staff are making lots of checks on him though, and if they notice any cause for concern, the vet will come back to have another look at him.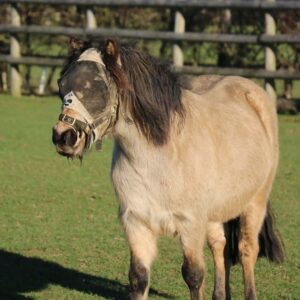 December 2018
Marlene:
Marlene has been very popular over the festive period with lots of dedicated fans coming to visit her and take part in the Christmas activities. She and Gnasha were always willing to please the visitors by walking along the fence for a fuss and cuddle when they were on the way past. Marlene has also decided for the New Year she would like to be fed first in the morning (along with Gnasha). This has meant that staff have been in trouble if they dare go and feed the boy donkey group before her and her friends, but all is forgotten when they come with food and a back scratch!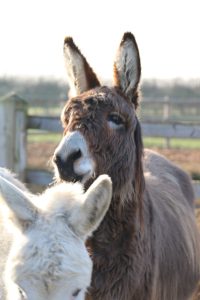 Pip:
Pip and his friends have moved to a straw pad for a short time whilst their field is rested. He is very cosy in a big straw bed, however he missed being closer to the Visitor Centre Yard throughout December as he is very partial to meeting visitors and getting lots of attention. Some visitors still made the trip up the walkway to see him and he was very pleased with that!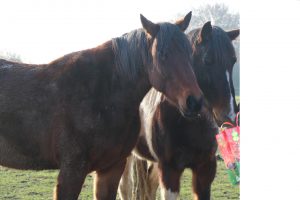 Sammy:
Sammy's best fiend Bobby is still keeping another horse company as they are not feeling very well, so Sammy is making the most of the peace and quiet. He hasn't seemed too bothered that his friend isn't with him at the moment and is very happy to keep himself company and take in everything going on. There has been plenty for Sammy to see throughout December, especially the Christmas Jumper Walk where lots of dogs came along as well! Although, he didn't come along and meet the dogs, he was very interested in watching what was going on.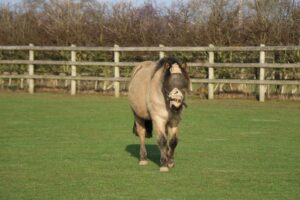 November 2018
Marlene:
Marlene is no silly donkey when it comes to the cold and wet weather, staff have seen her on many occasions making her way to the shelter just in time for the wet weather which is very clever of her! Although her coat is growing much thicker for the winter, she continues to make full use of her shelter- and rightly so! Her winter management is also well underway in order to prevent her from seedy toe, like last year. She is having iodine applied to her feet daily to ensure no bacteria can get in!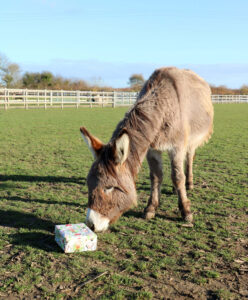 Pip:
Pip was getting a little frustrated being away from all his friends while he spent some time keeping Dickon company on the Visitor Centre Yard, so he has moved back to the field, to be with them again. In the last week of November, Pip had a visit from the farrier to trim his feet and make him look smart for his fans visiting him through the festive period, but it wasn't long until he was giving them a test out having a run around the field when he returned to his friends. If that wasn't keeping him warm enough, they are all receiving some extra hay to keep them full as well!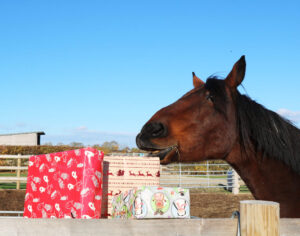 Sammy:
Sammy allowed his good friend, Bobby, to go and keep another horse (who wasn't feeling too well) company for a little while. In the meantime, Sammy has been enjoying the peace and quiet on his own and has been having weekly check-ups with his eye. He and his friends have had a new hay feeder topper to make sure they don't gobble up all their hay at once. It hasn't stopped them all trying to work out how to remove it though, with some successfully sneaking their head under!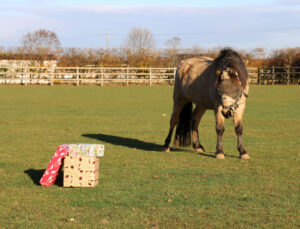 October 2018
Marlene:
Marlene's recovery from her seedy toe has been a long process but thankfully she has made a good improvement and has now stopped having her bute every day. Staff will be monitoring her closely to make sure she is comfortable and adapt her routine if they need to. Although, Marlene now has a suspected foot abscess so she has a poultice on to try and treat it.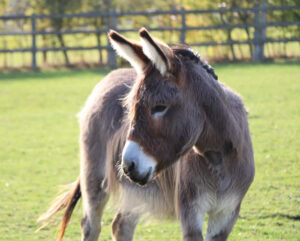 Pip:
Pip was a little disappointed when Justice arrived back at the field this month as he was enjoying being the boss of the field and getting himself into mischief. However, he soon changed his mind when he noticed he was moving onto the Visitor Centre Yard to keep Dickon company, which meant even more attention from visitors. He was even more thrilled when he realised the move meant that he received his butty with his medication in it even earlier, as he was closer to the feed room!
Pip greeted visitors throughout half term and Halloween and loved to see the scary costumes coming through the door!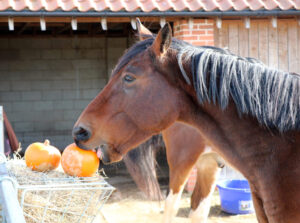 Sammy:
Sammy's confidence seems to be growing everyday and with it he is being very cheeky indeed! He is feeling extra happy at the minute and his sweet itch rug has now been removed because there are not so many flies around to pester him in the winter. Although that is no excuse for his numerous attempts at removing his face mask when he feels like it, or at least allowing his friends to play with his mask!
Sammy is spending a lot of time with his new best friend, Bobby, who is also being very cheeky- we wonder where he gets it from?! The pair find it highly entertaining to have a race when it comes to being caught and obviously it is in the opposite direction to where staff are wanting them to be!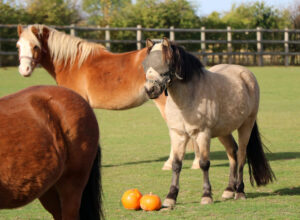 September 2018
Marlene:
Marlene is enjoying herself being out in the field full time and especially being back with her friends, the donkey girls. Her friends have missed not having Marlene and Gnasha in the field so are delighted for them to be all back together. Even more good news, Marlene has also had her pain relief reduced as she seems to be more comfortable on her feet, staff are really pleased with her progress and have their fingers crossed that it continues to improve.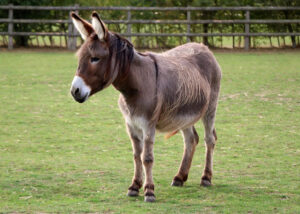 Pip:
With his friends: Justice and Dickon still on the yard, Pip is fast-tracking his big boss training to try and keep his top spot in the field. The others don't seem to be too bothered by this and are happy for him to think he is the big boss, that is until Justice comes back! Pip is very eager for his medication (which comes in the form of a butty), and he runs over to staff for it without fail every morning.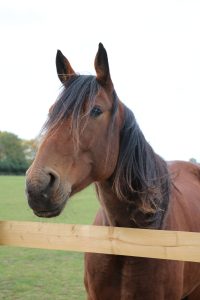 Sammy:
Sammy was very pleased to have his sweet itch rug taken off, so he could enjoy a good roll around in the mud, however he was less than impressed that this meant he had to sacrifice his butty at dinner time (which had his sweet itch medication in). He has been spotted waiting at the gate hopefully in the evenings, only to be disappointed when no treat arrives. This didn't seem to be a problem at the Autumn Fayre, as he was far too busy being fussed to even think about a missing butty.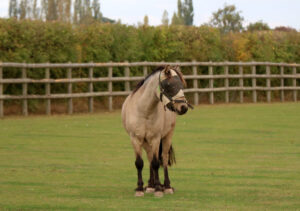 August 2018
Marlene:
Marlene's foot condition has improved, and she is now able to go out full time with Gnasha and the rest of the donkeys. The little bit of rain recently has made the ground a touch softer which is good for Marlene, as it is more comfortable for her to walk on. She has also received a lot of attention over the summer holidays and has loved the fuss from visitors.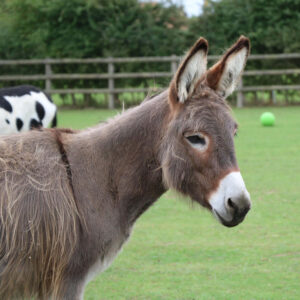 Pip:
With his best friend, Justice, keeping Dickon company on the yard, Pip has been making the most of having no one steal the attention away from him. However, this has made him a bit of an attention hogger, so he is having a little training to help remind him of his manners. It seems the fame of being an adoption horse has gone to his head!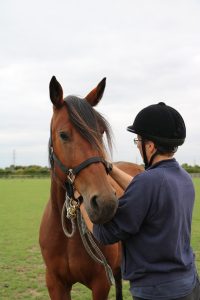 Sammy:
Sammy's confidence continues to grow and he is now becoming very cheeky with his new sense of confidence! He is always at the gate in the morning for his breakfast and cuddle from staff and is starting to want to interact with the public a little. It will soon be time for his sweet itch rug to be removed for the Autumn which he will be very pleased with, as will staff as it means he will no longer try and pull it off every day.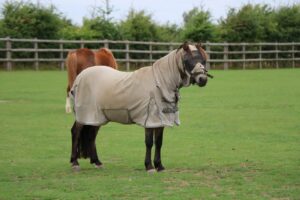 July 2018
Marlene:
Marlene's footcare is still being monitored and she continues to receives pain relief for the next coming months to help with her seedy toe, however with her best friend Gnasher by her side there is not a lot that Marlene won't take on! Her and Gnasher have been spending some time in the Courtyard area where they eagerly await the arrival of visitors throughout the day, especially ones with dogs as they have both taken a keen interest in making friends with them.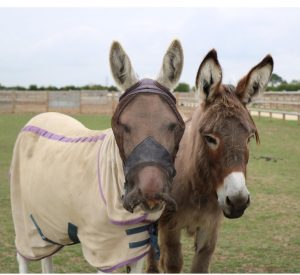 Pip:
Pip has now been side lined as Justice's best friend and he has found a new friendship in Sophie; however, this hasn't phased Pip as the attention from visitors is far more exciting to him! Pip is proving to be a hit with visitors for his willingness and affectionate personality and he is always more than happy to pose for the camera!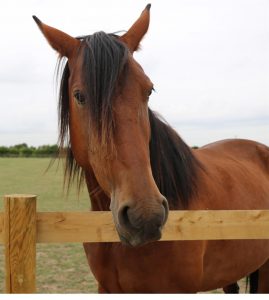 Sammy:
Since the confirmation that Sammy has lost nearly all the sight in his eye, staff are still carefully monitoring for any changes, he is therefore still wearing his fly mask to protect him. Although this hasn't stopped him enjoying his time with the new visitors and his confidence has grown with human interaction which is great to see.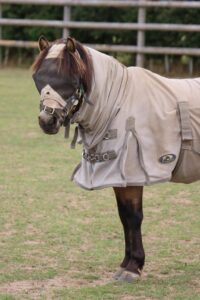 June 2018
Marlene:
Marlene has had a check up on her feet regarding her seedy toe and because of the hard ground was a little sore. The farrier has been to give her remedial farriery which should help her and she has been given pain relief in the meantime to make sure she is comfortable. Matilda is coming into the barn at night with her good friend Gnasher to keep cool and because of the ground being so hard. She will continue to be on pain relief for the next couple of month and will be continuously checked to make sure she is happy.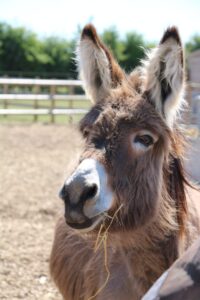 Pip:
Pip took part in and enjoyed his first ever adoption day with some of his new adoption friends. He had many fans come and visit him and he loved the extra attention and pamper from staff before the big day to ensure he was looking his best. Pip has also taken a liking to adoption star Sophie and her girlfriends who are in the field next door, but he still remains best friends with Justice.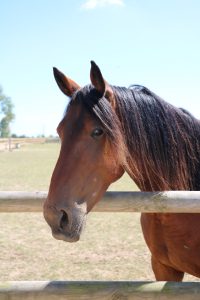 Sammy:
Sammy took part in the adoption day and gained a new adoption fan when they fell in love with him at the talk. He has also had a check-up from the vet regarding his eye and it showed he has lost nearly all sight in his left eye, however this isn't causing him any pain and staff are monitoring if there are any changes in either eye for the future. Sammy doesn't let his eye effect his fun though and has been happily playing with his new friend, Digit.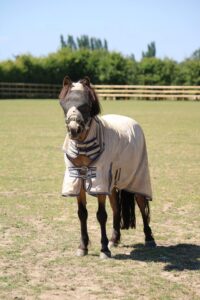 May 2018
Marlene:
Marlene has been suffering with white line disease which is a condition effecting her hooves. She has now moved back to the Visitor Centre where she is meeting her new adoring fans. She is with her good friend Gnasher and her feet are improving with the new management. Everyone knows when Marlene is ready for tea or bed as she becomes very vocal. She is looking forward to a good groom to remove her winter coat so she can enjoy the summer weather!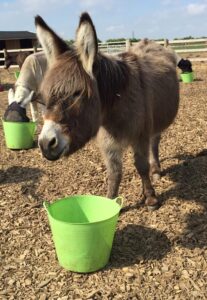 Pip:
Pip has been missing his visitors as the walkway near his field has been extended and their fields adapted so the walkway has been closed for a while. He is very excited that is it nearly complete and can't wait for everyone to see what has been done! Pip has quite enjoyed watching the goings on and making friends with the workmen that were onsite.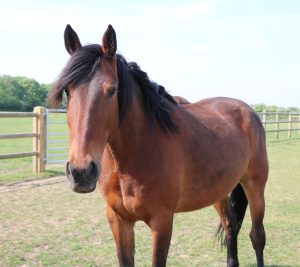 Sammy:
Sammy is prepared for the summer and has begun to wear his special rug to protect him from insects that cause sweet itch. He has also started medical treatment to help with his sweet itch throughout the warmer months. Sammy is always waiting at the gate in the morning ready to meet the staff for a cuddle and has especially enjoyed meeting new visitors over the May half term and at the Summer Fayre in June.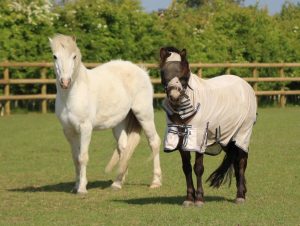 April 2018
Marlene:
Marlene has been suffering with white line disease which is a condition effecting her hooves. She has now moved back to the Visitor Centre where she is meeting her new adoring fans. She is with her good friend Gnasher and her feet are improving with the new management. Everyone knows when Marlene is ready for tea or bed as she becomes very vocal. She is looking forward to a good groom to remove her winter coat so she can enjoy the summer weather!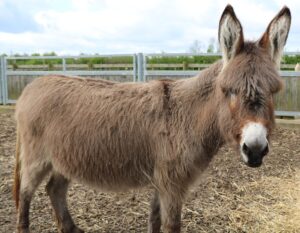 Pip:
Pip is also adapting well to his new role as an adoption horse. He has teamed up with fellow adoption veteran, Justice. Together they are doing a great job of welcoming visitors and showering them in kisses! Pip didn't want to miss out on all the fun at the 'Meet the Police Horses' Tour and made sure his presence was known along with his field mates Benson, Justice, Saratoga and Gainsborough.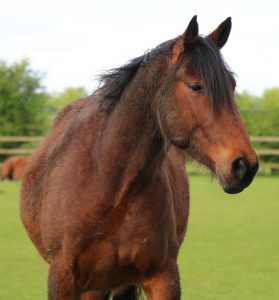 Sammy:
Sammy is enjoying his new-found fame as an adoption pony and is now living with some fellow adoption stars. He is wearing his face mask full time and despite the sunshine is coping well. He is also keeping his mask on much to the welfare staffs' delight; his eye is being managed but the mask will prevent any further damage. This winter he has enjoyed having extra hay to help maintain his weight, especially when the snow arrived and hid the grass for a while!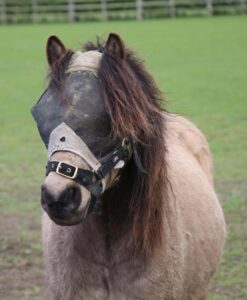 Gallery