Jigily
October and November 2019
Jigily has moved fields these past 2 months so he can have a bit more grass to eat. He was weighed and had a tape worm salvia test which he was a good boy for. Jigily also had his x-ray to check how his arthritis is doing and the vet decided to reduce his amount of pain relief which he is really coping well with. Overall he is doing well and having fun in the fields with his friends.
August and September 2019
Jigily and Eril have been getting on well as friends this summer and both have been benefitting from each other's company. We have been applying plenty of cream to Jigily's sarcoid and it has been helping which is good. Jigily is having some weight issues, so we are managing this carefully, keeping an eye on his progress. Jigily must have his pyjamas on every night now to keep nice and warm, if only they did pyjamas with little carrots on them, wouldn't that be so nice! The arthritis is giving Jigily a few issues so we have given him medication to help and will do some more x-rays to find out what else we can do to help him. Jigily has recently moved to Right Merlin's Meadow and is loving the autumn!
July 2019:
Jigily is still having the cream applied to his sarcoid to try and reduce the size of it. He is due a visit from the vet to see what the next step for him is. Jigily hasn't been disturbed by having the sarcoid cream applied and has been distracted by the appearance of a new field mate, Eril. Jigily has taken him under his wing to get him used to life at the charity and helped him settle in.
June 2019:
Jigily has had a treat by moving fields again. This field has more grass for him and his friends so they are very pleased with their new surroundings. The vet has also paid a visit to Jigily to look at his suspected sarcoid. He has advised to keep applying to cream for another 4 weeks and then it will be reassessed. Jigily is being very good having his cream put on, although we are sure he is just enjoying the extra attention at the same time.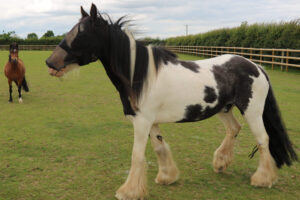 May 2019:
Jigily has been very well behaved for everyone that has had to put cream on his suspected sarcoid. He has now finished with the cream and is waiting to see the vet for them to advise what the best treatment will be for him. Jigily has loved having the extra attention from staff and visitors especially over the half term holiday period.
April 2019:
In last months' update, the team at Bransby Horses had found some lumps on Jigily's sheath. So, every day since, Jiggly has had cream applied to them to try and help reduce them in size. Thankfully, the vet has been to visit Jiggly and is really pleased that the lumps are smaller so will continue to have the cream applied four times a day for another 4 weeks. He is a very good boy for staff when they are applying the cream and we think he is actually enjoying the extra attention and cuddles! He is looking forward to the May half term to welcome all of our visitors!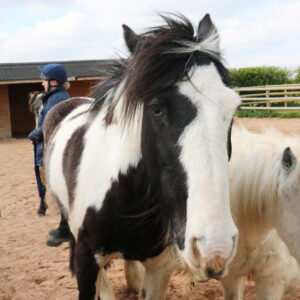 March 2019: 
Jigily has moved fields so he can have a little more grass, which was great news for him! He has also said farewell to his friend Robyn, as he has moved to the Riding Barn where he will start to be backed as a ridden pony. Unfortunately, staff have found a few lumps that the vets suspect could be sarcoids. He is having cream on four times a day to try and help this but he will be monitored by staff and the veterinary team in the meantime.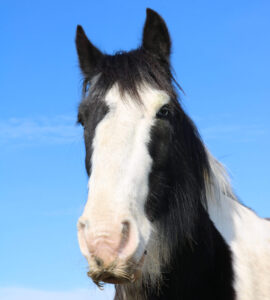 February 2019: 
Jigily has been very pleased with the warm weather and has decided it is nearly spring by losing his winter coat by the wheelbarrow full. Staff are giving him lots of grooming time to help get rid of all the hair, but don't worry he still has plenty left to keep him warm for when the sun isn't shining!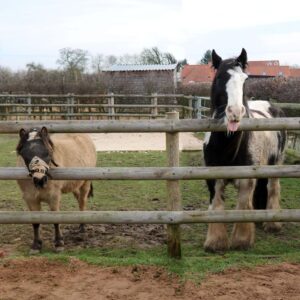 January 2019: 
Jigily really is so cheeky!  He is keeping the staff entertained in the morning by trying to steal his friend's feed after he has eaten all of his own.  He would clearly like some more, but the staff have to watch his waist line!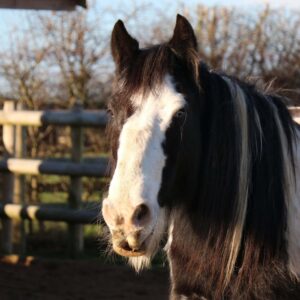 December 2018
Jigily is making the most of having the extra hay now that winter is here, although he and his friends are yet to work out the magic trick as to how to remove the naughty hay topper which slows their eating down! He is enjoying his new joint supplement, and staff are pleased as he appears to be much more comfortable and looking really well for having it.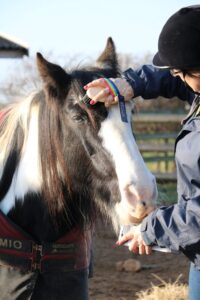 November 2018
Jigily has started to feel the cold a little more this year and has a little bit of arthritis in his knees. To help him feel a little more comfortable, staff have changed his joint supplement. Despite this, he is doing really well and staff are very pleased with his weight and condition. He is especially pleased with himself because he is allowed to have additional hay throughout the day with his friends. Although, he isn't all that keen on the hay feeder topper which is designed to slow them down eating!
October 2018
Jigily has been having lots of fun with his friends, although a little bit too much fun it seems as he had a little cut on the end of his nose from one of his friends' 'playful' antics. Thankfully it was only a nick and has healed up quickly, although the culprit is still unknown!
Jigily provides the daily entertainment for the staff when they bring the hay tractor in every morning as he avidly follows the trailer, investigating for any sign of free hay and stealing it when he has chance, then running to the bottom of the field so he doesn't have to share it.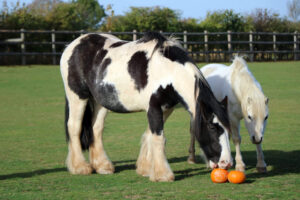 September 2018
Jigily has had a routine saliva test this month to test for tape worm. Being the true gent, Jigily was very well behaved and even had to stand by while his friends had their tests just to show them how to behave properly. Jigily thoroughly enjoyed meeting his fans at the Autumn Fayre. He watched on as the staff busily prepared and set up the event and was stood patiently waiting for visitors as soon as the gates opened on the day.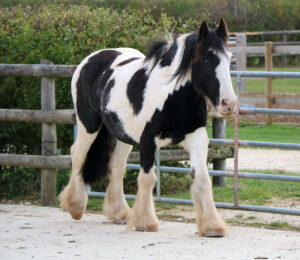 August 2018
Jigily has lost a little weight, however this has actually been a positive as it seemed to ease his wobblers a little. He and his friends have a new sand pad which they are all enjoying, especially Jigily who has been seen rolling around in the sand many times. He has made a particularly good impression on a young visitor earlier in the month, who started to plait his mane over the fence and Jigily remained there enjoying the fuss until she had finished.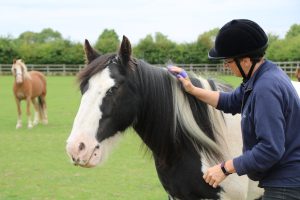 July 2018
Jigily has been his usual loving and affectionate self this month with new visitors coming along to meet him through the Summer holidays. Many have fallen in love with his beautiful blue eyes and have hopefully even adopted him for the future! Jigily is well settled in his field with other adoption horses so we are sure he will be looking forward to the attention in coming weeks from visitors over the holidays.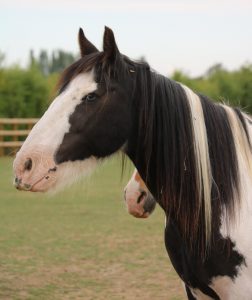 June 2018
Jigily thoroughly enjoyed his adoption day where he received a lot of attention, especially from a married couple who came along specially to meet him.  He has been enjoying a few more snoozes in the sunshine and his Wobblers Syndrome continues to be managed well by the welfare staff and will be regularly checked to monitor any changes.  Jigily ideally needs a nose net to prevent sunburn on his nose, however there isn't one big enough so he is having suncream on every day as prevention, which he doesn't seem to mind as he stands very patiently while it is applied and of course for the cuddles afterwards!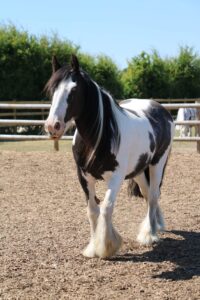 May 2018
Jigily's wobblers syndrome is being managed well and is much better thanks to the warmer weather making the ground a little harder for him. Staff have been busy pulling up the ragwort from his field as it is poisonous, and he has been on hand to lend a hoof! Jigily is always wanting to know what staff are up to and this was no exception as he followed them round everywhere they went inspecting they did a good job!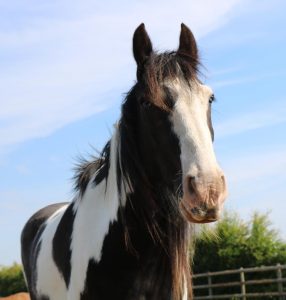 April 2018
Jigily has been enjoying the sunshine while it lasted! Staff grew a little concerned one morning when he was quite stiff, it was decided he was to have some pain relief and after being reassessed he was much better. The warmer weather may have helped and he is looking forward to meeting new visitors over the summer.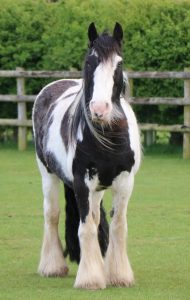 March 2018
Jigily is enjoying a more peaceful life with fellow adoption horses Sparky and Digit. He has needed a little more support with the farrier as he is becoming wobblier, but staff are on hand to help balance him as he lifts his legs up for the farrier. However, he has been seen laying down and getting up himself with ease which is a great achievement which staff are thrilled to see.
Gallery