Digit
August and September 2019
Digit has had some real issues with one of his feet over the summer, he has had an abscess but has been a really great patient for us and has taken each day as it comes. His bloods were taken recently and all looked good, so he is a healthy fellow, enjoying life (when his foot lets him). With the frost threatening to take over the nights, Digit has been, like many of our Adoption Stars, been sporting some fetching pyjamas each night. Digit thinks he has the best pyjamas because his have apples on them, which are, the best snack in the world, let's face it!
July 2019:
Digit had a foot abbess this month so enjoyed some time on a pad nearer to the Visitor Centre Yard. His feet were sore so the pad helped him feel more comfortable. The team also poultice his foot to help with treating the abscess, which meant Digit could sport a very brightly coloured bandage which some of his friends were jealous of! Thankfully Digit was a good patient and is now without his poultice and will return to the field shortly.
June 2019:
Digit has been at the charity a number of years and is now in his 20's, so it is understandable that he is feeling a little stiff. Staff have monitored his stiffness and called the vet to have a look at him. Digit is now starting a pain relief trial to ensure that he is comfortable and will be reassessed at a later date. He is still the bright and happy pony that the staff enjoy seeing each day, despite him starting to feel his age.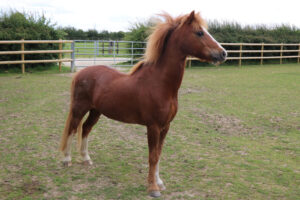 May 2019:
Digit has a new routine to ensure he is getting enough nutrients in his diet. He and his fellow adoption friend Sparky, go to another field during the day which has more grass before returning to the group at night. He is looking really well at the minute and staff are pleased that he is happy.
April 2019:
Digit is still on his weight management programme and is doing really well, staff are currently very pleased with his weight are working hard to help him maintain it. He is really enjoying the sunshine and having a groom every day. His thick winter coat is disappearing quickly so he is feeling more comfortable in the warmer weather. Digit has also welcomed back old friends Master Imp and Henry Stoke so they are busy catching up from when they last saw one other.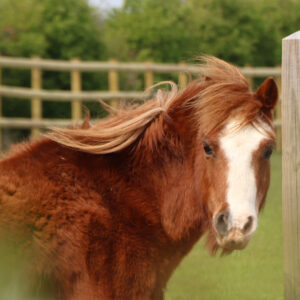 March 2019:
Digit is this month's weight loss super star and staff are very pleased with his slimming efforts as he is looking much better. He is receiving a little balancer feed every day to ensure he is getting all the vitamins and minerals he still needs, as well as his medication in it too!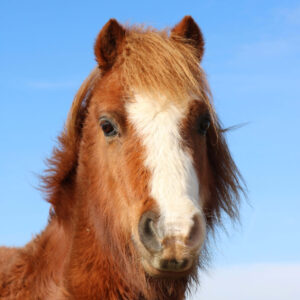 February: 
Digit has had his night time feed stopped as he too has put a little weight on and he is not wearing his rug at the minute due to the unusually warmer weather. A kind supporter left a banana for his tea, which he and his friends shared as a special yet nutritious treat. It was very much appreciated and enjoyed, thank you!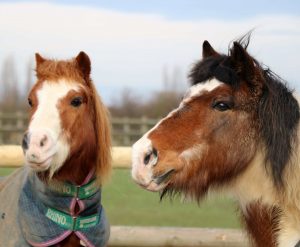 January 2019: 
Digit has put on weight which has made the staff very happy.  Digit can't wait to meet his supporters on the adoption tour in February to show everyone how good he is looking, so you can probably expect a little showing-off from him.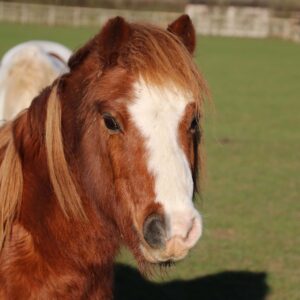 December 2018
Digit has been receiving more feed to help maintain his weight throughout the winter. He is now wearing a thicker rug to keep him warm, which he is very impressed with especially as some of them have been kindly donated by our supporters. Throughout December, Digit met lots of children visiting us in the Christmas holidays, hoping his adoption may have even been one of their presents!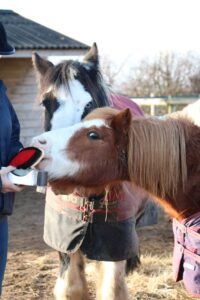 November 2018
Little Digit is looking forward to the Christmas festivities starting as this will mean more visitors coming to see him! He has had his hard feed increased this month to help with his weight and a thicker rug on so he remains toasty warm when the weather turns wintery and cold. Digits rug collection is starting to be the talk of the herd, with many different designs making an appearance all thanks to kind supporters who donate their old or unused rugs!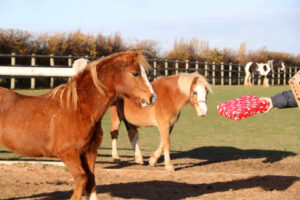 October 2018
Digit is the talk of the field as he now has a funky new rug with apples on, although he and his friends were rather disappointed they couldn't eat them! Although this shouldn't be a big problem to Digit as he is now having a bigger breakfast and a tea time feed to help with his condition over the winter. Over half term, Digit and his friends met lots of new people visiting and was very impressed with some of the costumes that visitors came along in.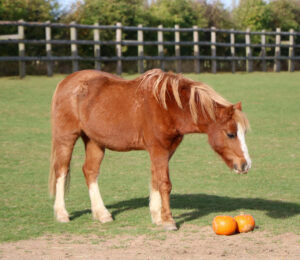 September 2018
Staff are monitoring Digit's weight as he lost a little last month due to his condition. Now that the evenings are getting cooler, he has had a sheet on over night to help keep him warm and has had an increase in his feed. He is very happy about his extra feed, but his friends aren't so impressed as they don't need any extra food so are left looking where theirs is.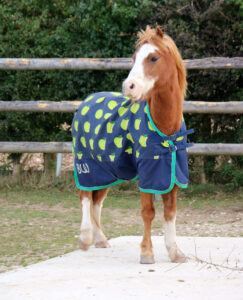 August 2018
Digit initially lost a little weight, however he is now having a feed which pleases him. Although he enjoys being around his other field mates, he has spent a little more time in his own company lately. But this doesn't seem to bother him and he is very happy watching the action from a distance. He has a new field mate, Robin, who the group are getting to know.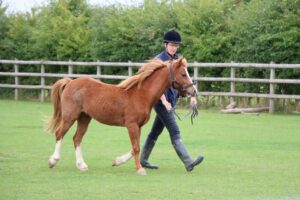 July 2018
Digit has not had many adoptions this month, despite him being a sweet pony who is always willing to come to the gate for some attention. Hopefully with some new faces visiting the charity over the summer, someone will fall in love and want to adopt him! He is still not very impressed with the hot weather and sunshine as it means he still needs to wear his fly mask, much to his disgust!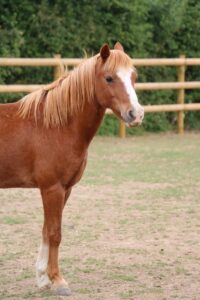 June 2018
Digit has his mask put back on when the sunshine came back out to protect his nose from sunburn. He has also had a very busy month as he was part of adoption day and even helped with some school visits. All the school children loved to learn more about him and of course he enjoyed the extra cuddles from everyone. He has also made a good friend in Sammy recently; the pair are regularly seen relaxing and playing together in the field.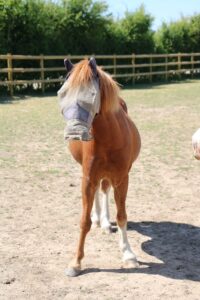 May 2018
Digit has had a visit from the vet for his annual vaccinations, he enjoyed the extra attention and fuss from everyone and the vet was very happy with him. He has been playing in the sunshine with his fellow adoption friends Sparky and Sammy, and because of his sensitive pink nose, he has been having sun cream to prevent sunburn which he has been very accommodating for each morning.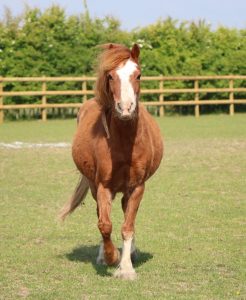 April 2018
Digit has been enjoying the quiet life and kept himself to himself for the last couple of months. He is also on the waiting list for a good groom to remove his thick winter coat ready for the summer. Digit is also looking forward to his Adoption day on 24th June where he can show off, meet his fans and receive lots of cuddles.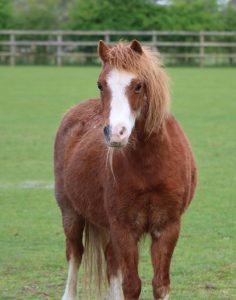 March 2018
Digit is still having his medication to help with his Cushing's disease and we are happy to report he is doing well and it is being managed effectively. He has been keeping warm with help from the extra hay he has been receiving during the cold weather.
Gallery